Biodegradable plastics market is expected to reach US$ 185.25 Bn by 2026 with 19.3% CAGR during the forecast period from 2018 to 2026. In 2017, Europe led the biodegradable plastics market and Asia Pacific is estimated to be the fastest growing region between 2018 and 2026.
Biodegradation is a property of certain plastic materials mainly made up of polymers. It is a process by which decomposition of polymer materials take place under the influence of various biotic components that includes living organisms. Fermentation of canola oil or sugar to produce polyhydroxyalkanoates (PHA) or polylactic acid (PLA) is the most common process involved in the production of biodegradable plastics. It mainly finds application in packaging and hence food companies are adopting to biodegradable plastics from renewable resources in their packaging. The global biodegradable plastics is expected to grow at a rapid pace owing to the supportive government policies followed by favorable research and development activities conducted by the key players.
Disposable plastics used in food packaging contain harmful compounds. Hence improper disposal of these plastic products results in water pollution. In addition, plastics are non-biodegradable and hence they take long time to decay. Conventional plastics also have low melting point and hence they cannot be used where heat levels are high. Owing to these disadvantages of plastic products, the demand for bio degradable plastics is set to rise during the forecast period as these are recyclable, consumes less energy and also aids in carbon emission reduction. Growing demand for green packaging is mainly driving the global biodegradable plastics market. Green packaging mainly uses biodegradable materials that includes plastics thereby offering improved sustainability. Trend shows that green packaging's contribution to environmental pollution is negligible which in turn is driving the health conscious consumers to adopt biodegradable plastics. In addition, stringent government regulation with respect to reduction of plastic usage is also expected to bolster the global biodegradable plastics market during the forecast period from 2018 to 2026.Hence with the growing environmental pollution followed by ban on plastics by government regulatories, consumers are expected to shift from conventional plastics to biodegradable plastics. For example, in February 2018, A Plastic Planet, environmental campaign group, unveiled the world's first plastic free supermarket in Amsterdam, Netherlands. This supermarket deals with various food products without plastic packaging. This establishment aims to roll out various food products in biodegradable plastic packaging with an objective to minimize environmental pollution. In addition, several countries have banned the production and sale of single use plastic bags. For example, Philippines, China, Bangladesh, Cameroon, Brazil and other African countries have banned the production of ultralight or thin plastic bags. In Europe, plastic bag taxes have been implemented in Denmark, Ireland, Germany, UK, Austria and Netherlands. Britain also imposed a plastic tax on single use plastic items and also have encouraged the supermarkets to ban single use plastic packaging by 2025.All these factors clearly indicates that conventional plastic consumption is expected to decline in the near future which in turn is expected to augment the demand for biodegradable plastics during the forecast period from 2018 to 2026.
Market Synopsis, Volume and Value (Million Tons) (US$ Bn)
Market Volume (Million Tons)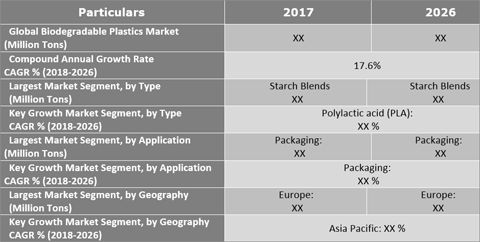 Market Value (US$ Bn)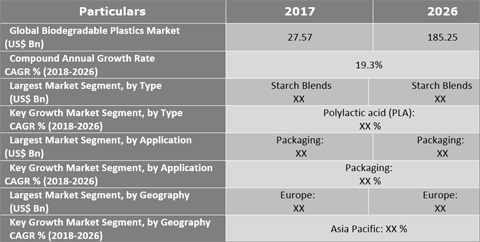 Get a sample copy for more information
"Starch Blends Segment Propelling the Growth of Biodegradable Plastics Market"
Starch based plastics can be used in variety of applications that includes cell phone cases, food service disposables, kitchen and yard bags among others as they can be incorporated with biopolymers to create unique composite materials. These materials can be extruded or injection molded with the help of standard processing machinery. These are cost competitive compared to other alternative bioplastics. Starch is basically incorporated with an objective to reduce the carbon footprint of various resins as they aim to replace petroleum based polymers with the natural ones. These are also widely used in the medical industry owing to its low toxicity, biocompatibility, mechanical and degradation properties. Starch based biodegradable plastics also finds application in the agricultural industry owing to its heat preservation and water permeability properties. This in turn aims at increasing the use of various renewable raw materials that are obtained from agro-industrial waste.
Biopolymer films that finds application in agriculture and horticulture are termed as mulch films. They provide soil with requisite amounts of carbon thereby preventing the loss of humus. Hence ongoing innovation in mulch films followed by substantial government subsidies is expected to increase the demand of starch based biodegradable plastics thereby driving the global biodegradable plastics market during the forecast period from 2018 to 2026.
In May 2018, ADM and DUPONT established the world's first manufacturing facility for bio-based furan dicarboxylic methyl ester (FDME) in Illinois, the US. FDME is a molecule that is used to manufacture plastics. The two companies developed a method for manufacturing FDME from fructose that is basically derived from corn starch. This production facility will facilitate the companies to develop ecofriendly and cost effective starch based biodegradable plastics.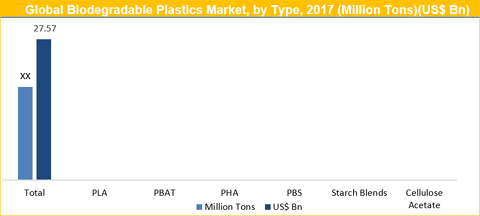 Get a sample copy for more information
"Packaging Segment Driving the Growth of Biodegradable Plastics Market"
Biodegradable packaging products are mainly derived from various biodegradable plastics that includes PLA, PHA, Starch based Plastics, PBS and PCL among others. Growing demand of food and beverages packaging is one of the important factor that is expected to drive the global biodegradable plastics market. Increasing applications of biodegradable plastics in various types of packaging that includes agricultural foils, bags for compost, toys and nursery products is also expected to drive this segment during the forecast period from 2018 to 2026.Other growing areas of packaging includes drinking cups, posable cutlery, salad cups, overwrap, plates, lamination film, stirrers, straws, plates, lids and containers among others which is also expected to propel the demand of this segment. Adoption of new regulatory requirements followed by increasing consumer awareness related to environmental issues are other factors expected to drive this segment during the forecast period from 2018 to 2026.For example, Sulapac, based in Finland, collaborated with Fazer to develop and research biodegradable packaging solutions for various food applications. This collaboration will facilitate Fazer to reduce the use of conventional plastics in packaging thereby reducing environmental pollution. In addition, Fazer will also assist Sulapac in its research and development of biodegradable packaging in food applications.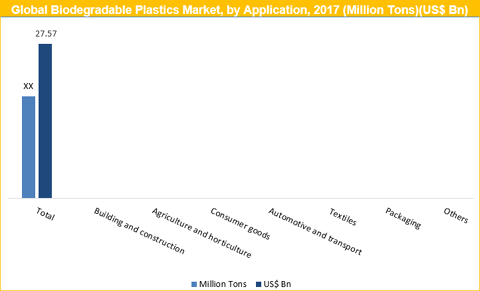 Get a sample copy for more information
"Europe is the Largest Region in the Global Biodegradable Plastics Market"
Globally, Europe accounted for the largest value and volume share of biodegradable plastics market. The growth is mainly attributed to the growing research and development activities in the bio plastics sector by private and public firms, increasing environmental awareness among consumers and strict implementation of environmental friendly laws. European Union decision to curb the overall consumption of thin plastic bags by around 80% by 2019 is expected to create new opportunities for bio degradable plastics market. Hence the reduction in consumption of conventional plastic bags is expected to increase the demand of biodegradable plastics in retail outlets, malls and loose packaging applications. In addition, increasing pressure on various government organizations to reduce landfills, mounting plastic waste and carbon emissions is also expected to augment the demand for biodegradable plastics during the forecast period from 2018 to 2026. The government of Germany, Denmark and Ireland have imposed taxes on the conventional plastic bags whereas the government of Italy has completely banned plastic bags distribution that are not from biodegradable sources. In 2017, Unilever in Europe also developed a new technology, CreaSolv® Process, with an objective to tackle the issue of plastic sachet waste. With the launch of this new technology, the company aims to make 100% of packaging reusable and recyclable by 2025. In 2017, Asia Pacific was estimated to be the fastest growing region.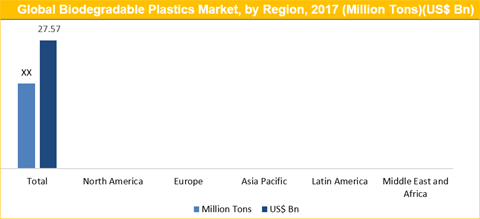 "Product Expansion Followed by Recycling of Packaging Products are the Key Strategies Adopted by the Manufacturers"
Key players operating in the global biodegradable plastics market includes BASF SE, Archer Daniels Midland, E. I. du Pont de Nemours and Company, Mondi Group, Biome Technologies PLC, Stora Enso, Amcor, Rocktenn, Unilever, Mitsubishi Chemical Corporation, Corbion, and Natureworks LLC among others. In January 2018, Amcor announced to develop all its packaging reusable or recyclable by 2025.This move will facilitate the company to reduce environmental implications from food and other product waste. The company also claims to be the world's first global packaging company to increase the use of recycled materials with an objective to drive the recycling of various packaging products across the globe. In April 2017, BASF also launched a new courier bag in China that is made up of biodegradable ecovio material. This product launch aims to reduce the impact of white pollution threat resulting from an increase in parcel deliveries in China.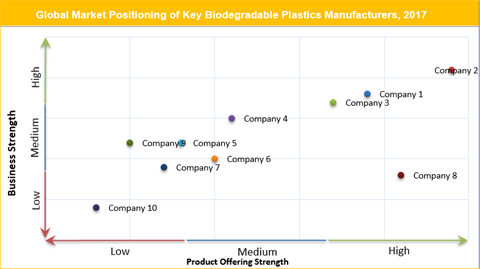 Historical & Forecast Period
This research considers 2017 as the base year and presents analysis of segments from 2016 to 2026. In addition, forecast period from 2018 to 2026 is considered for Compounded Annual Growth Rate (CAGR) calculation for each respective segment.
Report Scope by Segments
Biodegradable plastics market report represents understanding about the current market dynamics and strategies. It also focuses on quantitative and qualitative analysis of the overall market. The report covers the global Biodegradable plastics market by categorizing the market in terms of type, application and geography. Publishing this broad research report aims to aid the biodegradable plastics market stakeholders and professionals in assisting strategic initiatives and decisions in the biodegradable plastics market.
ATTRIBUTE
DETAILS
Research Period
2016-2026
Base Year
2017
Forecast Period
2018-2026
Historical Year
2016
Unit
USD Billion
Segmentation

Type Segment (2016–2026; Million Tons, US$ Bn)
• Polylactic acid (PLA)
• Polybutylene adipate/terephthalate(PBAT)
• Polyhydroxyalkanoate (PHA)
• Polybutylene Succinate (PBS)
• Starch Blends
• Cellulose Acetate

Application Segment (2016–2026; Million Tons, US$ Bn)
• Building and Construction
• Agriculture and Horticulture
• Consumer goods
• Automotive and Transport
• Textiles
• Packaging
• Others (Biomedicine, electronics etc)

Geography Segment (2016–2026; US$ Bn)
• North America (United States and Canada)
• Europe (U.K., Germany, France, Rest of Europe)
• Asia Pacific (China, Japan, India, Rest of Asia Pacific)
• Latin America (Brazil, Mexico, Rest of Latin America)
• Middle East and Africa (GCC, Rest of MEA)
This research report describes leading continents and their major countries, along with profiles of key players operating in overall market and their planned developments. Our report further defines the overall market dynamics such as drivers, challenges, and opportunities prevalent in the market to understand global elastomers market more explicitly. Our in-depth quantitative and quantitative analysis of each segment up to country level highlights revenue pockets and investment opportunities in the market.
Key questions answered in this report
Who are the distributors, traders and dealers of biodegradable plastics market?
What are expected largest type and application segments in the market during the forecast period from 2018 to 2026?
What are the fastest growing segments in the market for the forecast period?
What are the current market trends in the biodegradable plastics market and valuable opportunities for the players?
How the regulatory framework affects the global as well as the regional markets?
Which are the key players operating in the global market and what are the strategies adopted by them?
What are sales, revenue, business strategy and product portfolio of top manufacturers of biodegradable plastics market?
What is the market size and trend in emerging and developed markets?