Industry Outlook
Bulletproof Security Glass Market is expected to reach US$ 11.36 Bn by 2026 with 11.3% CAGR during the forecast period from 2018 to 2026. In 2017, North America led the bulletproof security glass market and is estimated to be the fastest growing region between 2018 and 2026.
Bulletproof glass also known as bullet resistant, transparent armor or ballistic glass is a type of bullet resistant thermoplastic that includes traditional tempered glass. It is basically constructed by using thermoplastic, polycarbonate and laminated glass. Polycarbonate is used as a soft material in bulletproof glass owing to the fact that it can flex back thereby holding broken glass pieces in place as it absorbs the impact. Laminated glass is also a safety glass that is treated with polyvinyl butyral layer that aims to hold the glass pieces together when shattered. These materials are generally laminated in layers that gives the appearance of standard glass thereby protecting the glass from bullet impact. Bulletproof glass is an important component of various security systems that basically aims to encounter various violent assaults that includes ATM booths, robberies, banks, display cases, cash trucks and premium vehicles among others which requires protection from small projectiles and bullets. Bullet resistant glasses can resist one or more rounds of bullets which is basically dependent on the thickness of glass or weapons that are used to fire at them. Transparency, weight, and level of bullet resistance are other prime factors that are considered in bulletproof glass manufacturing.
Growing demand of bulletproof glass from transportation and automotive sector, requirement for safety measures, rising demand from wide applications in commercial, residential and infrastructure projects, increasing government concerns with respect to public safety and security followed by infrastructure development in emerging economies are some of the factors responsible for the growth of this market during the forecast period. Trend shows that need to provide maximum security and safety of financial institution owing to increase in number of financial institutions have improved the prospects of bulletproof security glasses as they require high end security. In addition, growing infrastructural development in developing countries that includes China and India is also propelling the growth of this market during the forecast period. Growing demand of bulletproof glasses in defense sector is also driving the global market. Iraq, Israel and Syria are some of the countries that are highly vulnerable to terrorist attacks and thus have been witnessing surging demand from building construction as well as automotive end use sectors. Hence, increasing demand for bulletproof vehicles from defense and military installations followed by buildings is also augmenting the market growth. Manufacturers are focusing on introducing varieties of bulletproof glass by using advanced processing and manufacturing technologies. Bulletproof glass manufacturers aim to deliver varieties of bullet resistant barrier systems such as doors, ballistic counters bullet resistant transaction windows and bullet resistant frames among others. These are basically deployed in various new construction projects of schools, financial services, vehicles and other crime prone locations. For example, in January 2018,Tesla launched The Model S P100D,electric car that is fitted with bulletproof security glass and armoured roof with Armormax material.
However, regions across the globe have introduced various laws that prohibits the use of bulletproof glass. For example, in December 2017, the Philadelphia City Council passed a bill to regulate the use of any physical barrier in stores that sells alcohol and food. The bill was passed with an objective to remove bulletproof security glasses from the windows of various local businesses owing to illegal supply of liquor followed by illegitimate functioning of restaurants as bars. In addition, owing to insufficient research and development investment, manufacturers in developing regions does not meet the international quality standards which in turn affects the export activities thereby hampering the growth of this market during the forecast period from 2018 to 2026.Increasing defense expenditures of developing economies followed by increase in research and development activities for developing advanced bulletproof security glasses serves as opportunity for the global bulletproof security glass market.
Market Synopsis, Value (US$ Bn)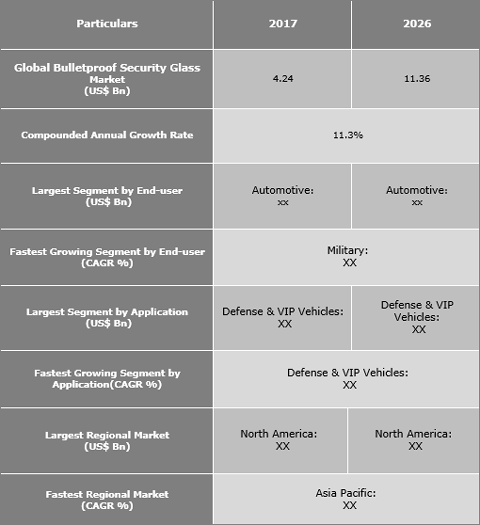 Get a sample copy for more information
Automotive Segment propelling the growth of Bulletproof Security Glass Market
By end-user, automotive segment held the largest share both in terms of value and volume and is expected to maintain its dominance during the forecast period from 218 to 2026. Trend shows that armored vehicles are used by VIPs, embassies, governments and banks among others to prevent blast attacks. Bulletproof security glass basically finds application in side and rear windows, vehicle windscreens and glass panel roofs that aims to protect it from ballistic attacks. Lasco International Group, based in the U.S, provides bullet resistant flat glass and laminated window auto glass to cater to its automotive bulletproof security glass segment. The armored auto glass segment of the company reproduces the original shape, safety, and comfort, appearance and dimension and also aims to maintain tight blending tolerances thereby optimizing the bullet resistant capacity of its glasses meant for automotive segment. The military segment is expected to grow at a fastest rate owing to the increasing application of bulletproof glass in combat operations, infantry fighting vehicles, military bases, and transportation of personnel, bomb disposal, armored personnel carriers, mine detection, battle tanks and tactical tanks among others. For example, Saint-Gobain Sully, based in France is a leading provider of bulletproof security glass in Europe that deals with armored glass for military armored vehicles. In addition, it also provides bulletproof security glasses for civilian and cash in transit vehicles. Trend shows that researchers and manufacturers are focusing on developing new technology that can be used to make bulletproof security glasses for military application. For example, in June 2017, researchers from Tomsk Polytechnic University are focusing on developing a transparent ceramics production technology(TPU) that are used to make armor and bullet resistant glasses for military and aerospace equipment. This new technology aims to reduce the weight of glasses by two to three times thereby increasing the ballistic strength. All these factors are expected to drive the automotive and military segment in the global bulletproof security glass market during the forecast period.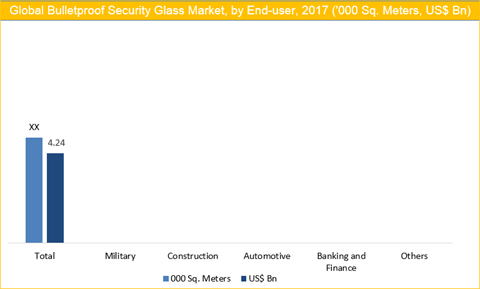 Get a sample copy for more information
Defense & VIP vehicles identified as the dominant Application Segment in 2017
The defense & VIP vehicles segment includes vehicles used by embassies, transportation of personnel, VVIP vehicles, combat vehicles, premier vehicles, governments and others for protection from blast attacks. Few armored vehicles used in the defense sector include tactical tanks, infantry fighting vehicles, main battle tanks and armored personnel carriers among others. Owing to the growing incidences of political violence, terrorism and civil unrest, users have resorted to bulletproof security glass for armored vehicles. The compartment of defense and VIP vehicles are made up of high-quality materials such as multi-laminated glass, heat resistance armor steel and aramid fabric. It aims to provide protection to vehicles from all sides thereby preventing it from bullets, bombs or grenade attacks. Some defense and VIP vehicles are designed in such a way that it provides a secret exit path from the vehicle which in turn help the VIP's to escape unhurt. Hence defense and VIP vehicles are armored with bullet proof glass and heavy frame to provide protection from blast and bullet attacks.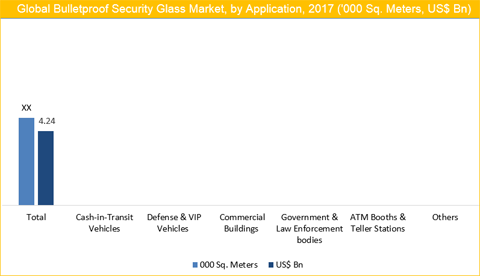 Get a sample copy for more information
North America is the Largest Region in the Global Bulletproof Security Glass Market
North America held the largest market share in the global bulletproof security glass market. Increasing demand from the automobile segment is mainly contributing to its growth. Various bulletproof cars launched by the manufacturers that includes BMW, Ford, Audi and Volkswagen among others is expected to augment the market demand for bulletproof glass in North America region. Increasing investment on research and development by the U.S government followed by growth in financial, infrastructure and healthcare segment is also expected to fuel the market demand during the forecast period. U.S held the largest market share both in terms of value and volume. Mexico is expected to be the fastest growing country in the North America bulletproof security glass market owing to the increased drug consumption followed by high crime rates. Trend also shows that according to the U.S budgets for 2018 and 2019, the defense expenditure of the country has increased from USD 521 Bn in 2017 to USD 639 Bn in 2018 which clearly indicates that the demand for bulletproof security glass is expected to rise during the forecast period. In addition, increasing number of armed robberies in the U.S is also proportional to the growth of bulletproof security glass market thereby augmenting the market growth. Europe followed North America in the global bulletproof security glass market owing to the increase in defense spending followed by increasing terror strikes and rising political and civil unrest. Asia pacific is also expected to grow at a significant rate owing to growing security concerns of various financial institutions as these are growing at a rapid rate in Asia Pacific region.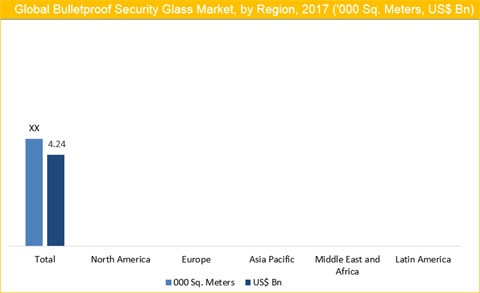 Product Innovation Followed by Mergers and Acquisitions are the Key Strategies Adopted by the manufacturers
Key notable players operating in the global bulletproof security glass market includes Asahi Glass Co., Ltd., Saint-Gobain S.A., Taiwan Glass Ind. Corp, American Glass Products, Schott AG, Consolidated Glass Holdings, Inc., China Specialty Glass AG, Nippon Sheet Glass Co., Ltd, Guangdong Golden Glass Technologies Limited, Guardian Glass and Total Security Solutions among others. Product innovation is the key strategy adopted by the bulletproof security glass manufacturers. For example, in June 2018, Saint-Gobain provided bullet proof security glass for the perimeter of Eiffel Tower as it has been under close surveillance since terrorist attack in November 2015.The glass is 2.56 inches thick and is fitted with anti-ram raid bollards around the perimeter. Hence the visitors have to go through a bulletproof glass to see the site.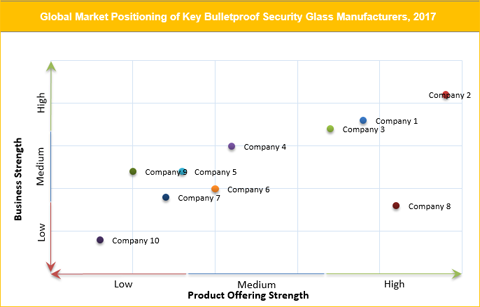 Historical & Forecast Period
This research considers 2017 as the base year and presents analysis of segments from 2016 to 2026. In addition, forecast period from 2018 to 2026 is considered for Compounded Annual Growth Rate (CAGR) calculation for each respective segment.
Report Scope by Segments
Bulletproof Security Glass market report represents understanding about the current market dynamics and strategies. It also focuses on quantitative and qualitative analysis of the overall market. The report covers the global bulletproof security glass market by categorizing the market in terms of end-user, application and geography. Publishing this broad research report aims to aid the bulletproof security glass market stakeholders and professionals in assisting strategic initiatives and decisions in the Bulletproof Security Glass market.
ATTRIBUTE
DETAILS
Research Period
2016-2026
Base Year
2017
Forecast Period
2018-2026
Historical Year
2016
Unit
USD Billion
Segmentation

End-user Segment (2016–2026; '000 Sq. Meters, US$ Bn)
• Military
• Construction
• Automotive
• Banking and Finance
• Others (election departments, presidential gatherings)

Application Segment (2016–2026; '000 Sq. Meters, US$ Bn)
• Cash-in-Transit Vehicles
• Defense & VIP Vehicles
• Commercial Buildings
• Government & Law Enforcement bodies
• ATM Booths & Teller Stations
• Others (post offices, museums/art galleries, retail stores, government facilities, jewelry shops, gas stations, pharmacies, schools, police stations etc)

Geography Segment (2016–2026; '000 Sq. Meters, US$ Bn)
• North America (United States and Canada)
• Europe (U.K., Germany, Italy, Rest of Europe)
• Asia Pacific (China, Japan, India, Rest of Asia Pacific)
• Latin America (Brazil, Mexico, Rest of Latin America)
• Middle East and Africa (GCC, Rest of MEA)
Key questions answered in this report
Who are the distributors, traders and dealers of bulletproof security glass market?
What are expected largest end-user, application segments in the market during the forecast period from 2018 to 2026?
What are the fastest growing segments in the market for the forecast period?
What are the current market trends in the bulletproof security glass market and valuable opportunities for the players?
How the regulatory framework affects the global as well as the regional markets?
Which are the key players operating in the global market and what are the strategies adopted by them?
What are sales, revenue, business strategy and product portfolio of top manufacturers of bulletproof security glass market?
What is the market size and trend in emerging and developed markets?