Calcium chloride is a versatile product providing unique contributions in widely varying applications. Deicing, oil & gas and construction are one of the most promising growth areas in calcium chloride market. Calcium chloride is deliquescent, meaning it's able to absorb moisture from the air. This property makes it ideal for controlling dust and, as a result, keeping road surfaces stable. Once calcium chloride has absorbed all the moisture it can hold, it dissolves and spreads as it tries to return to a liquid. This is why relatively little calcium chloride is needed to control dust and melt snow and ice. Calcium chloride plays most important role in mining applications as a maintenance material for haul roads by controlling dust. Thus, demand for calcium chloride in Asia Pacific and North Ameica is expected to witness an upsurge, offering strong growth and investment opportunities for manufacturers during the forecast period. Market size and forecast of each application is presented for the period 2015 to 2025 along with respective CAGR % for the forecast period 2017-2025.
Geographically, the global calcium chlorides market is studied for the following regional markets:
North America
Europe

U.K.
France
Germany
Rest of Europe

Asia Pacific

China
India
Japan
Rest of Asia Pacific

Latin America

Brazil
Mexico
Rest of Latin America

Middle East and Africa

GCC
Rest of Middle East and Africa
The market size and forecast for the period 2015-2025 along with the CAGRs for the period 2017-2025 for the mentioned segments are also presented in this study.
Qualitative information sets such as market dynamics (drivers, challenges and opportunities) and market inclination insights are provided in this market assessment report. Tools such as competition assessment and attractive investment proposition are also included in this study for assessment of market competition. The report concludes with company profiles section that highlights key information about the major market players operating in the global calcium chlorides market.
Keg River Chemical, Occidental Petroleum Corp. (OxyChem), Qingdao Huadong Calcium Producing Co. Ltd., Solvay SA, Tangshan Sanyou Group, TETRA Chemicals (Tetra Technologies, Inc.), Tiger Calcium Services Inc., Ward Chemical, Ward Chemicals, Inc., Weifang Haibin Chemical Co. Ltd., Weifang Taize Chemical Industry Co. Ltd., Zirax Ltd., B. J. Services Company, etc. are few key manufacturers in calcium chlorides market.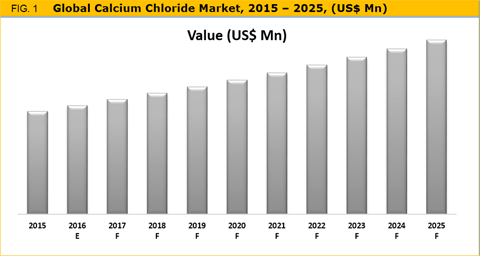 Purpose of the Report
The purpose of this strategic research study titled "Calcium Chloride Market - Growth, Opportunities, Share & Competitive Analysis, 2017 – 2025" is to offer industry investors, company executives, and industry participants with in-depth insights to enable them make informed strategic decisions related to the opportunities in the calcium chloride market.
Target Audience
Industry Investors
Procurement Managers from End-user Companies
Calcium Chloride Manufacturers
Distributors
USP and Key Offerings
The report titled "Calcium Chloride Market - Growth, Opportunities, Share & Competitive Analysis, 2017 – 2025" offers strategic insights into the overall Calcium Chloride market along with the market size, and estimates for the duration 2017 to 2025. The said research study covers in-depth analysis of multiple market segments based on applications and cross-sectional study across different regions.
In order to help strategic decision makers, the report also includes competitive profiling of the leading players in calcium chloride market in terms of their product portfolio, financial health and business strategies. Other in-depth analysis provided in the report includes:
Current and future market trends to justify the forthcoming attractive markets within the calcium chloride industry
Market drivers, market impediments, and their impact on the market growth
In-depth competitive environment analysis
Historical market size and data (2015 & 2016)
Overall, the research study provides a holistic view of the calcium chloride market, offering market size and estimates for the period from 2015 to 2025, keeping in mind the above mentioned factors.