Camphor is a flammable, waxy, transparent or white solid which has a brawny aromatic odor. The origin of camphor comes from a large evergreen tree known as camphor laurel which is found in Asia. It is also known as kapur tree which is a timber tree in the same region. Apart from its natural origin, camphor can be synthetically produced from turpentine oil. Synthetic camphor is available in the form of powder, tablets and blocks. They are used for various medicinal purposes, as an essence in cooking and for religious rituals in Asia Pacific, especially India.
Camphor tablets are used for wide range of medical properties as it helps reduce pain and swelling, helps relax worn out muscles and reduces congestion and cough. They are used in manufacturing various medicines. Growing demand from the pharmaceutical industry is therefore the major factor driving the growth of camphor tablets in the market. High consumption of camphor tablets for religious rituals in India is another factor boosting market growth for camphor tablets. Camphor is believed to be holy and sacred stuff which is offered to god for thanks giving. Hence, camphor tablets have huge scope for growth in Asia Pacific during the forecast period. Camphor tablets are also used in the agriculture to keep away insects and moths. It is used as repellent in agriculture and even for household activities to keep away reptiles and insects. Therefore steady demand is observed for camphor tablets from the agriculture industry. Camphor tablets are also used in skin care products as it helps reduce acne and pimples. Therefore, chemical industry makes use of camphor in many skin care products and hair care products due to the beneficial properties of camphor. Europe consumes camphor for preparation of almost all sweet dishes. Camphor is the essential ingredient in the cookbooks of Arabians. In India, camphor is used as an essence in some of the sweet dishes. Hence, food is also expected to fuel demand for growth of camphor tablets during the forecast period from 2016 to 2022.
Camphor Tablets market was valued at US$ 93.9 Mn in 2016 and is expected to reach US$ 145.6 Mn by 2022, growing at a CAGR of 7.6% during the forecast period 2016-2022.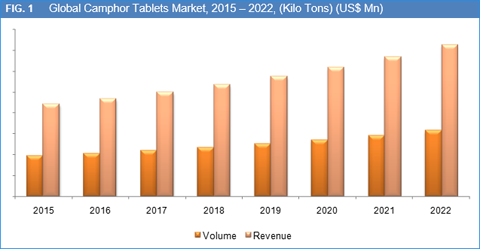 Purpose of the Report
The purpose of this strategic research study titled "Global Camphor Tablets Market - Growth, Share, Opportunities, and Competitive Analysis, 2015 – 2022" is to provide company executives, industry investors, and industry participants with in-depth insights to enable them make informed strategic decisions regarding the opportunities in the global camphor tablets market.
Target Audience
Industry Investors
Camphor Tablets Providers/Vendors
Research Professionals
Emerging Companies
Raw Material Suppliers/ Buyers
Product Suppliers/ Buyers
Research Institutes
USP and Key Offerings
The report titled "Global Camphor Tablets Market - Growth, Share, Opportunities, and Competitive Analysis, 2015 – 2022" offers strategic insights into the global camphor tablets market along with the market size and estimates for the duration 2015 to 2022. The said research study covers in-depth analysis of multiple market segments based on end-user applications, and cross-sectional study across different geographies. In order to help strategic decision makers, the report also includes competitive profiling of the leading camphor tablets vendors, their expansion strategies, market positioning, and latest developments. Other in-depth analyses provided in the report include:
Current and future market trends to justify the forthcoming attractive markets within camphor tablets industry
Market fuelers, market impediments, and their impact on the market growth
In-depth competitive environment analysis
Trailing 2-Year market size data (2013 – 2014)
SRC (Segment-Region-Country) Analysis
Overall, the research study provides a holistic view of the global camphor tablets market, of growth, offering market size and estimates for the period from 2015 to 2022, keeping in mind the above mentioned factors.