Industry Outlook
Cardiac markers are the substances that are released into the blood stream during heart damage. These markers are detected with specialized immunoassays and are used for diagnosis, evaluation and monitoring of patients with suspected acute coronary syndrome. These markers are very useful when patients do not present ischemic chest pain and have non-diagnostic ECG. The common cardiac markers used for evaluation of acute coronary syndrome are troponin I & T, CK-MB and myoglobins. Other biomarkers studied in this report are less specific in nature, but are also used for further evaluation, in terms of damage to the system. Considering their usefulness, cardiac biomarkers are vital for diagnosis of acute coronary syndrome, acute myocardial infraction, and heart failure and renal diseases; prognosis and risk stratification of patients with coronary syndrome, and for patients that are undergoing pre- and post-reperfusion and interventions.
Globally increasing prevalence of cardiovascular diseases, rapidly changing lifestyle and dietary patterns, increasing pool of high-risk geriatric population, and persistent growth in the nature of point-of-care diagnostic solutions are the key factors driving the growth of the global cardiac markers market. Conversely, high cost and less specificity of certain tests may hold back the growth of this market. Intensive R&D initiatives and success of the use of cardiac biomarkers in detection of congenital coronary diseases are some of the aspects that will open future opportunities in this market.
Market Synopsis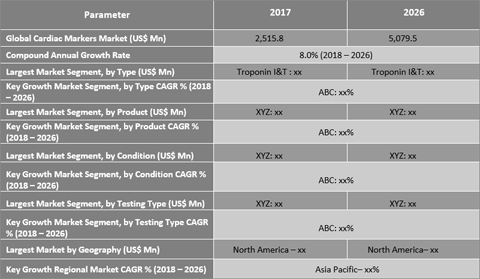 Get a sample copy for more information
"Troponin Tests to Remain the Largest Revenue Segment"
Troponin T and I enzymes are normal proteins that are vital for contractile apparatus of cardiac myocyte. These enzymes are released in the blood circulation between three and four hours of myocardial infraction and are detectable after up to ten days. Such long life of troponin allows for late diagnosis of myocardial infraction but are not successful in diagnosis of re-infraction. Higher uptake of troponin T & I tests is because these are more sensitive than creatine kinase (CK) and myoglobin. Monoclonal antibody tests are also being developed for detection of specific troponin T and cardiac specific troponin I. cardiac troponin are also used for diagnosis of chest pain in patients with non-diagnostic ECG. These tests are also used for prognosis of a myocardial infraction and identification of patients with high risk of cardiac events.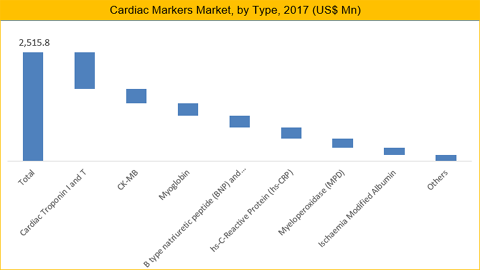 Get a sample copy for more information
"Reagents and Kits, and Point-of-Care Testing to Remain the Market Leaders"
Based on products, the global cardiac markers market is classified into reagents and kits, and instruments (chemiluminescence, immunofluorescence, immunochromatography and ELISA). Between the two, the demand for reagents and kits is set to remain the highest during the forecast period. Low costs and greater purchase volume are the key factors considered for the dominance of this segment. However, with technological evolution, the demand for analyzer instruments will remain stable throughout the forecast period. The market growth of the instruments segment is set to remain the highest in emerging markets of Asia Pacific, Latin America and Middle East and Africa, where the rapid development of healthcare infrastructure is being witnessed. At present point-of-care (POC) immunoassays for several cardiac markers for troponin I & T, myoglobin and CK-MB are available in the market that deliver good quantitative and qualitative results comparable to traditional laboratory-based assays. POC cardiac markers are vital in evaluation of emergency room patients complaining of chest pain. POC assays ombining CK-MB and myoglobin have better sensitivity and specificity in diagnosis of myocardial infraction and may also offer earliest identification of myocardial injury. Troponin T assays are the most utilized in POC settings along with Troponin I.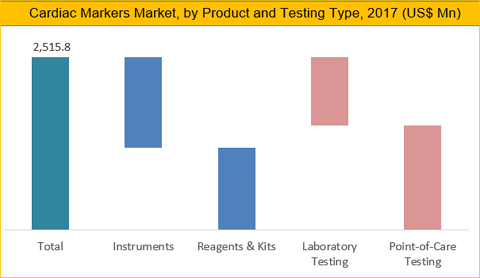 Get a sample copy for more information
"Myocardial Necrosis and Ischemia to Contribute Highest Revenue"
Consistent increase in sedentary lifestyle, overall stress levels, changes in dietary habits, smoking and alcohol use, and growing geriatric population are the key factors that have resulted in growing incidence of myocardial infraction. The two well-known biomarkers used for diagnosis of acute myocardial infraction/necrosis are CK-MB and cardiac troponin. Since 2000, cardiac troponin has successfully replaced CK-MB as the marker of choice for diagnosis of myocardial infraction. Quick identification of acute myocardial infraction is deemed to be mandatory for initiation of effective treatment and better prognosis. Troponin T is present in the bound form to the contractile myocardial cells, and presents dual release of the cytoplasmic component. Troponin I also is extremely specific to the cardiac muscle. Their absolute specificity makes troponin I & T the ideal markers for myocardial necrosis.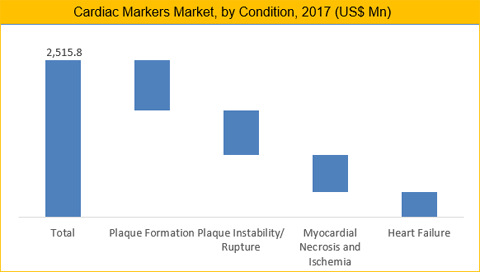 "Asia Pacific to Have Significant Market Opportunities in Store"
Currently, North America leads the global cardiac markers market, globally. High incidence of cardiac emergencies, significantly large proportion of population leading sedentary lifestyle along with high risk dietary profile are the basic factors supporting the dominance of North America market. Additionally, the availability of both POC and laboratory-based cardiac marker tests is also widespread in the region, along with supportive high awareness in the general population. However, Asia Pacific is anticipated to progress at the fastest CAGR during the forecast period. Large population pool, along with greater adoption of high sugar and fat diets are contributing to increasing prevalence of chronic heart diseases. This as therefore led to growth in adoption of advanced diagnostic tools for management of such patient pool. Additionally, as the medical tourism market in the region is flourishing, the demand for advanced diagnostic solutions for cardiac diseases is also on the growth. This has resulted in increased penetration of global market giants to augment their market penetration activities in the Asia Pacific market.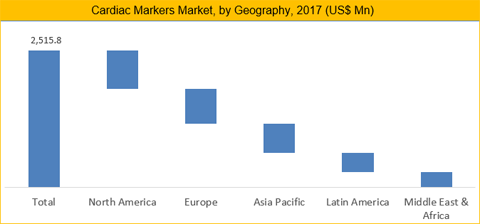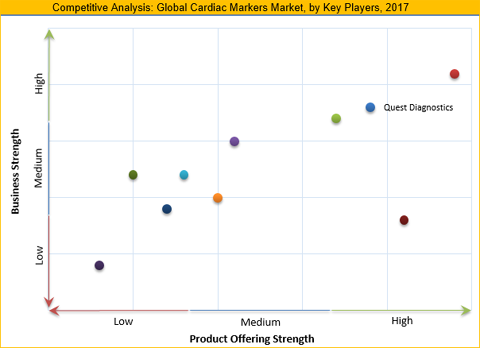 Historical & Forecast Period
This research report presents the analysis of each considered segment for the period from 2016 to 2026, having 2017 as the base year for estimations. Compounded annual growth rates (CAGRs) for each segment are calculated for the forecast period from 2018 to 2026.
Report Scope by Segments
The cardiac markers market report provides quantitative assessment of the industry terms of current and forecasted market size, while also presenting the market dynamics. This market is segmented based on type, products, conditions, testing type, and geography.
ATTRIBUTE
DETAILS
Research Period
2016-2026
Base Year
2017
Forecast Period
2018-2026
Historical Year
2016
Unit
USD Million
Segmentation

By Type (2016–2026; US$ Mn)
• Cardiac Troponin I and T
• CK-MB
• Myoglobin
• B type natriuretic peptide (BNP) and NT-proBNP
• hs-C-Reactive Protein (hs-CRP)
• Myeloperoxidase (MPD)
• Ischaemia Modified Albumin
• Others

By Products (2016–2026; US$ Mn)
• Instruments
• Chemiluminescence
• Immunofluorescence
• Immunochromatography
• ELISA
• Reagents and Kits

By Condition (2016–2026; US$ Mn)
• Plaque Formation
• Plaque Instability/ Rupture
• Myocardial Necrosis and Ischemia
• Heart Failure

By Testing Type (2016–2026; US$ Mn)
• Laboratory Testing
• Point-of-Care Testing

Geography Segment (2016–2026; US$ Mn)
• North America (United States and Canada)
• Europe (U.K., Germany, Rest of Europe)
• Asia Pacific (China, Japan, Rest of Asia Pacific)
• Latin America (Brazil, Mexico, Rest of Latin America)
• Middle East and Africa (GCC, Rest of MEA)
The qualitative analysis presented in this report gives insights on the determinant market dynamics of the cardiac markers industry. Such market dynamics are classified as market drivers, challenges and opportunities. The major market players involved in cardiac biomarkers industry are also assessed in terms of their business overview, product portfolio, financial status and key developments. The prominent market players profiled in this report are Abbott Laboratories, Inc., Roche Diagnostics Limited, Danaher Corporation, Bio-Rad Laboratories, Inc., Becton, Dickinson and Company, LSI Medience Corporation, Beckman Coulter, Inc. (Danaher Corporation),bioMerieux SA, Ortho Clinical Diagnostics, Siemens Healthcare Diagnostics, Randox Laboratories Ltd., Tosoh Bioscience and Quest Diagnostics, Inc.
Key questions answered in this report
What is the estimated market size and CAGR of the global cardiac markers industry during the forecast period from 2018 to 2026?
What are the key market drivers and pain points prevalent in the cardiac markers market?
In which direction is the CK-MB segment progressing and will it be challenged by other testing markers?
Will the demand of novel analyzer instruments rise during the forecast period?
What status do segments such as heart failure and myocardial infraction have in the global cardiac markers market?
At what CAGR will the point-of-care segment progress during the period from 2018 to 2026?
How the global competition progressing among the key market players?
Is there a possibility of new market entrants, particularly in the emerging markets of Asia Pacific?