Industry Outlook
The global cardiac prosthetic devices market to reach US$ 18,523.0 Mn in 2026 growing at compound annual growth rate (CAGR) of 8.8% during the forecast period from 2018 to 2026. Cardiac prosthetic devices are a significant alternative for treating damaged cardiac functioning. With ever-growing burden of cardiovascular diseases, cardiac prosthetics play an important role in the treatment of diseases and assist in returning to normal life. Technological advances in the products, especially in different types of valves available in the market have played a vital role in managing valvular heart diseases such as regurgitation and stenosis in the aorta and mitral valve. More than 5 million people in the United States are diagnosed with heart valve disease each year. Advances in the pacemaker devices have fueled the uptake of these devices globally. The new generation implantable cardioverter defibrillator (ICD) come with dual function, acting as a pacemaker and keeps track of heart rate to prevent sudden cardiac arrest in case of arrhythmias. Growing cases of sudden cardiac deaths (SCD) globally would boost the demand for ICDs during the forecast period. Around 0.18 million to 0.45 million incidents of SCDs occur in U.S. annually. Moreover, growing prevalence of coronary heart diseases, heart attacks, strokes and other cardiovascular ailments worldwide are also assisting the growth of cardiac prosthetic devices market. Around 92.1 million American adults are living with some form of cardiovascular disorder and after-effects of stroke. Cardiovascular diseases and strokes account for US$ 329.7 billion direct and indirect costs associated with the diseases including healthcare costs and lost productivity.
Market Synopsis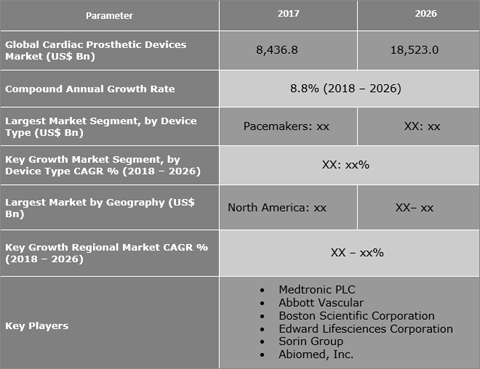 Get a sample copy for more information
Growing Prevalence of Cardiovascular Diseases to Drive the Demand for Cardiac Prosthetic Devices
In 2017, pacemakers held the largest share in the global cardiac prosthetic devices market. Technological advancements in pacemakers such as microprocessor controlled devices and dynamic pacemaker technology are enhancing the device performance and contributing to the market growth. Implantable pacemakers are the leading segment by type of pacemakers due to rising prevalence of cardiac arrhythmia cases, bradycardia, tachycardia etc. External pacemakers serve as a potential market for the management of bradyarrythmia owing to meritorious features such as ergonomic dials design and soft keys to set stimulation parameters. Heart valves would grow at a significant rate during the forecast period owing to rising cases of heart valve diseases, strokes and coronary heart disorder. Growing inclination of minimally invasive surgeries would further drive the market of cardiac heart valves market. Artificial hearts are newer technology in the market and expected to grow at an exponential rate during the forecast period.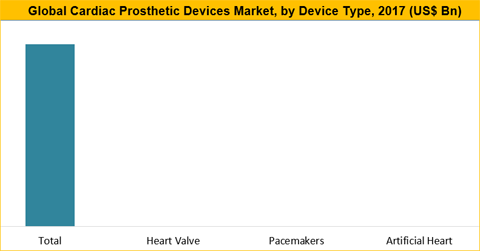 Get a sample copy for more information
North America to lead the Cardiac Prosthetic Devices Market
North America held the largest share in the global cardiac prosthetic devices market owing to high burden of cardiovascular diseases in the region. Strokes and cardiovascular disorders accounted for 14% of overall healthcare expenditure in 2013-2014, more than any other diagnostic group. Moreover, the total direct medical cost of CVD is projected to increase to US$ 749 billion by 2035. High awareness and affordability of cardiac prosthetic devices in the U.S. are also an important factor driving the growth of the market. Asia Pacific emerged as the fastest growing region in the market due to higher target population in the region. Growing healthcare infrastructure and healthcare spending in the region have made Asia Pacific a lucrative market for cardiac prosthetic devices.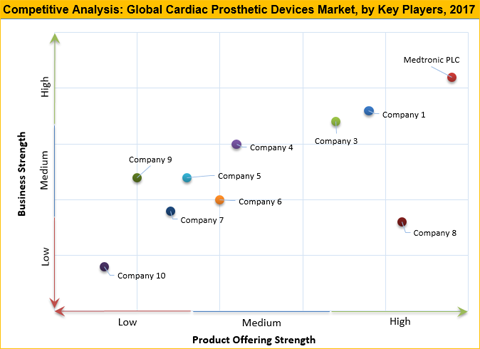 Get a sample copy for more information
Historical & Forecast Period
This research report presents the analysis of each segment from 2016 to 2026 considering 2017 as the base year for the research. Compounded annual growth rate (CAGR) for each respective segments calculated for the forecast period from 2018 to 2026.
Report Scope by Segments
Cardiac Prosthetic devices market report furnishes quantitative analysis along with its latest market trends. The market is segmented based on device type and geography.
ATTRIBUTE
DETAILS
Research Period
2016-2026
Base Year
2017
Forecast Period
2018-2026
Historical Year
2016
Unit
USD Billion
Segmentation

By Device Type (2016–2026; US$ Bn)
• Heart Valve
o Mechanical Heart Valve
o Tissue Heart Valve
o Transcatheter Heart Valves
• Pacemakers
o Implantable Pacemakers
o External Pacemakers
• Artificial Heart

Geography Segment (2016–2026; US$ Bn)
• North America (United States and Canada)
• Europe (U.K., Germany, Rest of Europe)
• Asia Pacific (China, Japan, Rest of Asia Pacific)
• Latin America (Brazil, Mexico, Rest of Latin America)
• Middle East and Africa (GCC, Rest of MEA)
Market is studied in order to understand the current dynamics and future trends in the global cardiac prosthetic devices market. The study includes market size and forecast for all considered segments presented in the report for the period from 2016 to 2026, along with respective compound annual growth rate (CAGRs) for the forecast period from 2018 to 2026, considering 2017 as the base year. The prominent players operating the global cardiac prosthetics market are Medtronic plc, Boston Scientific Corporation, Abbott Vascular, Edwards Lifesciences Corporation, Sorin Group, Biotronik, and SynCardia among others. The companies are engaging in mergers and acquisitions to maintain competency in the market. In 2017, Abbott Laboratories, Inc., acquired St. Jude Medical, Inc. to extend its product offering in cardiovascular treatment solutions. Number of companies are collaborating with Universities for the development of Total Artificial Heart (TAH) solutions.
Key questions answered in this report
How the global cardiac prosthetic devices market will perform during the forecast period from 2018 to 2026?
What are the latest trends in the cardiac prosthetic devices market and valuable opportunities for key players?
Who are the leading players in the global cardiac prosthetic devices market?
Which is the leading/and fastest region in the global cardiac prosthetic devices market?
Currently, what are the regulatory structure for the cardiac prosthetic devices?
What are drivers and restrains governing the global cardiac prosthetic devices market?
What is epidemiology of cardiovascular diseases globally?
What is the future of cardiac prosthetic devices and how it will shape the cardiovascular disease management