Cooling towers refer to a heat rejection device designed to reject the excessive heat from the cooling water stream used in various industrial and air conditioning processes. The circulating water is cooled using blowing air or evaporative heat exchange method. This cooled water can be reused for cooling purpose across different processes. Thus, the prime objective behind using cooling towers is to minimize the overall water usage thereby raising the overall water efficiency. The most common applications of cooling towers are found across industrial manufacturing, power generation plants and air conditioning systems. Industrial sectors such as chemical processing, food processing and oil & gas are among the most popular consumers of cooling towers.
The most prominent factor fueling the cooling towers market growth is the strong industrial growth across the world. Due to rising water scarcity issues, it becomes highly essential to minimize the water usage across different applications. Using cooling towers reduces the overall water wastage thereby achieving higher efficiency and reusability. This has led to development of cooling towers based upon different principles that offer high water efficiency along with minimal generation of contaminated water. Further, increasing number of power plants worldwide is another major factor supporting the market growth. Major challenge for the market is high fragmentation at regional level. Additionally, regulations regarding the external water contamination is another challenge for the small manufacturers of cooling towers.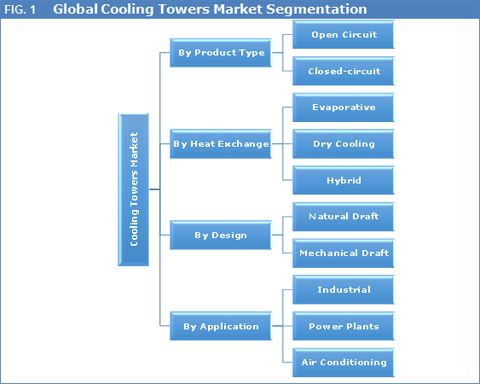 The report titled "GlobalCooling Towers Market- Growth, Share, Opportunities and Competitive Analysis, 2016 – 2023" offers strategic insights into the global cooling towersmarket along with the market size and estimates for the duration 2014 to 2023. The said research study covers in-depth analysis of multiple market segments based on product types, applications and cross-sectional study across different geographies. The study covers the comparative analysis of different segments for the years 2015&2023. The report also provides a prolific view on market dynamics such as market drivers, restraints and opportunities.
In order to help strategic decision makers, the report also includes competitive profiling of the leading cooling towers manufacturers, their SCOT (Strength, Challenges, Opportunities and Weaknesses) analysis, market positioning and key developments. Some of the major players profiled in the report are Baltimore Aircoil Company, GEA Heat Exchangers Group, Hamon Group (Esindus S.A.), FANS, a.s., SPIG S.p.A. (Babcock & Wilcox Enterprises), EVAPCO-BLCT Dry Cooling, Inc. (EVAPCOGroup), Paharpur Cooling Towers Ltd., SPX Technologies, Inc. (acquired by Paharpur Cooling Towers Ltd.), Delta Cooling Towers, Inc., Kimre, Inc., EvapTech, Inc.and others. Other in-depth analysis provided in the report includes:
Current and future market trends to justify the forthcoming attractive markets within the cooling towers industry
Market fuelers, market impediments, and their impact on the market growth
In-depth competitive environment analysis
Trailing 2-Year market size data (2014 – 2015)
SRC (Segment-Region-Country) Analysis
Overall, the research study provides a holistic view of the global cooling towers market, offering market size and estimates for the period from 2016 to 2023, keeping in mind the above mentioned factors.