Industry Outlook
Growing adoption of minimally invasive procedures and enhanced safety profile of cryoablation and cryotherapy are the key factors that are determining the overall trends in the global cryotherapy devices market. These factors have led to increased adoption of cryotherapy devices in cardiology, renal conditions, pain management and tumor removal. Cryotherapy mainly involved administration through very low temperatures in surgery and chambers. Agents such as carbon dioxide, argon, liquid nitrogen and dimethyl ether propane are extensively employed in cryotherapy applications. Increasing popularity of cryotherapy in treatment of several cancers, musculoskeletal conditions, chronic pain and cosmetic treatments is also witnessed in the market, where critically high emphasis is observed in dermatology and beauty treatments.
Market Synopsis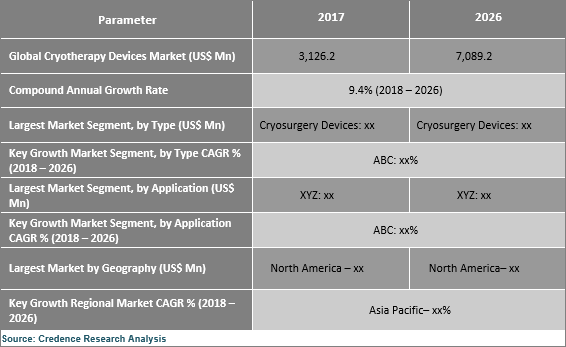 Get a sample copy for more information
The global cryotherapy devices market, by product types is segmented into cryosurgery devices whole body cryotherapy devices and partial body cryotherapy devices. Cryosurgery devices segment is further classified as contact probes, spray probes and epidermal and subcutaneous cryoablation devices. At present, cryosurgery devices command the global market and is expected to retain its dominance through the forecast period. Cryosurgery involves minimally invasive procedure and is therefore in high demand in the global markets. Treatment of cardiovascular diseases and tumors by freezing the damaged or cancerous tissue is gaining high demand due to its proven safety. Further adjoining chemotherapy and hormonal therapy with cryosurgery promoted improved treatment outcomes. Application of cryotherapy in dermatology is anticipated to gain rapid market growth during the forecast period. Cryosurgery is easily performed in office settings with high safety, and has wide dermatological application in treating conditions such as actinic keratosis, benign neoplasms, seborrheic keratosis and carcinoma.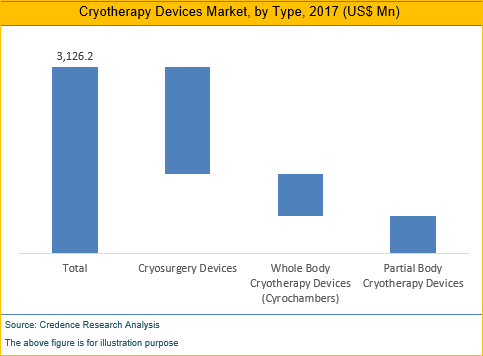 Get a sample copy for more information
"Surgical applications is the highest revenue generating segment"
Based on the application areas, the global cryotherapy market is segmented into pain management, surgical applications, and others. Among these, surgical applications dominate the global market, wherein the demand for oncology application is the highest. In the recent years, there has been an increasing demand for minimally invasive surgical procedures. Advancements in intraoperative imaging techniques are primarily attributed to the growing demand for minimally invasive surgical procedures. For the purpose of tumor management with cryosurgery, intraoperative ultrasound guidance is employed.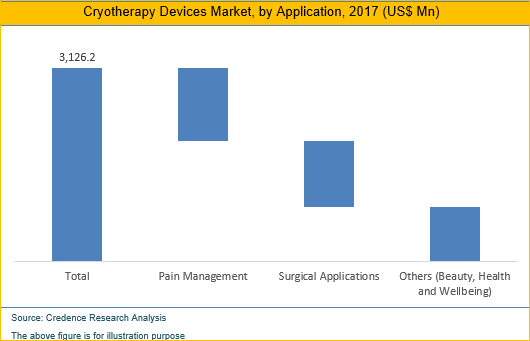 Get a sample copy for more information
"North America set to remain the largest regional market"
North America currently is the largest regional market for cryotherapy devices. The dominance of this region is attributed to high prevalence of cancer demanding minimally invasive surgeries, swift approvals for novel devices, and better reimbursements. Significant prevalence of cancer in the region, along with high preference for employing novel surgical solutions is also a key characteristic of North America market. Furthermore, the demand for asthetic procedures for anti-aging and sun damage repair is also contributing to growing demand for cryotherapy devices in North America. The demand for whole body cryotherapy devices (cryochambers) is significantly high in the region. Proliferation of asthetics and cosmetics, and overall wellbeing industry is also contributing to the high demand for whole body cryotherapy devices.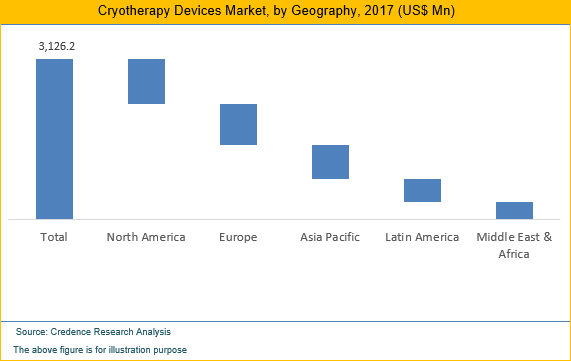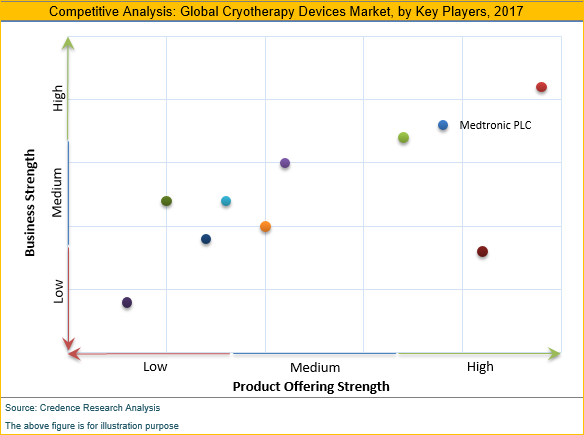 Historical & Forecast Period
This research report presents the analysis of each considered segment for the period from 2016 to 2026, having 2017 as the base year for estimations. Compounded annual growth rates (CAGRs) for each segment are calculated for the forecast period from 2018 to 2026.
Report Scope by Segments
The cryotherapy devices Market report provides quantitative assessment of the industry terms of current and forecasted market size, while also presenting the market dynamics. This market is segmented based on type, applications, testing type, and geography.
ATTRIBUTE
DETAILS
Research Period
2016-2026
Base Year
2017
Forecast Period
2018-2026
Historical Year
2016
Unit
USD Million
Segmentation

By Type (2016–2026; US$ Mn)
• Cryosurgery Devices
• Contact Probes
• Spray Probes
• Epidermal and Subcutaneous Cryoablation Devices
• Whole Body Cryotherapy Devices (Cyrochambers)
• Partial Body Cryotherapy Devices

By Application (2016-2026; US$ Mn)
• Pain Management
• Surgical Applications
• Dermatology
• Oncology
• Cardiology
• Others (Beauty, Health and Wellbeing)

Geography Segment (2016–2026; US$ Mn)
• North America (United States and Canada)
• Europe (U.K., Germany, Rest of Europe)
• Asia Pacific (China, Japan, Rest of Asia Pacific)
• Latin America (Brazil, Mexico, Rest of Latin America)
• Middle East and Africa (GCC, Rest of MEA)
This report also includes qualitative information sets for each segment considered along with other information such as market trends, drivers, challenges and opportunities. Market positioning of key players operating in this industry is also graphically demonstrated in this study. The report concludes with profiling of major companies occupying key position in the global market. The major market players profiled in this report include US Cryotherapy, Impact Cryotherapy, Cryo Innovations, Medtronic plc, Cryoconcepts LP, CooperSurgical, Inc., Zimmer MedizinSysteme GmbH, METRUM CRYOFLEX Sp. z o.o., Sp. k., Erbe Elektromedizin GmbH, Cryoswiss GmbH, Brymill Cryogenic Systems, and Galil Medical, Inc.
Key questions answered in this report
What is the forecasted size of the global cryotherapy devices market in 2026?
Will the dominance of the cryosurgery devices segment challenged by any other product type?
Which are the key driving factors contributing to the dominance of oncology surgical devices segment?
Will the rapidly growing Asia Pacific market surpass the robust North America market within the forecast period?