Industry Outlook
Safety of physical possession is a big and continuously growing concern across the globe. Various security measure including digital door lock systems is incorporated on a considerable scale in order to curb activities such as illegal interference or unauthorized trespassing. This allowed digital door locks systems market to reach a market of US$ 2.31 Bn in 2017. Perpetual growth in crime associated with break-in expected to encourage the growth of digital door market system with a CAGR of 27.2% throughout the forecast period from 2018 to 2026. The market is projected to reach a mark of US$ 18.62 Bn in 2026 owing to the growing faith of several end-user in the system compared to conventional mechanical lock.
Market Synopsis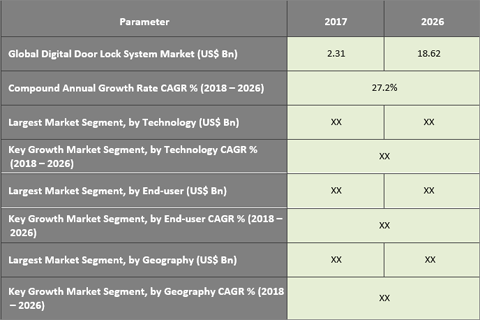 Get a sample copy for more information
"Biometrics Door Locks to Safeguard its Market Dominance in Coming Years"
In 2017, biometrics door lock remains dominant over keypad locks in terms of market value. The system successfully installed the faith in consumers' mind about the safety and security it provides. The systems are extensively used for several end-user such as government & corporate offices and in residential properties to some extent. Biometrics door lock systems use different body parts for authorization such as face recognition, iris recognition, palm recognition, voice recognition, signature recognition, and fingerprint recognition. Authentication via physical attributes ensures complete security as every individual has a unique feature which is almost impossible to imitate. Keypad lock system includes magnetic strip, electromagnetic door lock, and electric strike lock. Thes lock is losing its market share to biometrics systems owing to their vulnerability of hacking passwords and misusing of keycards responsible for authentication. Consequently, keypad door lock systems projected to witness a sluggish growth in coming years.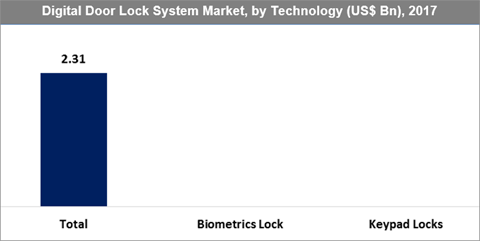 Get a sample copy for more information
"Commercial End-user Stood Supreme Over Other End-user Segment in Terms of Market Value"
Commercial end-user including corporate offices, hotels, universities, dormitories, banking, and financial institutes rely extensively on digital door locks for authorized access. The number of aforementioned end-user are witnessing a consistent rise across the globe. This, in turn, encouraged the demand for digital door lock systems. Besides commercial end-user, government is the second biggest advisory of digital lock systems and consequently, ranked second in terms of market value. Government infrastructure needs multiple level security and digital door lock systems provides the optimum authorization solution to highly classified and confidential data. In addition, other government infrastructures such as museums, art galleries, and public libraries are trusted with such digital door lock system for security. Governments, especially in developing nations across the globe are rapidly incorporating such technology. Therefore the segment projected to progress considerably in coming years.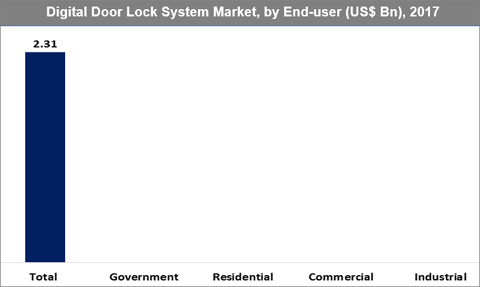 Get a sample copy for more information
"Europe Region Reciprocated to the Growing Potential of Digital Door Locks Systems"
Countries in Europe are one of the earliest to incorporate digital door lock systems and at present crowned as leading region in terms of market value. Blooming hospitality industry in several European countries stimulated the growth of digital door lock systems in the region. North America trailed Europe in terms of market value. Government and commercial end-user played a vital role in boosting the need for the lock systems. However, growing industries and presence of number of small and medium scale companies incorporating door lock systems have put Asia Pacific on the fast lane of progress. Consequently, the region projected to grow with to maximum growth throughout the forecast period 2018 to 2026.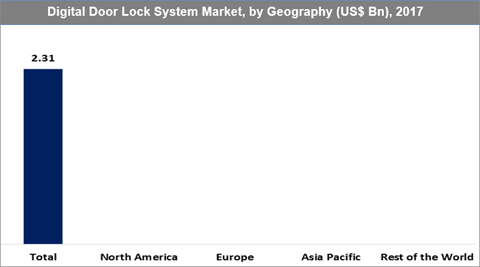 Market Segmentation
ATTRIBUTE
DETAILS
Research Period
2016-2026
Base Year
2017
Forecast Period
2018-2026
Historical Year
2016
Unit
USD Billion
Segmentation

By Technology (2016–2026; US$ Bn)
• Biometrics Lock
o Face Recognition
o Palm Recognition
o Voice Recognition
o Fingerprint Recognition
• Keypad Locks
o Magnetic Strip
o Electromagnetic Door Lock
o Electric Strike Lock

By End-user (2016–2026; US$ Bn)
• Government
• Residential
• Commercial
• Industrial

Geography Segment (2016–2026; US$ Bn)
• North America (U.S. and Canada)
• Europe (U.K., Germany, France, and Rest of Europe)
• Asia Pacific (Japan, China, India, and Rest of Asia Pacific)
• Rest of World (Middle East & Africa (MEA), Latin America)
"New Entrants Needs to Take Each Step Prudently Before Stepping into the Market"
The market is characterized by some of the ace security service and consumer electronics manufacturers. Presence of such players has made the market highly competitive and extremely difficult for new entrants. New entrants and small local companies have to earn the trust of their consumers in order to cement their market share. However, continuous improvement in biometrics technology and security technology is one of the prime focus areas of these companies. Expanding geographic presence is another prominent strategy adopted by these companies to maintain their market position. The research study include business strategies and recent development of few of the most prominent players in digital door lock systems market includes Cisco Systems, Inc., Godrej & Boyce Manufacturing Company Ltd., Onity Inc., ADT Inc., Assa Abloy Group, Siemens AG, United Technologies Corporation, Vivint, Inc., Tyco International Ltd., Allegion PLC, Wintec Electronic Tech Co. Ltd. Honeywell International Inc., Panasonic Corporation, Johnson Controls, and August Home among others.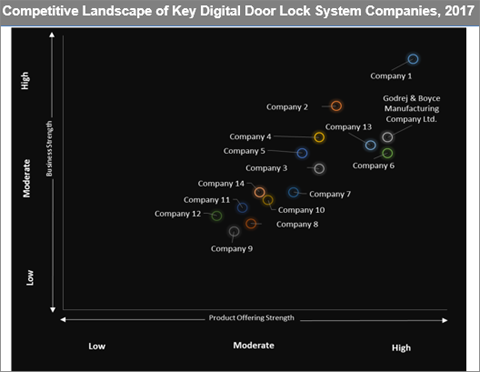 Key questions answered in this report
What are the latest trends in the digital door lock systems market and potential opportunities for the players?
How rising security concerns and issues associated with unauthorized infiltration will affect the global as well as regional digital door lock systems market?
Which are the largest and fastest growing segment in terms of technology, and end-user?
Which is the most attractive geographical region/country for overall digital door lock systems market?
How will technological development in biometrics door lock systems play a vital role in overall digital door lock systems market in coming years?
What is the market size and trends in developing regions such as Asia Pacific, Middle East & Africa, and Latin America?