DTC genetic testing market poised to grow with a double digit CAGR during the forecast period
Direct-to-consumer (DTC) genetic testing market expected to reach US$ 611.24 Mn by 2026 with 19.4% CAGR during the forecast period from 2018 to 2026, mostly through on-line sales channel. OTC/Pharmacy Stores and Doctors' Office are other sales channel dispensing these testing kits. Globally there are more than 200 companies offering DTC genetic testing services with prominent ones headquartered in North America having no clear majority of market share held by any specific player. Products such as CentoDx Plus by Centogene AG, Ancestry kit by 23andMe and family finder test, Y-DNA and mtDNA test by GenebyGene, Ltd. are few of the products ordered through different distribution channels. Consumers are buying these services and kits to obtain information related to family lineage, disease risks and personal traits. Along with genetic testing kits, manufacturers and third parties are providing additional services pertaining to interpretation of the raw data. DTC coupled with accessibility through on-line sales channel, procurement of these services/kits has literally become hassle-free with test results delivered at consumers' doorstep. On-line sales as a prime distribution channel expected to grow with the highest CAGR during the forecast period. North America led the DTC genetic testing market in 2017 while Asia Pacific is poised to emerge as the fastest growing region between 2018 and 2026. Availability of wide range of DTC genetic test kits through portals of manufacturers and third-party websites for the consumers to choose from is contributing to the overall remunerative growth of the DTC genetic testing market.
Market Synopsis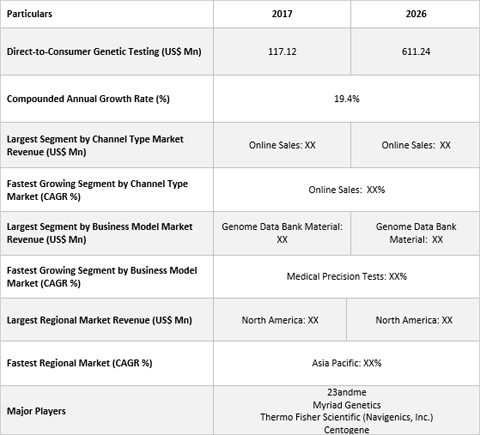 On-line sales channel propelling the growth of DTC genetic testing market
Currently, on-line sales is the largest distribution channel by value, and expected to retain its prominence with highest CAGR throughout the forecast period. The ease of ordering these services/kits on-line just by a click through smartphones, DTC genetic testing market is experiencing tremendous traction when compared to other less preferred channels such as OTC and Doctors' Office. In addition to manufacturers' on-line portals alongside e-commerce portals such as Amazon, eBay, etc. and little or no critical guidance from physicians required, on-line sales of DTC genetic testing kits and services expected to flourish with a double digit CAGR during the forecast period. Assuming the current regulatory pressure to remain constant or change with minimal impact, Credence research team foresees on-line sales to become sole distribution channel in years to come. At the same time, on-line sales channel overcomes the geographic barrier thereby promising vast outreach worldwide.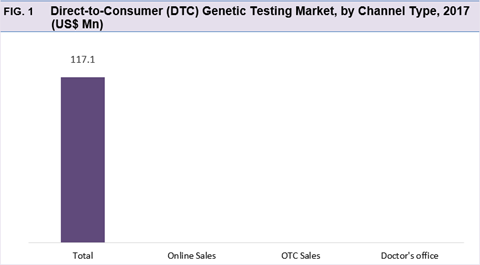 Medical precision test segment to record highest double digit CAGR during the forecast period
Almost all the business models such as genome data bank material, individual health planning, comprehensive genome test, medical precision test and restricted trait test promise lucrative returns tailing medical precision test model poised to exhibit fastest CAGR during the forecast period. In 2017, genome data bank material model held largest market share by value and expected to maintain its pole position throughout the forecast period. 23andMe is amongst the prominent players offering genomic test kits under this model with either health related genome sequencing or health and ancestry related genome sequencing. The currently available services include testing for ancestral data with information related to family lineage, identification of health risks and risk of acquiring hereditary diseases, information pertaining to genomic pattern, and knowledge of personal traits. With increased prevalence of genetic diseases and specific cancers, the curiosity to know individual risks expected to drive the sales of medical precision test model.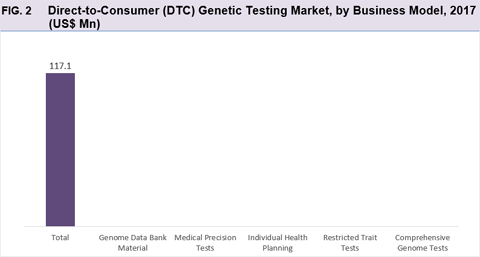 Rapid proliferation of genetic testing in Asia Pacific to set the stage for fastest growth during the forecast period
North America with key players headquartered there stands distinctly with majority of the market share followed by Europe with Asia pacific left not far behind. Middle East & Africa and LatAm identified as the fastest growing markets tailing Asia Pacific. Growing awareness and rapid development of healthcare infrastructure in developing regions are the prime market drivers. Due to the multitude of hospital admissions, and the growing need for containment of rising morbidity, stringent guidelines for infection reduction and the consequent need for culminating the risk of readmission in hospitals have urged the emerging markets to grow at a rapid CAGR during the forecast period. Inquisitiveness to know lineage, increasing awareness about the risk of genetic diseases and growing proactive tendency among the public about prevention and efficient management of chronic diseases mainly attributes to the dominance of North America market. The structure of regulatory guidelines about the use of genetic testing also play a critical role in driving the market in developed regions.
US$ 491 million in funding, 23andMe is one of the promising players in the direct-to-consumer genetic testing market
23andMe was the first company to receive FDA approval to market genetic test kits direct to consumers. The company markets tests on genetic risk for ten conditions, covering Parkinson's disease, late-onset Alzheimer's disease, hereditary thrombophilia (harmful blood clusters) and celiac disease, among others. 23andMe discontinued its DTC genetic testing products in 2013 after being ordered by the US FDA due to health consequences of inaccurate results. However, the company thereafter presented validation data on their DTC testing kits and services for 36 diseases to the FDA and re-launched their products after consequent approval in 2015. Other notable players competing in DTC genetic testing market are Navigenics, deCODE genetics, Myriad Genetics, Centogene, etc.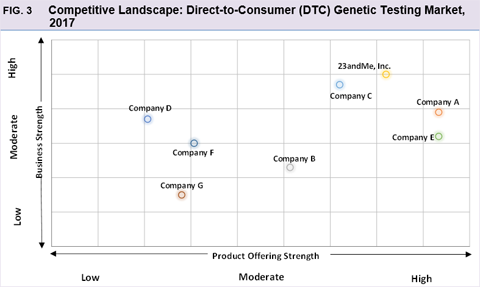 Historical & Forecast Period
2016 – Historical Year
2017 – Base Year
2018-2026 – Forecast Period
This research report presents the analysis of each segment from 2016 to 2026 considering 2017 as the base year for the research. Compounded Annual Growth Rate (CAGR) for each respective segments are calculated for the forecast period from 2018 to 2026.
Report Scope by Segments
DTC genetic testing market report presents the current market dynamics along with quantitative analysis of the global market. The report elucidates the detailed outline of global DTC genetic testing market by categorizing the market in terms of sales channel, business model, and geography. The objective of publishing this extensive research report is to aid the healthcare professionals and market stakeholders in making better decisions and strategic initiatives in the DTC genetic testing market.
Sales Channel Segment (2016–2026; US$ Mn)
On-line Sales
OTC Sales
Doctor's Office
Business Model Segment (2016–2026; US$ Mn)
Genome Data Bank Material Model
Individual Health Planning Model
Comprehensive Genome Tests Model
Medical Precision Tests Model
Restricted Trait Tests Model
Geography Segment (2016–2026; US$ Mn)
North America
Europe

Germany
United Kingdom
Rest of Europe

Asia Pacific (APAC)
Latin America (LATAM)
Middle East and Africa (MEA)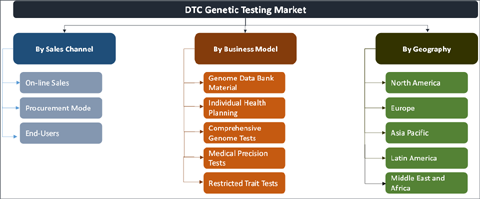 This research report further describes the major qualitative market assessment factors including key market trends, market drivers and restraints, to aid in better understanding of global DTC genetic testing market. Each market assessment factor including market drivers, challenges and opportunities are extensively explained considering the current market scenario. This report graphically maps the market players based on their market initiatives and strategies, product offering and business strength. Furthermore, the report provides attractive investment proposition based on the extensive geographical research. Key players profiled in the report include deCODE genetics, Inc., Color Genomics, Inc., Gene By Gene, Ltd., Ancestry.com, Inc., Myriad Genetics, Inc., Genleven Oy, 23andMe, Inc., and CENTOGENE AG.
Key questions answered in this report
What are the current market trends in the DTC genetic testing market and valuable opportunities for the players?
How the regulatory framework affects the global as well as the regional markets?
Which are the prominent sales generating channels for the players?
Which is the most successful business model implemented in the market?
How does the FDA approval of products affect the global market?
What is the market size and trend in emerging markets such as Japan, Latin and America?