Key Market Insights
"Data analytics in education sector driving the market growth"
The rapid adoption of technological advancement along with big data revolution in the education sector has provided numerous learning opportunities for educators, learners, curriculum developers, content creators, and researchers. The adoption of technology has offered many new tools and methods that are assisting learners and developers to optimize learning techniques for teaching and learning. As institutions and corporations possess a wealth of data of their employees and students, they are using these technologies to gain statistical analysis, explanatory, predictive models and gain insights and act on the complex issues. Analytics is providing answers to some of the crucial business questions such as examining trends, patterns, and comparison over time that in return helping institutions and corporations to get help to make strategic decisions based on solid information and its analysis.
Moreover, education and learning analytics improving the learning efficiency and effectiveness in the primary, secondary and higher-level studies; which in results, helping the educators, learners, and decision-makers to optimize their course content and skill-up the learners. Furthermore, it is helping to reduce the attrition rate by detecting at-risk students and generate alerts to educators. Also, with analytics learners are personalizing the content with learning processes.
Overall, the global education and learning analytics market was US$ 2,867.3 Mn in 2018 and expected to reach US$ 9,322.6 Mn by 2027, growing at a CAGR of 14.1% from 2019 to 2027.
Market Snapshot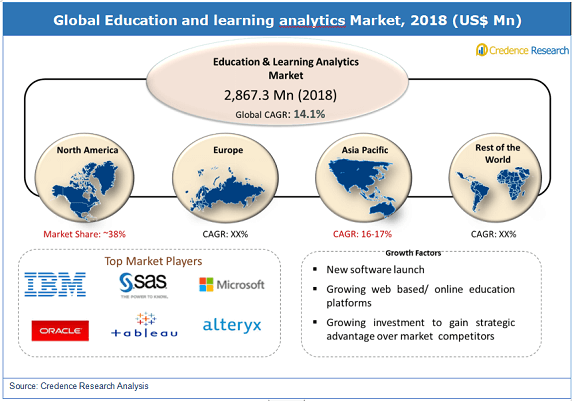 Get a sample copy for more information
Tools Segment Analysis
"Descriptive analytics segment dominating the market"
Based on tools, the descriptive analytics segment captured the highest share of the global education and learning analytics market in 2018. Descriptive analytics provides a summary of facts and figures in an understandable format that can be used for future predictions. The increasing number of companies and institutes are adopting descriptive analytics to search and summarize historical data such as corporate's operations, sales, financial and customer or students and other stakeholders' data to identify patterns and meaning. It is helping these companies to gain a strategic advantage to their competitors.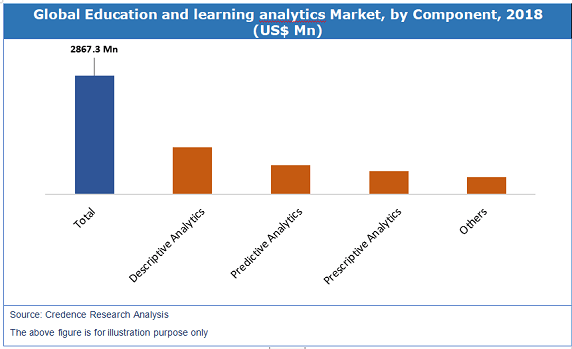 Get a sample copy for more information
Regional Analysis
"North America Dominates the Market by Region"
The global education and learning analytics market was dominated by North America, accounting for more than 38% of the market share in the year 2018. Early adoption of the latest technologies has driven the regional market in 2018. In addition, a large number of world-class universities like Stanford and MIT to name a few are situated in the U.S. and around 1.1 million student studies every year in those universities. The high number of foreign students influenced the education institutes and enterprises in the region to adopt analytics to gain a major share of the market. Further, robust IT infrastructure and IT companies like IBM, Microsoft, Oracle, SAP SE that are providing analytics software and services is expected to drive the market till 2027.
On the other hand, the Asia Pacific region anticipated showing the fastest growth during the forecasted period. The regional education sector is rapidly catching up with the quality level of western universities and a growing number of young population and their demand for online learning platforms is expected to drive the market in the region. Also, a huge market of Asian economies such as China, India and other ASEAN countries and growing regional IT & Telecom industry and e-commerce have largely impacted the regional growth.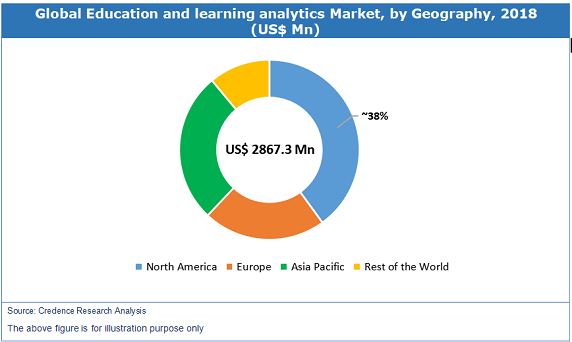 Get a sample copy for more information
"Technological advancement is keeping the market competitive"
The global education and learning analytics market is competitive in nature. Some of the prominent players operating in the education and learning analytics are adopting strategies such as partnership with other companies, launching new and advanced software to stay competitive in the global market. Following is the list of players included in the published reports.
List of Companies Covered:
IBM
Microsoft Corporation
Oracle Corporation
SAP SE
Alteryx Inc.
Tableau Software
Blackboard Inc.
MicroStrategy Inc.
SAS Institute Inc.
TIBCO Software Inc.
QlikTech International AB
Saba Software
D2L Corporation
Watershed Systems, Inc.
Information Builders
SkyPrep Inc.
Mindflash
Latitude CG, LLC
G-Cube
Others
Key Industry Development:
In February 2019, Microsoft Corporation introduced the DataSense, an integrated Platform as a Service (IPaaS) from leading data analytics organization, BrightBytes. Integration of DataSense into Microsoft providing a single, secure platform that is unlocking the data analytics to schools. This acquisition is providing education solutions for schools, improving interoperability and integrating them into the global market.
In April 2019, SAS Institute Inc. launched free AI software for teaching and learning. Further, the company has plans to invest in the people that are in academic institutions, corporate professionals. With SAS Viya, are already boosting the career placement rate by its advanced analytics software.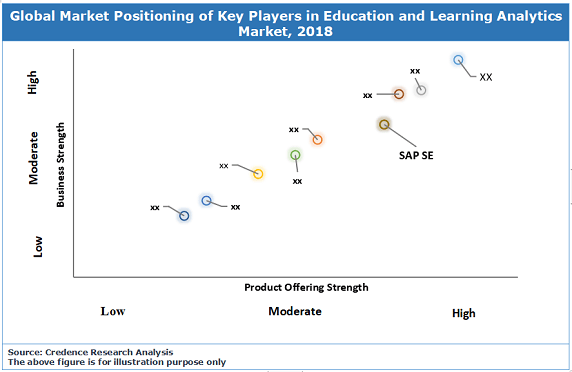 Historical & Forecast Period
The research report presents the analysis of each segment from 2017 to 2027 considering 2018 as the base year for the research. Compounded annual growth rate (CAGR) for each respective segments calculated for the forecast period from 2019 to 2027.
Market Segmentation
ATTRIBUTE
DETAILS
Research Period
2017-2027
Base Year
2018
Forecast Period
2019-2027
Historical Year
2017
Unit
USD Billion
Segmentation

Tools Segment (2017-2027; US$ Mn)
• Descriptive Analytics
• Predictive Analytics
• Prescriptive Analytics
• Others (Content Analytics, Adaptive Learning Analytics, etc.)

Component Segment (2017-2027; US$ Mn)
• Software
• Services
o Managed Services
o Professional Services

Deployment Segment (2017-2027; US$ Mn)
• On-premise
• Cloud-based

End-user Segment (2017-2027; US$ Mn)
• Enterprises
• Academics

Application Segment (2017-2027; US$ Mn)
• Finance Management
• Operations Management
• Performance Management
• Curriculum Development
• People Acquisition and Retention

Geography Segment (2017-2027; US$ Mn)
• North America (U.S., Rest of North America)
• Europe (U.K., Germany, France, Rest of Europe)
• Asia Pacific (Japan, China, India, Rest of APAC)
• Rest of the World (Middle East & Africa, Latin America)
The current report also comprehends qualitative market valuation factors such as key market drivers, market trends, restraints and opportunities that give a better market understanding of the global education and learning analytics market. Additionally, the global report also comprises a graphical representation of a competitive landscape based on their market initiatives and strategies, product portfolio and business strengths.
Unique data points of this report
Recent trends across different regions in terms of development of education and learning analytics market
Attractive investment proposition for application segment as well as geography
Key questions answered in this report
What was the market size of education and learning analytics market in 2018 and forecast up to 2027?
What are the key factors driving the global education and learning analytics market?
What are the key market trends and high-growth opportunities observed in the education and learning analytics market?
Which is the largest regional market for education and learning analytics market?
Which segment will grow at a faster pace? Why?
Which region will drive the market growth? Why?
Which players are leading the education and learning analytics market?
What are the key strategies adopted by the leading players operating in the market?