Hismation: Web Content Filtering
A web content filter is a software program that screens or restricts access to specific websites or dedicated sections of websites that are deemed offensive, inappropriate. Web content filters are increasingly deployed by business organization and federal agencies as Internet firewall systems. They are also by deployed by personal computer or mobile device owners, especially parents to restrict their children from getting access to the unwanted and objectionable content on the Internet.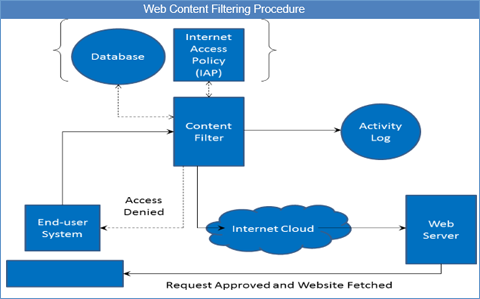 The contracting end-user (business organizations, federal agencies, schools and institution, individual) constructs a database of keywords, IPs, and URLs, which if requested by any person denies the access to the same. End-users also create a set of rules to impose its Internet Access Policy (IAP) and deploy web content filtering solutions between the user browser and outside world.
When user requests a particular website, the web content filter installed retrieves the classification of the requested website from the constructed database. It also compares it with the set of rules created in the Internet Access Policy (IAP). These set of rules decide whether to allow or confine access to the requested website. If the keywords, IP, or URL requested matches with any from the set of blocked websites, an acknowledgement of access denial is sent back to the user. On the other hand, if set of rules in the Internet Access Policy (IAP) allows request, the connection is established and the address of the website requested is retrieved from the web server. The user gains access to the requested website and the activity is recorded in the activity log. Such reporting capabilities enable business organizations to keep track of the Internet traffic and individuals that are most active on the network.
Web content filters were first installed in libraries (late 1990s) in compliance with the Children's Internet Protection Act (CIPA) in the U.S. The libraries deploying web content filters soon realized benefits, enabling them to address some of the major challenges. Web content filters allowed libraries to provide access to only dedicated websites, thereby preventing children and readers from bumping into unwanted websites and advertisements. Web content filtering solutions were initially considered as only an add-on or complimentary security solutions. However, within few years of introduction, these solutions have become an integral component of businesses and organizations realizing web consumption policies.
With the advent of technology, web filtering solutions have advanced to become more flexible and scalable solutions capable of addressing sophisticated security issues of the networked business world. Today, web content filters provide finer grained classification and more secured architecture. In addition, web content filters have become superior at evaluating the content and offer easy installation. Security solution providers across the globe are focusing on developing multi-featured solutions that besides web content filtering function can also function as firewalls, intrusion prevention solutions, and antivirus solutions among others. In addition, functionalities including logging, auditing, proxy, and data loss protection are slowly finding their way into web-security solutions.