"Hemoglobin A1c Testing Devices market to exhibit dynamic growth during the forecast period"
The global HbA1c testing devices market is growing at a significant rate, expected to grow at a CAGR of 10.1%. Worldwide, the increasing incidences of diabetes and other lifestyle diseases will drive the market growth globally. As per the data by International Diabetes Federation, in 2019, more than 430 Mn people were reported to have diabetes, i.e. 9.3% of the world's population. The rate is going to increase by 10.3% by 2030 and 10.9% by 2045, i.e. around 700 Mn.
Increasing penetration of bench top and handheld devices with HPLC and immunoassay tests in the developing nations will drive the market growth globally. Increasing geriatric population worldwide with type I and II diabetes, and U.S. FDA clearance for top end devices and increased healthcare concern along with improved awareness will enhance the market growth in the emerging nations.
Market Synopsis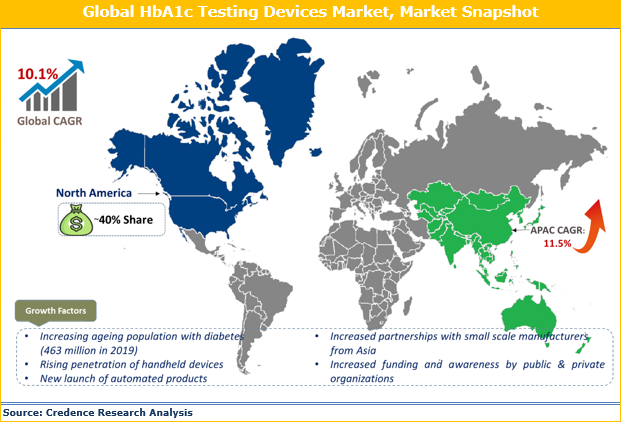 Get a sample copy for more information
"Handheld devices expected to register higher growth by the end of 2027"
Advancement in benchtop and handheld devices with the development in the field of point of care testing will drive the market growth. For e.g. Afinion™ HbA1c Dx assay, by Abbott Laboratories. Increasing incidence of diabetes is a key factor for the overall HbA1c testing market globally. Major growth is observed for self-testing. Professional HbA1c testing also contribute a significant share on a global scale. Benchtop and compact devices hold more than 55% market share in the global market. Rapid diagnostic testing at point of care along with accurate results with no time will boost market growth. Manufacturing of advanced workstations in clinical laboratories, analyzers, kits & reagents, and point of care devices will support the global HbA1c devices market. Advancement in digital transformation along with miniaturizing tests (mobile pathology lab) for enhanced patient outcomes will drive the market growth in the near future. For e.g. dianax diagnostic technology, include main connector and disposable test cartridge.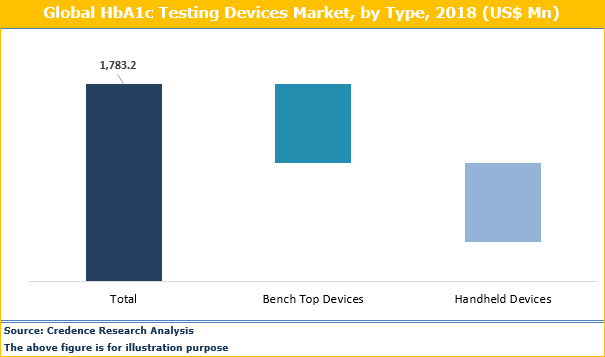 Get a sample copy for more information
"HPLC to witness a significant CAGR"
In 2018, the ion-exchange HPLC segment generated maximum revenue share in the HbA1c Testing Devices market globally and expected to contribute maximum revenue share in the coming years. High Performance Liquid Chromatography is used widely on a global scale, provide accurate results with higher accuracy as compared to other tests. New launch of analyzers along with improved test kits for home use, point of care settings and clinical laboratories will drive the market growth globally. As it has the capability to show results in real time of analyze variants along with increased ionic strength. For e.g. ADAMS A1c HA-8182, Glucose GA-1172. Launch of fully automated analyzers with advanced features will drive the market growth on a global scale. For e.g. HbA1c & HbA2/F-fully automated analyzer with unique CLE technology by Transasia Bio-Medicals, G8 HPLC Analyzer, i-Series Plus Integrated HPLC System and others.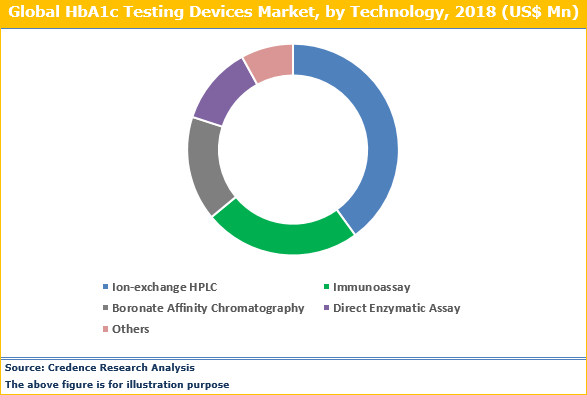 Get a sample copy for more information
"Increased research and development with increased prevalence for diabetes in the developed regions"
New device launch with automated features along with enhanced precision, FDA clearance for new analyzers and assay tests, technology expansion and partnerships in the developing and developed nations for HbA1c Testing Devices will drive the overall growth of the market during the forecast period. The North America region accounted for major revenue share globally. Presence of top manufacturers and suppliers along with top research centers with advanced diagnostic testing and approaches will hold the U.S market in dominant position. As per Centers for Disease Control and Prevention (CDC) report, in 2016, the prevalence of type 2 diabetes was around 21 Mn, and type 1 was 1.3 Mn adults. Increasing incidences in the U.S. will upsurge the demand for HbA1c devices across the region. Additionally, as per American Diabetes Association, in 2018, 34.2 Mn individuals were had diabetes, and every year more than 1.5 Mn US citizens are diagnosed with diabetes.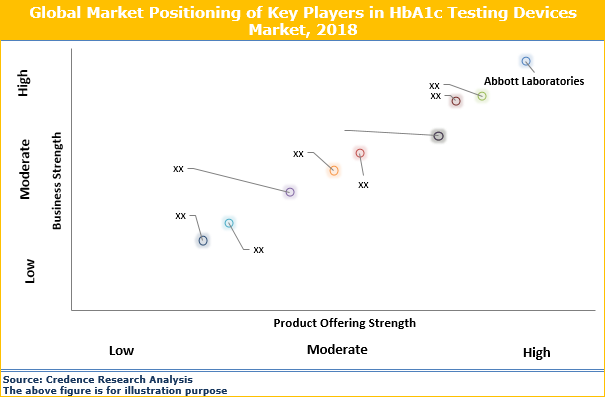 Key Developments:
In June 2019, the U.S. Food and Drug Administration (FDA) cleared the Afinion HbA1c Dx assay for rapid point-of-care test. Abbott laboratories declared that the Afinion HbA1c Dx assay is now accessible for AS100 analyzer and Afinion 2 analyzer.
In March 2019, the fully automated hemoglobin A1c (HbA1c) Advanced assay received CE mark certification and U.S. FDA 501(k) clearance. It is now available on the DxC 700 AU analyzers. It enables high-volume clinical laboratories to deliver physicians with enhanced precision and accurateness for detecting diabetes mellitus, and identifying individuals who may be at high risk of developing diabetes mellitus.
In Sep 2019, Abbott Laboratories and Sanofi are in partnership to develop diabetes management technology for its future smart pens, cloud software and insulin titration apps.
Top Companies:
Abbott Laboratories
Siemens Healthcare
Arkray, Inc.
Bio-Rad Laboratories, Inc.
Danaher Corporation
Trinity Biotech plc
Alere, Inc.
F. Hoffmann-La Roche Ltd.
Transasia Biomedicals Ltd
Tosoh Corporation
Polymer Technology Systems, Inc.
Menarini Group
Others
Historical & Forecast Period
This study report represents analysis for each segment from 2017 to 2027 considering 2018 to be the base year. Compounded Annual Growth Rate (CAGR) for each of the respective segments estimated for the forecast period from 2019 to 2027.
Market Segmentation
ATTRIBUTE
DETAILS
Research Period
2017-2027
Base Year
2018
Forecast Period
2019-2027
Historical Year
2017
Unit
USD Million
Segmentation

Type (2017–2027; US$ Mn)
• Bench Top Device
• Handheld Device

Technology (2017–2027; US$ Mn)
• Ion-exchange High-performance Liquid Chromatography (HPLC)
• Immunoassay
• Boronate Affinity Chromatography
• Direct Enzymatic Assay
• Others

End User Segment (2017–2027; US$ Mn)
• Hospitals & Clinics
• Diagnostic Laboratories
• Home Care Settings
• Research Institutes

Geography Segment (2017–2027; US$ Mn)
• North America (U.S., Rest of North America)
• Europe (U.K., Germany, France, Rest of Europe)
• Asia Pacific (Japan, China, India, Rest of Asia Pacific)
• Rest of the World (Middle East & Africa, Latin America)
The current report also comprehends qualitative and qualitative market valuation factors such as key market drivers, market trends, restraints and opportunities that gives a better market understanding of the overall HbA1c Testing Devices market. Additionally, the global report also comprises graphical representation of competitive landscape based on their market initiatives and strategies, product portfolio and business strengths.
Key questions answered in this report
What are the current market trends and dynamics in the HbA1c Testing Devices market and valuable opportunities for emerging players?
Which segment accounts for the fastest CAGR during the forecast period and why?
What is the global trend for handheld devices?
Regional trend for new launched products along with consumer preference for clinical testing methods?
Which technology segment holds a larger market share and why?
Are low and middle-income economies investing in the HbA1c Testing Devices market?
What is the market trend and dynamics in emerging markets such as Asia Pacific, Latin America and Middle East & Africa?