Industry Outlook
Steep growth in diabetic patient pool along with growing prevalence in middle- and low-income countries will contribute to growth of the market for HbA1c testing devices. Growing awareness in patients and caregivers regarding efficient diabetes management is yet another factor driving this market. New technologies and advent of handheld devices will also present new proliferation opportunities in the global HbA1c testing devices market. However, challenged accuracy due to differences in interpretations and growing product costs may pose considerable challenges in the market.
The proportion of glycosylated hemogloblin A1c in whole blood is an indicator of average plasma glucose concentration over a considerable period of time and is used for diagnosis of diabetes. At present, common laboratory methods for detection of HbA1c are immunoassays, liquid chromatography and electrophoresis. the European Association for the Study of Diabetes, the International Diabetes Federation and the American Diabetes Association pronounced that A1c assay should be used as primary method for diabetes diagnosis. Growing availability of the novel, fast, reliable and easy to use tests for detection of HbA1c levels have further enhanced the stability of this market.
Market Synopsis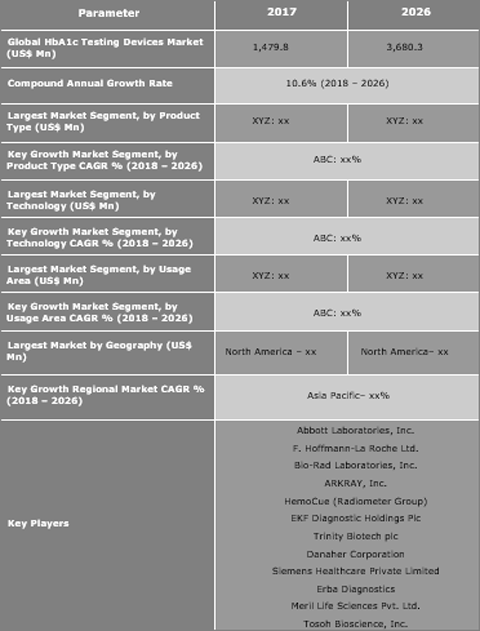 Demand for Handheld Analyzers to Determine the Market Growth
Currently, handheld and bench-top analyzers gather the largest revenue share and will continue to dominate the global market. Clinical regimen to assess patients with suspicion on diabetes generally involves a few appointments with general practitioners, blood samples are procured during the first visit, and after a week, results are discussed with the patient. If elevated HbA1c is discovered with no other symptoms, a repeat blood test is normally prescribed, adding to the length of time taken for diagnosis. Additionally, once diagnosed with diabetes, the HbA1c concentration is regularly monitored for analyzing the control of blood glucose concentration. Therefore, as an alternative to such lengthy process, point of care testing is preferred for providing quick results during patient consultation and speed up therapeutic decisions, therefore resulting in fewer patient visits and better glycemic control. There are increasing evidences supporting the benefits from the use of point of care testing for HbA1c analysis.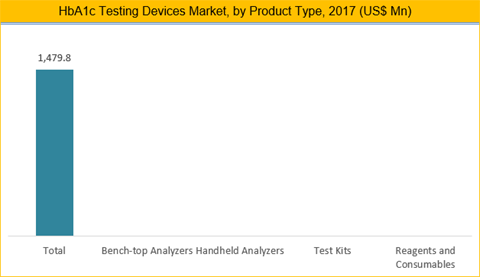 Separation Methods to Occupy Leading Position in the Global Market
Based on diagnosis technologies, the global HbA1c testing devices market is segmented into separation and chemical methods. The separation methods segment is further categorized into HPLC ion exchange, capillary electrophoresis and affinity chromatography; whereas immunoassays and enzymatic assays comprise chemical methods. Immunoassays are at present the most common HbA1c testing method used in clinical laboratories. These methods make use of antibodies that recognize N-terminal glycated amino acids. The first generation HbA1c immunoassay used antibody recognizing amino acids on the β chain of HbA, delivering analytic interference in the presence of HbS and other 26 Hb variants. Such analytic interference from the two common Hb variants i.e. HbS and HbC had urged the development of second and third generation immunoassays. HPLC ion exchange assays are the second most common method used in clinical laboratories. This method separates Hb variants based on charge differences. Further sophisticated HPLC models are capable of resolving various Hbs such as HbA1b, HbA1a, HbA0, and so on. The prime advantage of measuring HbA1c with ion exchange method is shorter run time needed for sample analysis.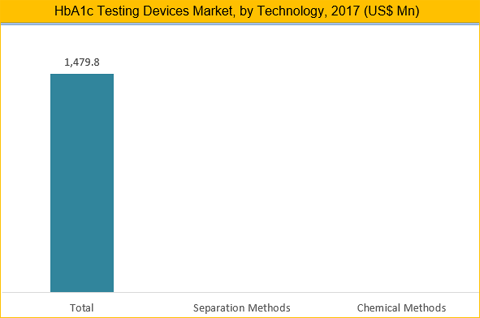 Diagnostic Laboratories Segment to Enjoy Prominence During the Forecast Period
Phenomenal increase in prevalence of diabetes is the key determinant of adoption of HbA1c testing devices. Growing prevalence of diabetes is urging the sales of handheld devices in hospitals for point of care settings. Higher affordability of hospitals in adopting latest technologies over conventional products, helping patients to procure faster test delivery, and greater patient footfall are the key factors supporting the dominance of hospitals and clinics segment. Additionally, hospitals also procure diagnostic kits and consumables in bulk, therefore gaining further affordability. Diagnostic laboratories is a key segment to be observed during the forecast period. As the prevalence of diabetes is phenomenally rising in developing regions of Middle East and Africa, and Asia Pacific, the demand for HbA1c diagnosis is expected to be significantly high in these regions. The proliferation of diagnostic laboratories is significant in these regions, therefore supporting the fastest growth of this segment.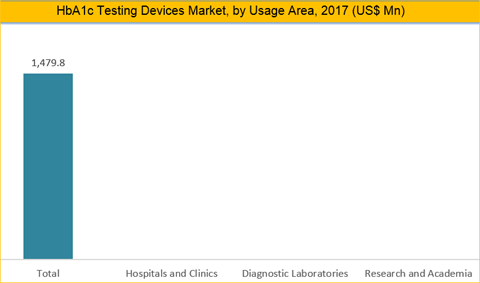 North America and Asia Pacific to Closely Compete on the Global Front
North America was the leader in the global HbA1c testing devices market in 2017. High patient awareness, presence of evolved healthcare infrastructure, and better reimbursements are the key factors facilitating the dominance of North America market. On the other hand, Asia Pacific is anticipated to cannibalize on the market share of North America. Higher growth in incidence of diabetes in the general population than the global benchmark is the key factor supporting the rapid growth of Asia Pacific market. Therefore, greater unmet needs, increasing awareness, proliferated diagnostic laboratories to remote locations, growing demand for handheld analyzers are the prime drivers to this region. BRICS countries, particularly India and China will show optimistic growth during the forecast period.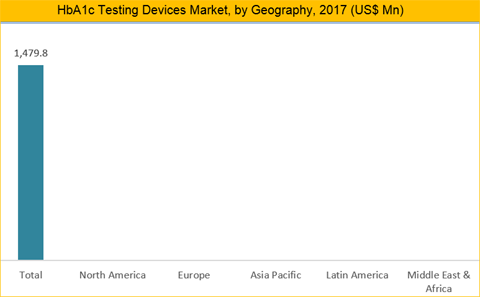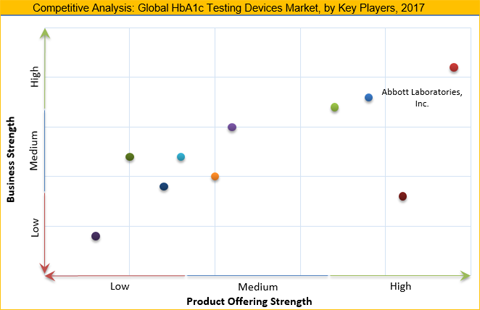 Historical & Forecast Period
2016 – Historical Year
2017 – Base Year
2018-2026 – Forecast Period
This research report presents the analysis of each considered segment for the period from 2016 to 2026, having 2017 as the base year for estimations. Compounded annual growth rates (CAGRs) for each segment are calculated for the forecast period from 2018 to 2026.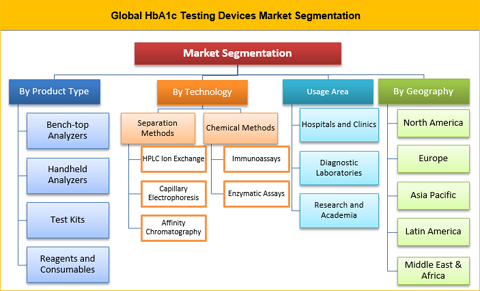 Report Scope by Segments
His study incorporates qualitative and quantitative insights and trends respective to the global HbA1c testing devices market. The market size for each segmented considered in this report scope are presented for the period from 2016 to 2026 along with CAGRs for the period from 2018 to 2026. Drivers, challenges, opportunities, competitive landscape, and attractive investment proposition are the key qualitative information sets presented in products, technology, usage area, and geography.
By Product Type (2016–2026; US$ Mn)
Bench-top Analyzers
Handheld Analyzers
Test Kits
Reagents and Consumables
By Technology (2016–2026; US$ Mn)
Separation Methods
HPLC Ion Exchange
Capillary Electrophoresis
Affinity Chromatography
Chemical Methods
Immunoassays
Enzymatic Assays
By Usage Area (2016–2026; US$ Mn)
Hospitals and Clinics
Diagnostic Laboratories
Research and Academia
Geography Segment (2016–2026; US$ Mn)
North America

Europe


U.K.
Germany
Rest of Europe

Asia Pacific (APAC)

Latin America (LATAM)


Brazil
Mexico
Rest of Latin America

Middle East and Africa (MEA)


GCC
Rest of Middle East and Africa
Profiling of key market players in terms of business overview, product portfolio, financial information, and key developments is also demonstrated in this report. The major market players thus profiled in this report include Abbott Laboratories, Inc., F. Hoffmann-La Roche Ltd., Bio-Rad Laboratories, Inc., ARKRAY, Inc., HemoCue (Radiometer Group), EKF Diagnostic Holdings Plc, Trinity Biotech Plc, Danaher Corporation, Siemens Healthcare Private Limited, Erba Diagnostics, Meril Life Sciences Pvt. Ltd., and Tosoh Bioscience, Inc.
Key questions answered in this report
What are the key market strategies adopted by stakeholders in the global HbA1c testing devices market?
What is the current market size of the global HbA1c devices market and where will it stand through 2026?
At what CAGR will the global market progress through the forecast period from 2018 to 2026?
How the progress in point-of-care diagnostics is impacting the handheld analyzers segment?
Which product type holds the largest share in the global HbA1c devices market?
How the Asia Pacific market progressing in the global market and challenging the supremacy of North America region?
Which are the key brands in highest demand in the global market?