"High throughput screening market to exhibit productive growth during the forecast period"
The global high throughput screening (HTS) market is growing effectively, valued at US$ 13.2 Bn in 2017 and estimated to reach US$ 24.4 Bn by 2026. Increasing need for drug discovery in pharmaceuticals & biotechnology will enhance the overall expansion of high throughput screening market globally. New technology assessment in the field of cell based assays is significant; the fluorometric imaging plate reader cell based assays will drive the market in developed nations. New automated platforms for ultra high throughput screening will gain traction globally. Additionally, adoption of advanced testing and detection platforms, utilization of 3D based cultures, and better funding from research organizations or public sources will further spur revenue growth during the forecast period.
Factors driving the HTS market growth in developed nations comprise easy affordability of novel automated platforms, increasing need for new therapies, and rapid new product launches. Nevertheless, high cost of automated systems, lack of infrastructure, and economic issues with complex HTS and R&D are few factors limiting the growth of high throughput screening market globally.
Market Synopsis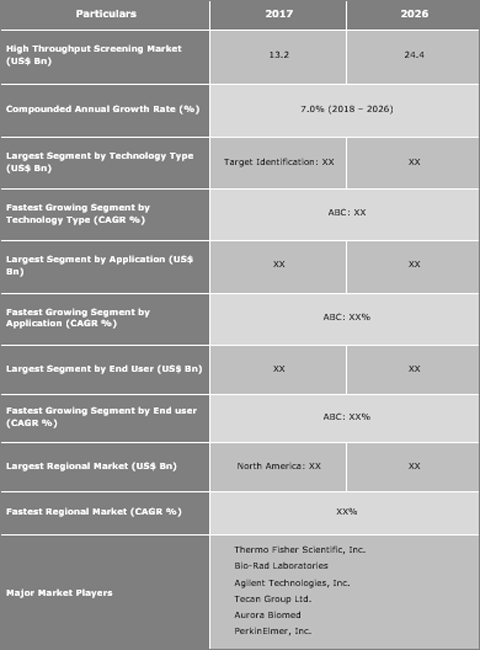 Get a sample copy for more information
"Ultra high throughput screening (uHTS) in drug discovery expected to register higher growth by 2026"
High throughput screening technologies are categorized into cell based assays, ultra high throughput screening, lab-on-a-chip, bioinformatics and label free technology. Increasing number of drug targets for primary & secondary screening, research funding by government, private and research institutes are boosting the overall growth in developed nations.
Current trends show improvement in chemical libraries and advanced software along with automation techniques with high standards and enhanced outcomes via screening procedures. Increasing need for newer treatments for a number of disease conditions is supporting new technology assessment in high throughput screening. Currently, drug discovery platforms with ultra high throughput screening is well-defined by screening numbers. However, high cost and less efficiency of advanced software for liquid handling systems, plate reader detection and automated robotic arms has a negative impact on the market.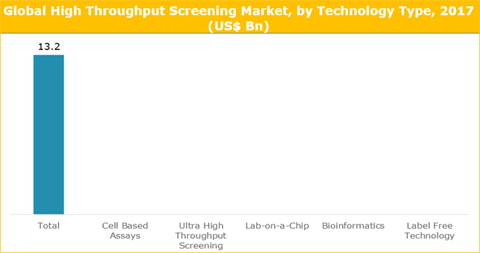 Get a sample copy for more information
"Drug discovery platforms to witness a significant CAGR"
The high throughput screening techniques are utilized in various application areas such as target identification, primary & secondary screening, toxicology assessment, and others. Pharmaceutical & biotech companies have funded for a wide scale of automated systems to upsurge the adoption of throughput screening across the early stages for drug discovery processes.
The rise in usage of ultra high-throughput screening and advanced robotic platforms is generating maximum revenue share. Additionally, noteworthy development in the specialized instrumentation, such as multi-mode microplate readers will gain traction globally. HTS process are evolved in carrying out various procedures in an automated environment using a custom-engineered 3D imaging system. For instance, in November 2018, NTRC (Netherlands Translational Research Center) launched the first high-throughput screening assay for arginase-1 inhibitors at ENA2018. Other applications such as automating target-based and complex phenotypic drug discovery, cytotoxicity detection and advanced primary screening in cell based assays show promising opportunity during the forecast period.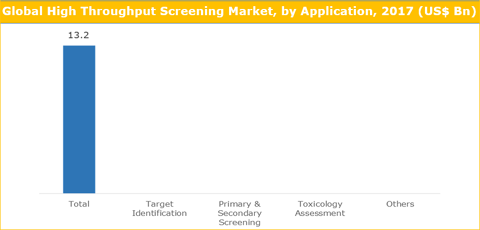 Get a sample copy for more information
"Increasing applications in biotechnology and pharmaceutical industry witness a significant CAGR"
High throughput screening processes are utilized in various areas, having prime occupation in pharmaceutical and biotechnology. Due to numerous technology assessments taking place on drug discovery platforms, various small and medium size pharmaceutical and biotech companies are intensively focused on development of novel molecules for numerous life threatening disorders.
Moreover, huge investments in the biotech & pharmaceutical industry, for high throughput screening technology in terms of miniaturization, automation, and assay methodology, have helped in market growth globally. Additionally, the end-users of HTS market have perceived growing number of clinical candidates, and marketed drugs, arising from the advance techniques utilized.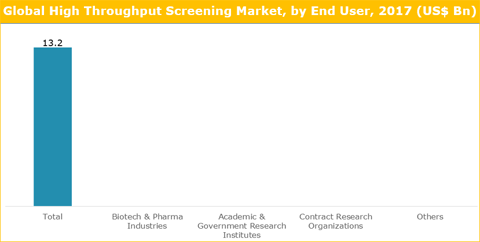 "High demand, new product launches and the presence of top players holds North America in dominant position"
At present, North America (dominantly, the U.S.) generated maximum market share in the global market accredited to new product launches along with advanced automation techniques. Convenient access to HTS laboratories facilitating advanced assay technologies for performing primary and secondary screening campaigns is on a rise in the U.S.
Other prominent factors leading the market growth include the demand for extensive automation techniques in HTS, increased research and development activities on toxicology and stem cells, integration of advanced data management & information systems. However, high cost, limited availability of automated systems, lack of trained staff, and complexity in assay development and techniques are limiting the growth of HTS market.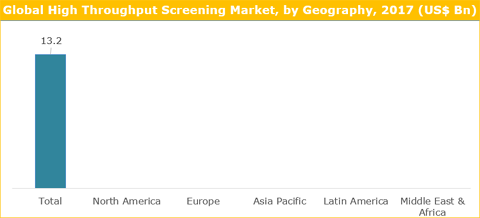 "Dominance of multinational manufacturers with strong product portfolio in the developed regions"
Major players in the high throughput screening market are Thermo Fisher Scientific, Inc., Bio-Rad Laboratories, Agilent Technologies, Inc., Tecan Group Ltd., Aurora Biomed, Perkinelmer, Inc., Sigma Aldrich Corporation, Axxam Spa, Hamilton Company, Aurora Biomed, Inc., Danaher Corporation, Beckman Coulter Inc., GE Healthcare and others. Topmost corporations are manufacturing high throughput screening in an advanced automated environment. Additionally, partnerships with other companies, research organizations and academic institutes will further drive the market growth. For instance, in February 2018, Charles River Laboratories declared a new agreement which grants the commercial access to AstraZeneca's high-throughput screening systems and compound management infrastructure. The company will perform high-throughput screening programs by utilizing AstraZeneca's hi-tech HTS facility.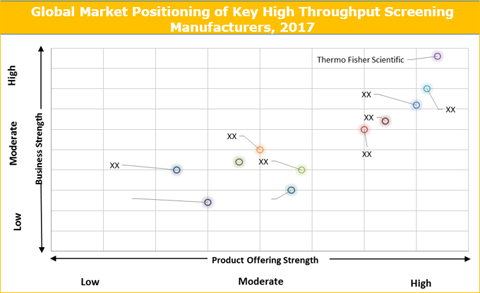 Historical & Forecast Period
This study report represents analysis for each segment from 2016 to 2026 considering 2017 to be the base year. Compounded Annual Growth Rate (CAGR) for each of the respective segments estimated for the forecast period from 2018 to 2026.
Report Scope by Segments
ATTRIBUTE
DETAILS
Research Period
2016-2026
Base Year
2017
Forecast Period
2018-2026
Historical Year
2016
Unit
USD Billion
Segmentation

By Technology Type (2016–2026; US$ Bn)
• Cell Based Assays
• Ultra High Throughput Screening
• Lab-on-a-Chip
• Bioinformatics
• Label Free Technology

By Application (2016–2026; US$ Bn)
• Target Identification
• Primary & Secondary Screening
• Toxicology Assessment
• Others

By End User Segment (2016–2026; US$ Bn)
• Biotechnology & Pharmaceutical Industries
• Academic & Government Research Institutes
• Contract Research Organizations
• Others

Geography Segment (2016–2026; US$ Bn)
• North America (United States and Canada)
• Europe (U.K., Germany, Rest of Europe)
• Asia Pacific (China, Japan, Rest of Asia Pacific)
• Latin America (Brazil, Mexico, Rest of Latin America)
• Middle East and Africa (GCC, Rest of MEA)
This report also comprehends qualitative market valuation factors such as key market drivers, market trends, restraints and opportunities that give a better market understanding of the overall high throughput screening market. Additionally, the report also comprises graphical representation of competitive landscape based on their market initiatives and strategies, product portfolio and business strengths.
Key questions answered in this report
What are the current and future trends in high throughput screening?
What are the current dynamics in the automated systems and valuable opportunities for emerging players?
Which application segment accounts for the fastest CAGR during the forecast period?
Which end user type holds a larger market share and why?
What is the impact of high cost of automated systems in the high throughput screening market?
What are the products and brands in the HTS industry that are growing more significantly and why?
What is the impact of information data systems in the global market?
What is the market trend and dynamics in emerging markets such as Asia Pacific, Latin America and Middle East & Africa?