Market Excerpt
The global industrial hose market was valued at US$ 10.75 Bn in 2017 and expected to expand at a CAGR of 4.8% during the forecast period from 2018 to 2026. Booming construction and real estate industry due to economic stability is one of the prominent factors driving demand for industrial hoses worldwide. Gradual shift from traditional farming practices to mechanized farming will also have positive impact on the overall demand for industrial hoses worldwide. To promote mechanized farming, the governments across the globe are offering incentives and flexible credit policies for the purchase of automated farming equipment. In the existing market scenario, the global industrial hose industry is marred by lack of product differentiation, which has led to price wars among manufacturers and consequently slow growth in the market value.
Market Synopsis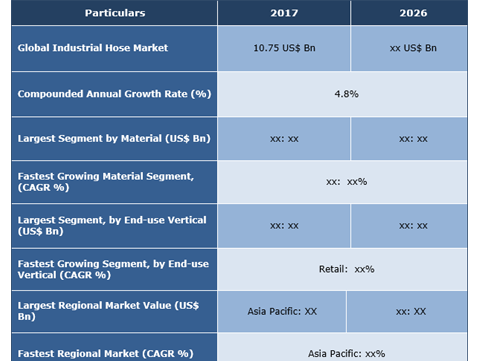 Polyurethane Hoses to Register Maximum Adoption
Selection of right raw material for manufacturing hoses used for varied applications is crucial. Common parameters taken into account while selecting a raw material for manufacturing hose include its compatibility with chemicals, weight, resistance to abrasion, and pressure rating among others. Hoses made from polyurethane are presumed to witness strong adoption during the forecast period on the back of superior characteristics offered in terms of tear and abrasion resistance, flexibility, tensile strength, weight, etc. In addition, excellent resistance offered to petroleum-based products such as gasoline, kerosene, and oil makes polyurethane hoses ideal for applications in industry verticals including oil & gas, mining, chemicals, and agriculture. In view of positive outlook, a large number of established manufacturers have begun offering industrial hoses made from polyurethane.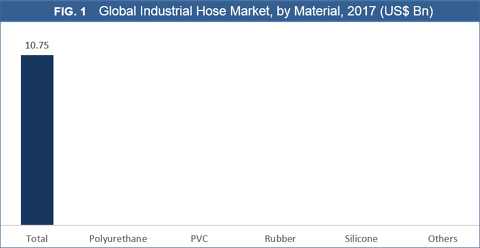 Asia Pacific to Remain Engine of Growth throughout the Forecast Period
In 2017, Asia Pacific was the largest industrial hose market worldwide. The value contribution from Asia Pacific stood at 41.5% in the same year. China, India and Japan represent major industrial hose markets, collectively accounting for over 70% of the market value in Asia Pacific. Positive outlook of the construction and industrial sector bodes well for the market growth in the region. China is one of the largest construction equipment manufacturers in the world. According to China Construction Machinery Association, sale of Chinese construction equipment is expected to exceed US$ 87.0 Bn in 2018. The export of Chinese construction equipment will also register strong growth, reaching US$ 20.0 Bn in 2018 from US$ 14.6 Bn in 2017. Similarly, with increasing modernization of agricultural practices, demand for large size, advanced agricultural machineries is on a rise. All these developments augers well for the futuristic market growth. While developed markets such as North America and Europe witnessed sluggish growth during the first half of this decade, the industrial output will surge in the coming years with markets showing economic stability. The replacement of aging industrial hoses with advanced hoses having better characteristics will also keep market demand afloat in developed economies.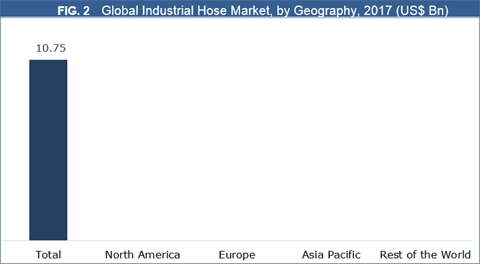 Market Demand Buoyed by Farm Mechanization & Resurgence in the Automotive & Manufacturing Sectors
Based on end-use, the global industrial hose market is classified into construction & mining, agriculture, automotive, industrial manufacturing, oil & gas, food and beverage, and others (pharmaceuticals, utilities, etc.). Hoses being fundamental components in industrial equipment, their growth coincides with increase in industrial output and subsequent demand for heavy machinery. Resurgence in the industrial production, agricultural process automation, and strong demand for automobiles worldwide will aid demand for industrial hoses. In addition, influx of population in urban areas, especially in emerging economies has increased construction activities in the region. For instance, with Indian population estimated to grow by a staggering 150 million by 2030, the construction market in India will grow almost twice as fast as China, becoming third largest construction market by 2021 and driving demand for industrial hoses.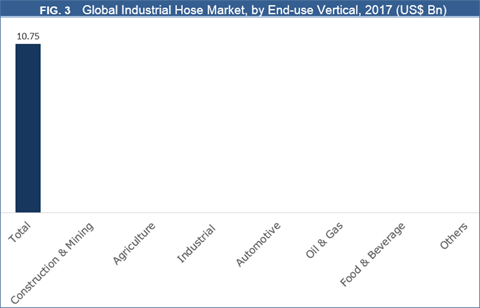 Key companies profiled in the research study include Gates Corporation (the U.S.), Eaton Corporation Plc (the U.K.), Parker Hannifin Corporation, RYCO Hydraulics Pty Ltd. (Australia), Piranha Hose Products, Inc. (the U.S.), Polyhose India Pvt. Ltd. (India), Dyna Flex, Inc. (the U.S.), Kurt Manufacturing Co., Inc. (the U.S.), MAC Tubi S.p.A (Italy), and ZEC S.p.A. (Italy) among others.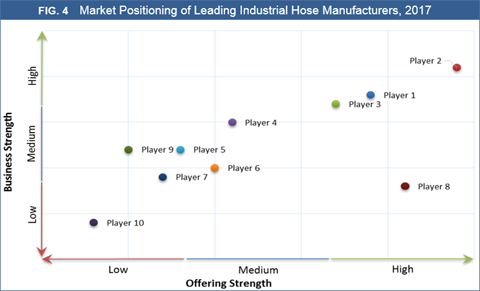 Historical & Forecast Period
2016 – Historical Year
2017 – Base Year
2018 - 2026 – Forecast Period
This research study provides qualitative as well as quantitative insights for each segment and sub-segment from 2016 to 2026, considering 2017 as the base year for the research. CAGR (Compounded Annual Growth Rate) for each segment and sub-segment is calculated for the forecast period from 2018 to 2026.
Report Scope by Segments
Key segments covered in the report are as follows:
Material Segment (2016–2026; US$ Bn)
Polyurethane
Rubber
PVC
Silicone
Others
End-use Vertical Segment (2016–2026; US$ Bn)
Construction & Mining
Agriculture
Industrial Manufacturing
Automotive
Chemical and Oil & Gas
Food & Beverage
Others (Pharmaceuticals, Utilities, etc.)
Geography Segment (2016–2026; US$ Bn)
North America


United States
Rest of North America

Europe


United Kingdom
Germany
France
Rest of Europe

Asia Pacific (APAC)


China
Japan
India
Rest of Asia Pacific

Rest of the World (RoW)


Middle East & Africa (MEA)
Latin America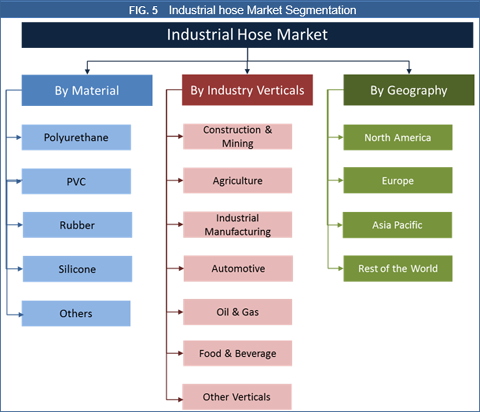 Key questions answered in this report
Global market size of industrial hoses in 2016 and 2017
Projected forecast and market estimations up to 2026
Which is largest regional market for industrial hoses?
Which material is currently preferred for manufacturing hoses worldwide?
Which material will be preferred for manufacturing hoses in the coming years?
Which industry vertical enjoys the highest penetration of industrial hoses?
Which are the key factors driving the global industrial hose market growth?
Who are the leading manufacturers in the global industrial hose market?
What are the key strategies adopted by the leading industrial hose manufacturers?