Industrial tapes are adhesive tapes, used for variety of industrial applications such as bundling, masking, surface protection etc. The global industrial tapes market is anticipated to register robust growth owing to the fast pace expansion of end user industries. For instance, the automotive industry is experiencing stringent demand for eco-friendly and high performance adhesive tapes, resulting in driving the global industrial tapes market. However, the macroeconomic factors and geopolitical risks across the regions have their equal impacts on the industrial tapes market. For instance, Europe's industrial tapes market is governed by the positive macro-economic factors from countries such as Germany, France, Italy and Spain. According to the OECD economic outlook, solid economic growth is projected for Germany (2017-2018) attributed by the depreciation of euro and strong demand from China and the U.S. markets. However, dynamics such as Brexit, price inflation in Turkey market against the geopolitical tensions coupled with general elections to be declared 2019 among others such macro factors, influences the growth prospects of industrial tapes manufacturers as well as steady supply of products to the end-users.
By product type, filament tapes segment accounted a share of XX% in 2016 and projected to cater fast pace growth of XX% CAGR by 2025. Increasing demand for applications such as carton sealing and strapping for large scale packaging requirement is expected to fuel growth for filament tapes among others.
Among the backing material type segments, polymeric backings achieves a majority of its share, owing to its technical advantages such as excellent mechanical strength. In paper segment, the factor such as easy applicability of tapes under curves and contours with the paper to be effortlessly ripped by hand aids in driving the demand for paper backing material. Other advantages such as stretching up to 50% and better suppleness fosters growth especially for masking tapes which are widely used in paint industry.
By end-users, the automotive segment is expected grow at XX% CAGR over the forecast period. Advancement in the eco-friendly production of tapes is expected to fuel demand for the automotive industry. Construction and electrical & electronics segments are expected to register a steady growth of XX% and XX% respectively by 2025.
Geographically, in 2016, the industrial tapes market in Asia Pacific was accounted for XX% market share, with electronics industry to cater increasing growth for industrial tapes market in the region. Specifically, the wearable's such as smart watches, fitness trackers among others is considered to be a booming market for industrial tapes to harness sturdy growth in the Asia Pacific region.
Some of the key players present in this market are tesa SE, 3M Company, Saint Gobain SA, Henkel AG & Company, Eastman Chemical Company, Avery Dennison Corporation, Sika AG, Intertape Polymer Corp. Inc, Muparo AG, PPM Industries S.P.A. Strategic acquisitions and product launch are the major developments companies are focusing to increase their market share and product portfolio. Apart from these, companies are also actively investing online platforms and search engine optimization (SEO) to create powerful impact of their product launch.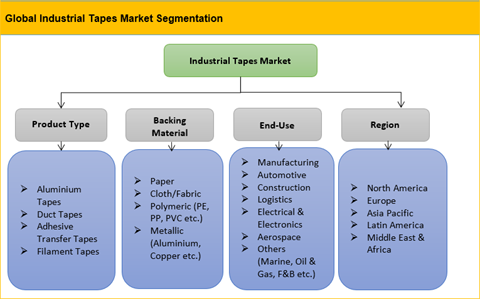 The report titled "Global Industrial Tapes Market - Growth, Future Prospects, and Competitive Analysis, 2017 – 2025" offers strategic insights into the global Industrial Tapes market along with the market size and estimates for the duration 2015 to 2025. The said research study covers in-depth analysis of multiple market segments based on molded pulp type, product type, end-use and cross-sectional study across different geographies. The study covers the comparative analysis of different segments for the years 2016 & 2025. The report also provides a prolific view on market dynamics such as market drivers, restraints and opportunities.
In order to help the strategic decision makers, the report also includes profiles of the leading sheet face masks manufacturers, along with their, product portfolio and key developments. Other in-depth analysis provided in the report includes:
Current and future market trends to justify the forthcoming attractive markets within the sheet face masks industry
Market fuelers, market impediments, and their impact on the market growth
In-depth competitive environment analysis
Trailing 2-Year market size data (2015 – 2016)
SRC (Segment-Region-Country) Analysis
Overall, the research study provides a holistic view of the global sheet face masks market, offering market size and estimates for the period from 2017 to 2025, keeping in mind the above mentioned factors.