Infant formula refers to manufactured food, typically designed to be similar to that of human mother's milk. These products are designed for babies of upto three years of age. The formula is available in powder, concentrated liquid or ready-to-feed forms. This makes infant formula convenient and easy to feed for both mother as well as baby. Infant formula can be used in various cases including inability of baby to breastfeed, mother's health, undernourished baby and also personal preferences. Steadily rising birth rate across the world is one of the most significant factors driving the infant formula market growth. Rising female workforce worldwide is another major factor governing the market growth. Parents now seek for trustworthy products that are convenient for use as well as nutritious.
Due to increasing demand for brand-named and convenient baby care products, the infant formula market is estimated to register strong growth in the coming years. Another significant factor fueling the overall market growth is the ongoing advancement across infant formula products. Manufacturers are now inclined towards offering organic products that ensure optimum nutrition and no damage to infant health. However, stringent regulations and disagreement on infant formula over breastfeeding is a major challenge for the market. Various global health organizations recommend breastfeeding over these products at least for the first six months. Infant formula is suggested only in instances wherein breastfeeding is not possible for baby/mother.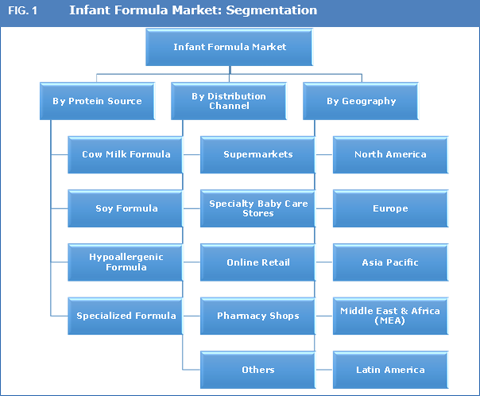 The report titled "Global Infant Formula Market- Growth, Share, Opportunities and Competitive Analysis, 2016 – 2023" offers strategic insights into the global infant formula market along with the market size and estimates for the duration 2014 to 2023. The said research study covers in-depth analysis of multiple market segments based on product types and cross-sectional study across different geographies and sub-geographical regions. The study covers the comparative analysis of different segments for the years 2015 & 2023. The report also provides a prolific view on market dynamics such as market drivers, restraints and opportunities.
In order to help strategic decision makers, the report also includes competitive profiling of the leading infant formula product vendors, their SCOT (Strength, Challenges, Opportunities and Weaknesses) analysis, market positioning and key developments. Some of the major players profiled in the report are Nestle SA, Kraft Heinz Company, Danone SA, Hero Group, Bristol-Myers Squibb Company, Perrigo Company Plc. and Mead Johnson & Company, LLC among others. Other in-depth analysis provided in the report includes:
Current and future market trends to justify the forthcoming attractive markets within the baby care products industry
Market fuelers, market impediments, and their impact on the market growth
In-depth competitive environment analysis
Trailing 2-Year market size data (2014 – 2015)
SRC (Segment-Region-Country) Analysis
Overall, the research study provides a holistic view of the global infant formula market, offering market size and estimates for the period from 2016 to 2023, keeping in mind the above mentioned factors.