Industry Outlook
Intracranial stents market accounted for a market value of US$ 293.7 Mn in 2017 and projected to grow at a CAGR of 9.9% during the forecast period from 2018 to 2026. Rising prevalence and awareness related to intracranial cerebral atherosclerosis is identified as one of the key factors responsible for growth of intracranial stents market. Highest reported incidence of intracranial cerebral atherosclerosis was found in the Asian, Hispanic, and African descent population; around 8 to 10% of all ischemic strokes are result of intracranial cerebral atherosclerosis. According to Centers for Disease Control and Prevention (CDC), 40,000 to 60,000 new strokes per year are recorded in the United States due to intracranial cerebral atherosclerosis. Thus, overall growth of intracranial stents market will continue at significant rate.
Market Synopsis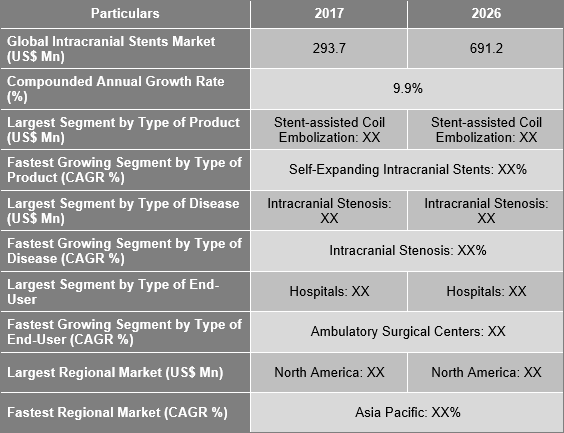 "Self-expanding intracranial stents identified as the fastest growing intracranial stents market throughout the forecast period"
Self-expanding intracranial stents identified as the most advanced and efficient intracranial stents due to presence of minimum side effects, increasing awareness related to safe intracranial stents, and convenient application. Thus, post-surgery benefits compared to other intracranial stents are high in self-expanding intracranial stents due to which it is the fastest growing segment throughout the forecast period from 2018 to 2026. However, higher cost of procedure and limited availability of skilled medical professionals expected to restraint the overall market growth in developing and under developed countries. As intracranial stenting is currently preferred in most developed countries to prevent intracranial atherosclerotic disease but in most of the developing countries, it is opted when aggressive drug therapy fails to provide desired results.
"High prevalence of intracranial atherosclerotic disease in Asian countries will drive overall market for intracranial stents in this region"
Asia Pacific identified as the fastest growing intracranial stents market due to key market drivers such as highest prevalence of intracranial atherosclerosis disease in Asia, rising awareness related to upgradation of neurological healthcare facilities, and increasing demand for effective & minimally invasive neurological surgery. A transcranial Doppler study published suggested that the prevalence of asymptomatic middle cerebral artery (MCA) stenosis was in a range of 10% to 20% among Asian population that possessed vascular risk factors without a background of stroke. Thus, Asia Pacific expected to make significant growth throughout the forecast period from 2018 to 2026.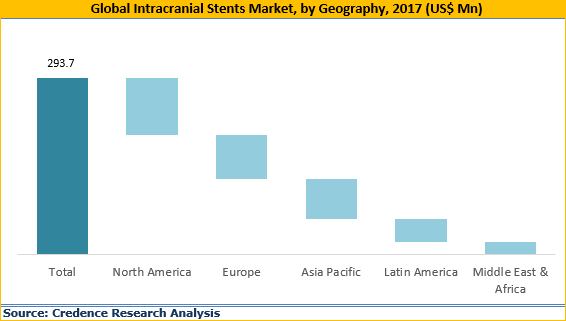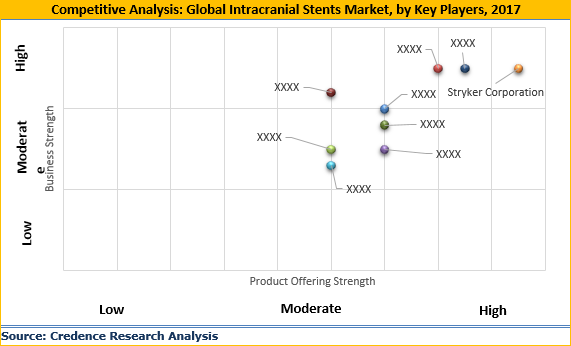 Historical & Forecast Period
The intracranial stents market analyzed considering current market trends for base year 2017 and based on future trends CAGRs calculated for the forecast period from 2018 to 2026.
Report Scope by Segments
This report covers exhaustive information related to intracranial stents market covering qualitative and quantitative along with the key market drivers, opportunities & restraints that gradually affect the overall global market. Inputs from industry experts analyzed to derive market drivers, challenges & opportunities for a country-level market in the respective regional segments. This report covers in-depth analysis related to the global intracranial stents market with segments such as types of product, disease, and geography. The report covers competitive analysis of the major players operating in intracranial stents market that covers in-depth data related to competitive landscape of the market along with latest business strategies & product profiles.
ATTRIBUTE
DETAILS
Research Period
2016-2026
Base Year
2017
Forecast Period
2018-2026
Historical Year
2016
Unit
USD Million
Segmentation

Type of Product Segment (2016–2026; US$ Mn)
• Self-Expanding Intracranial Stents
• Balloon Expanding Stents
• Stent-assisted Coil Embolization

Disease Segment (2016–2026; US$ Mn)
• Brain Aneurysms
• Intracranial Stenosis

Geography Segment (2016–2026; US$ Mn)
• North America (United States and Canada)
• Europe (U.K., Germany, Rest of Europe)
• Asia Pacific (China, Japan, Rest of Asia Pacific)
• Latin America (Brazil, Mexico, Rest of Latin America)
• Middle East and Africa (GCC, Rest of MEA)
The key players operating in the market profiled based on financial information, product portfolio, latest market updates, and major market strategies. This report also includes attractive investment proposition studied with the help of extensive geographical research based on PESTEL analysis. Major companies profiled in the report include Boston Scientific Corporation, Johnson & Johnson Services, Inc., Stryker Corporation, Penumbra, Inc., Medtronic plc, Terumo Corporation, and Cook Medical among others among others.
Key questions answered in this report
Which is the trending product type in the market preferred for intracranial stents & Why?
What are the recent market strategies applied by key players & competitive analysis specific to intracranial stents market?
Which are the major geographical markets (regions and countries) in intracranial stents market?
Which is the largest and fastest growing intracranial stent types globally?
How is the competitive landscape of intracranial stents market and policies of major players present in this industry?