Modern firing techniques require modern kiln furniture, and higher energy costs have driven the desire for energy efficient products in recent years. Manufacturers of advance ceramics have become aware of important role that kiln furniture plays in the quality and economics of finished products. There are two fundamental requirements of kiln furniture: the kiln furniture arrangement should physically with stand the firing cycle and after surviving the cycle, kiln furniture should not affect, damage or ruin the finished product being fired.
Uses for kiln furniture have expanded in recent years. At present, kiln furniture can be found in various industrial and consumer goods manufacturing. The global ceramic industry is projected to witness growth at a rate of more than 11% over the next six years boosting demand for kiln furniture. Furthermore, diverse industries such as automotive, electrical / electronic and energy also using kiln furniture in their manufacturing processes. In recent years, the use of low-temperature firing kiln furniture has been increasing rapidly in the Asia pacific region, such as Taiwan, South Korea, the Philippines, China and India, as more ceramic production is shifting to these lower-cost countries. Consumption of high-temperature alumina kiln furniture significantly increased in South Korea due to increase in automobile exports.Global companies joining hands with local players to increase their foot prints such as Vitis Joint Stock Company is the official agent of Imerys Kiln Furniture for supplying IKF products in Vietnam.
Kiln furniture is widely used in tiles, tableware, sanitary ware, semiconductor device component, inductor, etc. manufacturing where it is used multiple times in the kiln for product firing purpose. Due to the relatively long lifetime of kiln furniture, the need for new kiln furniture is limited. Generally Kiln furniture damages only after repetitive use in high temperature due to thermal shock cracking and needs replacement. However demand for lighter weight lower energy costs and faster firing cycles will continue to spur the growth of kiln furniture in upcoming years.
The continuous development in national economies, increasing spending habits, life quality, infrastructural development are factors that contribute to the output and consumption volume of kiln furniture. Kiln furniture industry in emerging economies of Asia Pacific and Middle East and Africa has entered rapid development stage.
In the Asia Pacific market, China and India are the most attractive markets for kiln furniture, with high growth potential. Moreover, the use of low temperature firing cordierite kiln furniture which is basically used to fire products such as ceramic tableware has been witnessing growth in South Korea, Taiwan, and India as most of the ceramic production has shifted to these regions which are low in cost. Furthermore, exports of automobiles from South Korea and other countries are also gaining momentum which has resulted in increased consumption of high-temperature alumina kiln furniture.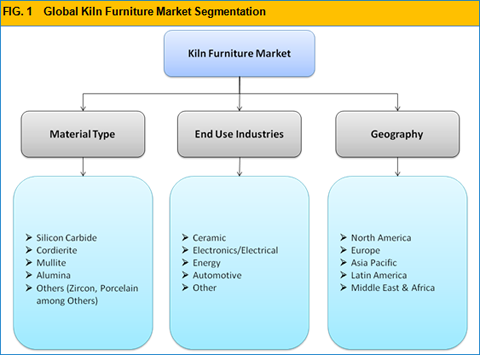 The report titled "Global Kiln Furniture Market - Growth, Opportunities, Share & Competitive Analysis, and 2016 – 2023" offers strategic insights into the global kiln furniture market along with the market size and estimates for the duration 2013 to 2023. The said research study covers in-depth analysis of multiple market segments based on, material type, end use industries and cross-sectional study across different geographies. The study covers the comparative analysis of different segments for the years 2015 & 2023. The report also provides a prolific view on market dynamics such as market drivers, restraints and opportunities.
In order to help the strategic decision makers, the report also includes profiles of the leading kiln furniture manufacturers, along with their, product portfolio and key developments. The major players profiled in the report are Saint-Gobain S.A. (Saint-Gobain Ceramic Materials GmbH), IMERYS – French Limited Liability Company, IPS Ceramics Ltd, Sunrock Ceramics Co, Applied Ceramics, Inc and Blasch Precision Ceramics, Inc among others. Other in-depth analysis provided in the report includes:
Current and future market trends to justify the forthcoming attractive markets within the kiln furniture industry
Market fuelers, market impediments, and their impact on the market growth
In-depth competitive environment analysis
Trailing 2-Year market size data (2013 – 2014)
SRC (Segment-Region-Country) Analysis
Overall, the research study provides a holistic view of the global kiln furniture market, offering market size and estimates for the period from 2016 to 2023, keeping in mind the above mentioned factors.