Sensors are among the most important devices used across different industrial sectors. Level sensors refer to sensing devices that are used for measuring levels of flowing substances such as water, chemicals, slurries and several other fluids. Two primary types of sensing method include continuous level and point level sensing. As the names suggest, continuous sensors allow user to measure level continuously, whereas point level sensors are designed to provide level measurement at specific intervals. This makes level sensors suitable for a wide array of applications across different industry verticals. The level sensors market is majorly driven by the consistently growing industrial manufacturing & processing sector across the world. Asia Pacific has remained the front-runner in industrial manufacturing & processing sector growth since the past few years. Various countries such as China, India and some of the Southeast Asian countries have emerged as manufacturing hub over the past few years. Subsequently, demand for related process control & automation solutions (such as sensors) has risen substantially in the past few years. Apart from this, steady growth across the power & utilities and oil & gas industries is another prominent factor supporting the market growth. Driven by countries such as China, Japan, South Korea and India, Asia Pacific is set to continue as the most promising market for level sensors in the following years.
The demand for level sensors is also driven by the growing process automation across different industrial applications. Increasing need for bolstering industrial productivity has forced several industrial sectors to incorporate safe and reliable process control systems. Level sensors help measuring accurate liquid levels, thereby reducing the possibilities of equipment damage and hazards in industrial manufacturing and processing. Due to increasing emphasis on process automation, several manufacturer are now focused towards development of intelligent sensing devices. These devices are designed to accurately measure fluid level as well as provide related analytical data. In addition, continual advancement in sensor designs is another important factor supporting the market growth. In the recent years, the overall sensors industry has witnessed remarkable shift towards microelectromechanical systems (MEMS) based sensors. Considering all of the aforementioned factors, level sensors market is set to exhibit robust growth over the forecast period.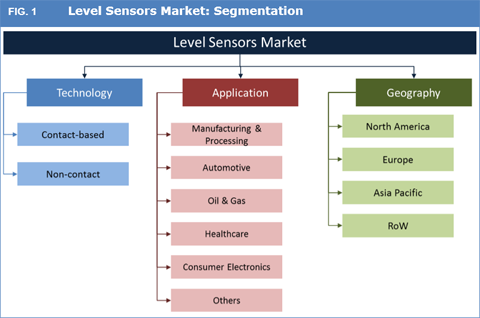 Some of the major players profiled in the report are Texas Instruments, Inc., Analog Devices, Inc., Honeywell International, Inc., Infineon Technologies AG, Siemens AG, General Electric (GE) Company, ABB Ltd., Electro-Sensors, Inc., Pepperl+Fuchs GmbH, NOHKEN, Inc., OMEGA Engineering, Inc., Gems Sensors & Control, Inc., Maxim Integrated Products, Inc., Senix Corporation, FPI Sensors, Endress + Hauser AG, ON Semiconductor, Atmel Corporation, Magnetrol International, Inc., AMETEK, Inc., Emerson Electric and others. The overall market is quite fragmented in nature, with presence of numerous regional as well as international companies. One of the most prominent strategies adopted by the leading players is to emphasize on innovative design with minimized size.