"Rising demand for augmented reality (AR) devices is expected fuel the demand for microdisplays throughout the forecast period from 2018 to 2020"
The global market for microdisplays is expected cross US$ 4,250.5 Mn at a CAGR of 22.5% throughout the forecast period from 2018 to 2026. The global market for microdisplays observed significant growth in the last decade with continuous advancement in technology. Advantages of microdisplays such as compact size, low power consumption and ultra-high brightness compared to conventional direct view displays. Microdisplays have huge potential in head mounted and head-up display technologies. Rising production demand for head mounted displays from defense, consumers, entertainment, automotive, research and medical applications represents positive factor for the growth of microdisplays. In addition, rising demand for advanced drive assistance systems also expected to increase the demand for microdisplays throughout the forecast period. Moreover, increasing demand for smart electronic devices such as smartphones and smart glasses also fueling the demand for microdisplays.
Market Synopsis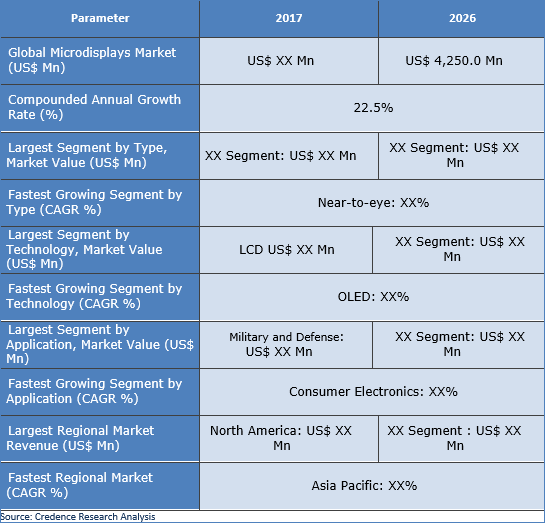 Get a sample copy for more information
"Asia Pacific is the fastest growing market for microdisplays"
Currently, the global microdisplays market is dominated by North America with its increasing investment in defense sector. The demand for microdisplays is rising at considerable rate with rising demand for advanced head-up and mounted devices from defense sector. In addition, changing outlook of traditional education system and increasing use of ICT technologies also expected to spur the demand for microdisplays in the region. Asia Pacific is expected to witness the fastest growth throughout the forecast period. China and Japan are most potential markets for microdisplays in Asia Pacific. China is expected to be the most potential market for microdisplays with rising production of smart phones and countries increasing investment in advance solutions such head-up and mounted displays.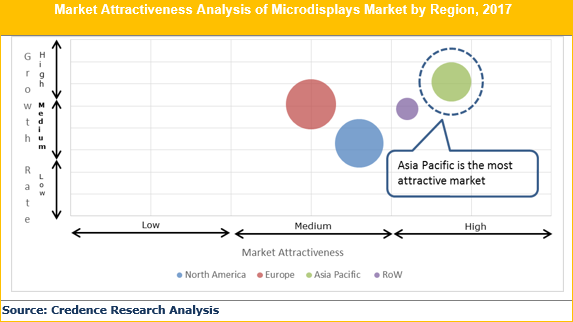 Get a sample copy for more information
"The global microdisplays market is dominated by LCD technology"
The global microdisplays market was dominated by LCD technology and accounted for half of the revenue share in the overall market. The segment is expected to maintain its dominating position throughout the forecast period with its increasing demand from head-up and head mounted displays, wearable devices, thermal imaging glasses and EVFs. Liquid crystal on-Silicon (LCoS) is another major technology in microdisplays market and preferred by several manufacturers due its high energy, brightness and contrast and heating efficiency. OLED technology is expected to witness the fastest growth due it benefits such as low power consumption, better contrast and faster refresh rate. However, high cost of OLED technology is limiting its adoption in many applications.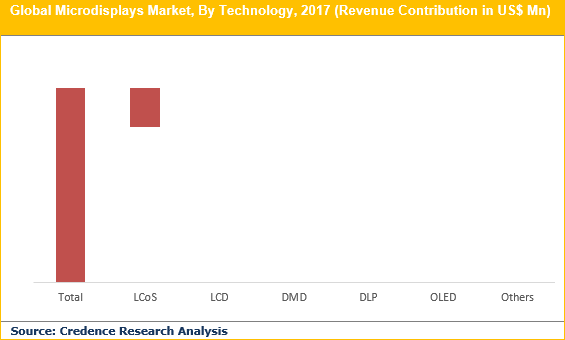 Get a sample copy for more information
"Microdisplay manufacturers are looking forward to capture opportunities by investing in emerging technologies"
Most of the prominent microdisplay manufacturers are based in developed market such as U.S., Europe and Japan and the global market is dominated by this prominent players. Manufacturers are increasingly investing significant amount in emerging technologies such as micro LED and organic LED (OLED). However, manufacturers from China and Taiwan are looking for to expand their footprints in the global market. Some major players in the global microdisplay industry include LG Display Co. Ltd, eMagin Corporation, AU Optronics Corp, Universal Display Corporation, KopIn Corporation Inc., Himax Technology Inc., Micron Technology Inc., Microvision Inc., Syndiant Inc, Sony Corporation, and others.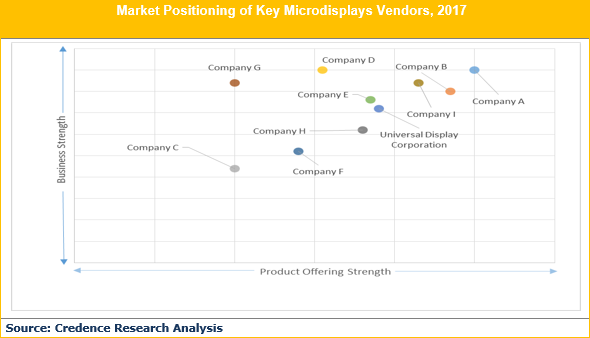 "Why it is recommended to invest in our microdisplays market research study?"
The research report on microdisplays market covers detailed analysis of market drivers, restraints and trends. This research study also provides in-depth analysis of different technologies of microdispays, types and applications. The research study key technology and regional trends in the global microdisplay industry. The report also include quantitative as well as qualitative analysis of all the segments and sub segments covered in the scope of the study. This research study highlights key opportunities segments in the global microdisplays market. High level analysis such as market positioning of major players, value chain analysis and market attractiveness analysis helps readers in understanding market competition and formulating their market winning strategies. The report also profiles major players in the industry including their recent developments, strategies, product portfolio and overview of financials for the last three years. The microdisplays market is segmented into following categories:
ATTRIBUTE
DETAILS
Research Period
2016-2026
Base Year
2017
Forecast Period
2018-2026
Historical Year
2016
Unit
USD Million
Segmentation

By Technology (2016–2026; US$ Mn)
• Liquid Crystal On-Silicon (LCoS)
• Liquid Crystal Displays (LCD)
• Digital Micromirror Devices (DMD)
• Digital Light Processing (DLP)
• Organic Light Emitting Diode (OLED)
• Other (Holographic displays, micro LED etc)

By Type (2016–2026; US$ Mn)
• Projection
• Near-to-eye

By Application (2016–2026; US$ Mn)
• Consumer Electronics
• Military and Defense
• Medical
• Automotive
• Industrial
• Schools and Institutes
• Others

Geography Segment (2016–2026; US$ Mn)
• North America (U.S. and Canada)
• Europe (U.K., Germany, France, and Rest of Europe)
• Asia Pacific (Japan, China, India, and Rest of Asia Pacific)
• Rest of World (Middle East & Africa (MEA), Latin America)
Historical & Forecast Period
2016 – Historical Year
2017 – Base Year
2018-2026 – Forecast Period (CAGR from 2018 to 2026)
Key questions answered in this report
What is the global market size of microdisplays market?
What are the major opportunity areas in the global microdisplayss market?
Which market trends and dynamics driving the growth of global microdisplays industry?
Who are the major players and their market winning strategies in the global microdisplays industry?
Who are major customers for microdisplay providers?
Which is the largest and most potential application segment for Microdisplays?
Who are major regional leaders?