Overview:
Motion sensors are commonly used in security systems for detecting motion and generating electrical signals. Motion sensors are linchpin of any security system and uses multiple technologies to detect any suspicious movement in a particular area. The global motion sensors market was valued at US$ 5.36 Bn in 2017 and expected to expand at a CAGR of 12.8% during the forecast period from 2018 to 2026. Growing use of consumer electronics is the major factor driving the growth of motion sensors market. Use of motion sensors in various handheld devices such as tablets, laptops and smartphones as well as growing acceptance of wearable technology from consumers facilitating the market growth worldwide.
The market for motion sensors is still in its early phase and expected to gain momentum in the near future. Rising application of motion sensors in temperature and pressure sensing, motion gaming and other related applications is driving the growth prospects of the market. Moreover, increasing use of motion sensors in various automobile applications including airbag deployment systems, security and advanced driver assistance systems (ADAS) is enhancing the market growth.
The rapidly growing interactive gaming industry also bodes well with the market as motion gaming is one of the evolving trend in the market. In motion gaming, the user performs activities such as running, cycling, problem solving, etc. which leads the virtual character through different stages and levels of the game. While playing such games or performing such activities, user often wear devices having sensors that can measure their movements and sense their physiological measures i.e. heart rate, pulse rate, etc. As a result, increasing demand for motion sensors in the gaming applications has led to a significant growth in the motion sensor market.
Market Snapshot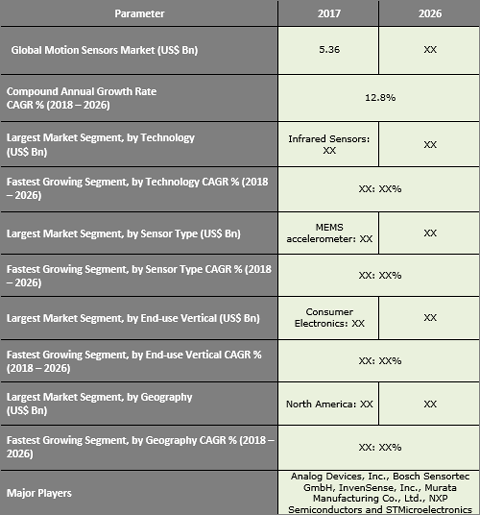 Get a sample copy for more information
Infrared Sensors Exhibits Largest Market Share
The global motion sensors market, on the basis of technology is segmented into infrared sensors, ultrasonic sensors, microwave sensors, tomographic sensors and dual-technology sensors. In terms of value contribution, the market was dominated by the infrared sensors in 2017, accounting for 35.25% market share in the same year. Infrared sensors are mainly used in the motion and people sensing applications. Rising use of infrared sensors in places such as museums, retail shops, airports and libraries for counting and detecting motion of individuals have resulted in its growing demand. Depending on medium wavelength infrared (MWIR) and long wavelength infrared (LWIR) sensors and spectrum range, these sensors extensively used in civil and military applications to track and detect targets.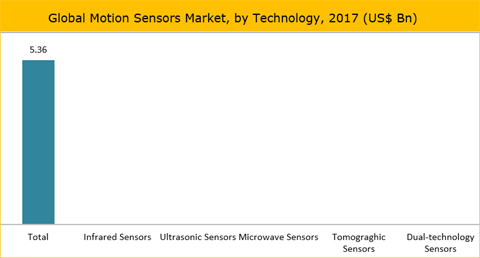 Get a sample copy for more information
MEMS Accelerometer Garnered the Largest Revenue in 2017
In 2017, based on sensor type, the global motion sensors market was led by MEMS accelerometer. In terms of value contribution, the segment was valued at 32.13% in the same year. MEMS accelerometers are used where there is a necessity for measuring linear motion, either shock, movement or vibration without a fixed reference. MEMS accelerometers measure the angular or translational acceleration of sensor electronic devices. Rising need for developing advanced applications in mobile devices has boosted the demand for MEMS accelerometers. Furthermore, increasing awareness about health, fitness and wellness has augmented the demand for fitness-monitoring devices which employs motion sensors like MEMS accelerometers. Moreover, increased R&D investments has led to the development of advanced versions and efficient accelerometers, which is estimated to sustain growth in the market during the forecast period from 2018 to 2026.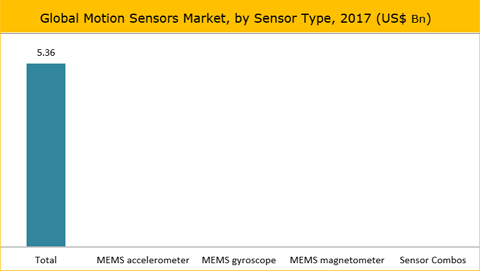 Get a sample copy for more information
Consumer Electronics to Continue its Supremacy in the Market
Consumer electronics segment expected to continue with its supremacy in the market during the forecast period from 2018 to 2026. The growth of this segment is majorly accredited to the widespread use and acceptance of wearable as well as handheld devices that is boosting the demand for motion sensors market. Advancements in motion sensor technology have promoted and encouraged their use in gaming, portable devices, navigation, and home appliances. Advances in motion sensor technology also makes exciting and new applications possible in the fields of robotics, home automation and digital health. With the advancements in microelectromechanical system (MEMS) technology, motion sensors have gained significant ground in consumer electronics applications like tablets, smart phones, gaming, audio/video devices, personal electronics, etc.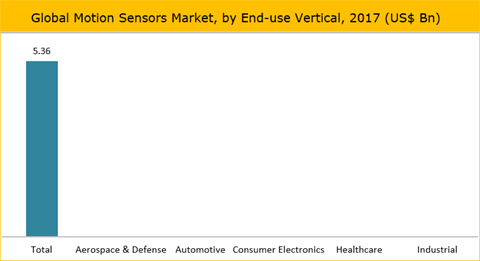 Asia Pacific to Emerge as the Fastest Growing Region during the Forecast Period from 2018 to 2026
The motion sensors market, based on geography was led by North America in 2017. In terms of value contribution, the region held 32.87% market share in the same year. The presence of prominent players such as Analog Devices, Inc., Honeywell International, Inc., Microchip Technology Inc., etc. are providing varied business opportunities in the North America region. Europe accounted for the second largest motion sensors market in 2017.
Asia Pacific considered as high growth market and projected to emerge as the fastest growing region during the forecast period from 2018 to 2026. The use of motion sensors in consumer electronics expected to grow at a higher growth rate in the near future. Developing consumer electronics sector is poised to drive the growth prospects of motion sensors market in the region. Moreover, automotive industry in Asia Pacific predicted to expand at a rapid pace, thereby facilitating the demand for motion sensors in the region.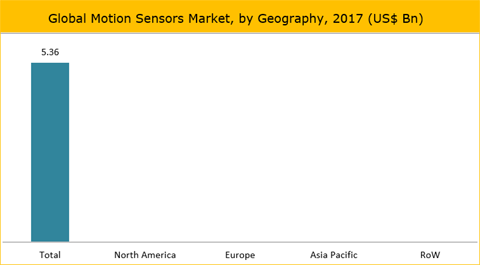 Competitive Insights
Motion sensors market appears to be highly fragmented owing to the presence of large number of regional as well as international players. With advancements in technologies, the demand for motion sensors is evolving on a continuous basis. Therefore, these market players are focusing on strengthening their product portfolio by innovating new products.
For instance, in March 2018, Bosch Sensortec GmbH launched a high standard IMU for augmented and virtual reality applications as well as other applications including body/human motion tracking, high-end gaming and navigation. The IMU BMI085 integrates a 3-axis, 16-bit MEMS gyroscope, 16-bit MEMS acceleration sensor and a 3-axis in one compact package. The 6-axis IMU is designed to help developers overcome issues related with interrupted immersion and motion sickness, which occurs due to a delay between on-screen reaction and head motion, which are restraining the growth of AR and VR wearables.
Some of the major players in the motion sensors market include Analog Devices, Inc., Bosch Sensortec GmbH, Honeywell International, Inc., InvenSense, Inc., KIONIX, Inc., MEMSIC, Inc., Microchip Technology, Inc., Murata Manufacturing Co., Ltd., NXP Semiconductors, Safran Colibrys SA, and STMicroelectronics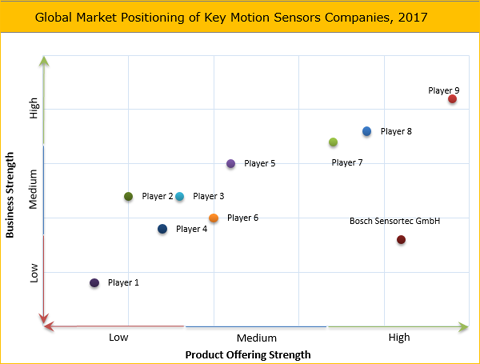 Historical & Forecast Period
The research report presents the analysis of each segment from 2016 to 2026 considering 2017 as the base year for the research. Compounded Annual Growth Rate (CAGR) for each respective segments are calculated for the forecast period from 2018 to 2026.
Report Scope by Segments
Motion sensors market report provides market size and estimates based on market dynamics and key trends observed in the industry. The report provides a holistic view of global motion sensors market based on technology, sensor type, end-use vertical and geography. Key segments covered in the report are as follows:
ATTRIBUTE
DETAILS
Research Period
2016-2026
Base Year
2017
Forecast Period
2018-2026
Historical Year
2016
Unit
USD Million
Segmentation

Technology Segment (2016-2026; US$ Bn)
• Infrared Sensors
• Ultrasonic Sensors
• Microwave Sensors
• Tomographic Sensors
• Dual-technology Sensors

Sensor Type Segment (2016-2026; US$ Bn)
• MEMS accelerometer
• MEMS gyroscope
• MEMS magnetometer
• Sensor combos

End-use Vertical Segment (2016 – 2026; US$ Bn)
• Aerospace & Defense
• Automotive
• Consumer Electronics
• Healthcare
• Industrial

Geography Segment (2016–2026; US$ Mn)
• North America (U.S. and Rest of North America)
• Europe (U.K., Germany, France, and Rest of Europe)
• Asia Pacific (Japan, China, India, and Rest of Asia Pacific)
• Rest of World (Middle East & Africa (MEA), Latin America)
Key questions answered in this report
What was the market size of motion sensors in 2017 and forecast up to 2026?
What are the key market trends observed in the motion sensors market?
Which is the largest regional market for motion sensors market?
Which is the most promising technology and end-use vertical in the motion sensors market?
Which region or segment will drive the market growth? Why?
Which players are leading the motion sensors market?
What are the sustainability strategies adopted by the key players operating in the market?
Unique data points of this report
Motion sensor trends across different geographies and sub-geographies
Adoption rate of motion sensors in various applications
Comprehensive mapping of the competitive landscape and the market participants' behavior
Current and future scenario of motion sensors across the globe