Rising Instances of Terrorist Attacks to Spur Demand for Baggage Scanners Worldwide
The global baggage scanners market is poised to reach US$ 2.68 Bn by 2026, expanding at a CAGR of 6.8% during the forecast period from 2018 to 2026. Rising incidences of terror attacks across the globe have shaken the intelligence community. In wake of growing terrorist activities and consequent safety concerns, the demand for security systems including baggage scanners has been witnessing an alarming increase over the last few years. Persistent terror threats combined with government backing to develop robust security infrastructure bodes well for the market growth. According to the latest study published in 2016 by The Institute for Economics and Peace, the annual count of terror incidences almost tripled between 2011 and 2014. With an exponential rise in power of adversaries, such instances will only increase in the coming years. Consequently, law enforcement and government agencies across the globe are upgrading their security capabilities.
Market Synopsis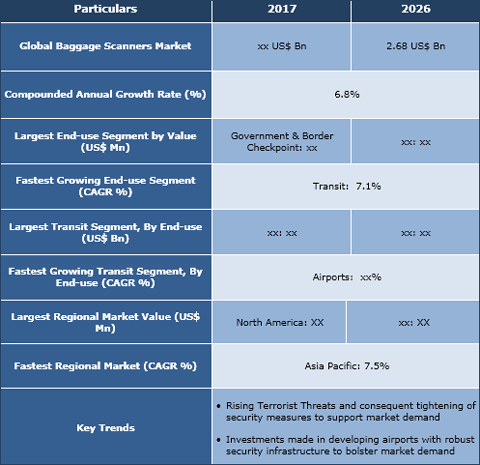 Demand for Baggage Scanners to Swell at Airports
Baggage scanners deployed at airports, railway stations, seaports, border checkpoints, public gatherings, and commercial complexes ensure public safety. Along with the growing threat from terrorism, rise in drug trafficking, illegitimate arms shipping, and cross border immigration through different modes of transportation is driving demand for baggage scanners at these terminals. With several airport projects lined-up in the coming years, fresh installations of advanced security systems are expected to surge at airports. In addition, need for compliance with domestic and international aviation legislations will compel airport authorities to upgrade their existing security infrastructure, thereby driving market demand. The following figure represents expected contribution of different end-use segments to the global baggage scanners market in 2026.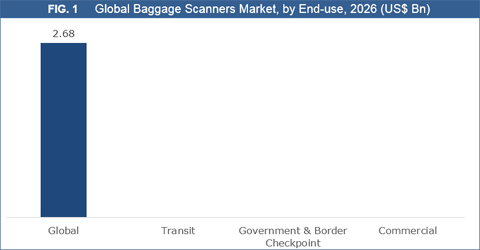 Asia Pacific Expected to Witness Strong Growth
In terms of value contribution, North America comprising the U.S., Canada, and Caribbean Islands was the largest baggage scanners market worldwide in 2017. The region accounted for over one-third of the total market value in the same year. The U.S. represents the largest baggage scanners market in North America and worldwide. The dominance can be majorly credited to strict regulations and security measures implemented by the U.S. government in view of growing terrorism threats. The baggage scanners market in North America will also be benefitted from the replacement of obsolete security systems with innovative equivalents. On the other hand, growing cross-border conflicts, geopolitical tensions, and initiatives taken by the governments to upgrade security infrastructure in the region will drive Asia Pacific baggage scanners market during the forecast period. Along with Asia Pacific, Europe is also presumed to register strong growth in demand during the forecast period because of the rising terror incidences in the region. The Paris attacks at multiple public gatherings including restaurants & bars, music venues, and sports stadium has compelled the Government of France to tighten security by deploying security systems including baggage scanners at all public places. Similarly, bombings in Brussels in 2016 resulted in Belgian Government installing baggage scanners at airports and metro stations. Thus, initiatives taken by the concerned authorities to update their security portfolio in a bid to thwart terror plots and ensure homeland security will drive luggage scanner installations.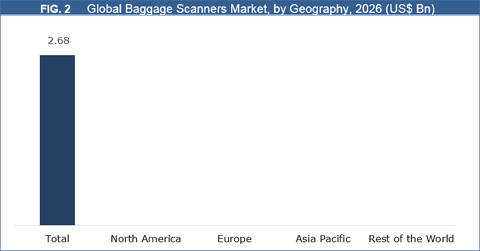 Product Innovation: Premier Business Expansion Strategy
The global baggage scanners market is technology driven and moderately fragmented. Being technology driven, the global baggage scanners market is highly competitive and characterized by the presence of large number of players. The market is in early stage of maturation and hence focus on product innovation remains the premier strategy for vendors. Vendors are focusing on developing scanners capable of being integrated with different technologies including RFID, 3D imaging, etc. On the other hand, a new entrant in the market is required to make considerable capital investment and dedicate substantial research and development budget to develop innovative solutions and sustain in the market. Small players are forming strategic alliance with the established players as the market moves towards maturity.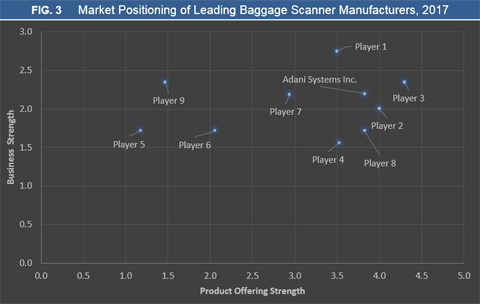 Some of the leading vendors profiled in the study include Adani Systems Inc., 3DX-RAY Ltd., Kapri Corp., Astrophysics Inc., MinXray, Inc., L-3 Communications Security & Detection Systems, Westminster International Ltd., OSI Systems, Inc., Smith Detection, Safran Identity & Security (Morpho Detection), Analogic Corporation, Eurologix Security, and Leidos Holdings, Inc.
Historical & Forecast Period
2016 – Historical Year
2017 – Base Year
2018 - 2026 – Forecast Period
This research study provides qualitative as well as quantitative insights for each segment and sub-segment from 2016 to 2026, considering 2017 as the base year for the research. CAGR (Compounded Annual Growth Rate) for each segment and sub-segment is calculated for the forecast period from 2018 to 2026.
Report Scope by Segments
The research study baggage scanners market offers market size and forecasts based on market dynamics and predominant trends shaping the industry. The report provides all round view of the global baggage scanners market based on end-use application and geography. Key segments covered in the report are as follows:
End-use Segment (2016–2026; US$ Bn)
Transit

Airports
Railway Stations
Seaports

Government & Border Checkpoints
Commercial Facilities
Geography Segment (2016–2026; US$ Bn)
North America


United States
Rest of North America

Europe


United Kingdom
Germany
France
Rest of Europe

Asia Pacific (APAC)


China
Japan
India
Rest of Asia Pacific

Rest of the World (RoW)


Middle East & Africa (MEA)
Latin America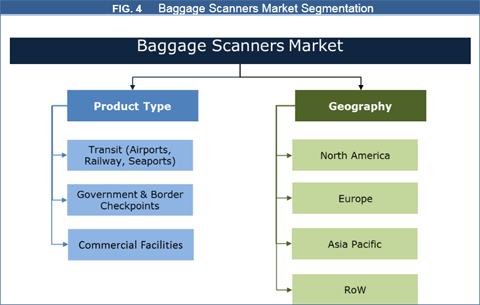 Key questions answered in this report
What was the global market size for baggage scanners in 2016 and 2017?
What is estimated forecast and market projections up to 2026?
Which is largest regional market for baggage scanners?
Which end-use vertical has the largest penetration of baggage scanners?
Which are the predominant trends shaping the global baggage scanners market?
Which is the most promising, attractive, and less-explored end-use segment in the global baggage scanners market?
Who are the leading vendors in the global baggage scanners market?
What are the premiere strategies adopted by the leading manufacturer in the baggage scanners market?
Related Reports:
Handheld Ultrasound Scanners Market