Neuromorphic computing systems is a computing technique which works on the principle of human brain neurons having the capability to solve cognitive problems. This biologically inspired computer can understand and learn new directives similar to a human brain and therefore can be used to tackle challenging issues such as machine learning and artificial intelligence (AI). In addition, neuromorphic computers offer faster computing capabilities with relatively lower power consumption and compact hardwar compared to traditional computing methods. Currently, neuromorphic computing systems are being extensively used for applications such as image recognition and processing, signal recognition and processing, data processing and object recognition, among others. Neuromorphic computing systems have been adopted by several end-use industries such as consumer electronics, aerospace and defense, healthcare, automotive and industrial automation, among others for efficient computing solutions.
IT giants including International Business Machines (IBM) Corporation, Intel Corporation, Qualcomm, Inc. and Samsung Electronics Co. Ltd., among others have been working towards developing neuromorphic computing systems. Numerous other companies have also been engaged in creating sophisticated computing systems for real-world and simulation applications. Aerospace and defense industry has started to incorporate neuromorphic computing in order to develop new age command and control systems. In addition, practice of neuromorphic computing for improving healthcare facilities and monitoring medical conditions have also resulted in significant growth in the overall neuromorphic computing systems market.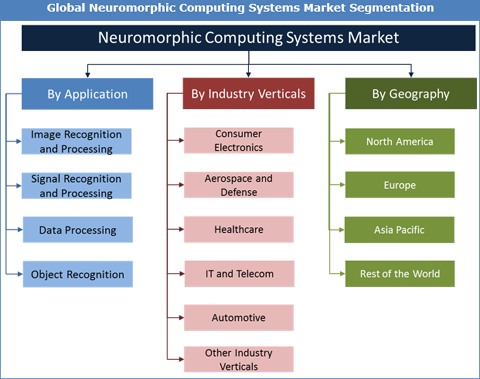 In addition, the market report for neuromorphic computing systems further include in-depth analysis of current and future market traits, attractive market backed by real time statistical data and market dynamics such as drivers, challenges and their proportional impact on the overall market growth. The validation of market estimation is buttressed with two year historical data and comprehensive competitive analysis of leading neuromorphic system developers. Therefore, the report will provide an overall 360° outlook for current market and future estimations for the period from 2018 to 2026.