New energy vehicles (NEVs) encompass various automotive four wheelers and two wheelers which make use of alternative fuel source as opposed to the conventional oil and gas. The new energy vehicles make use of electric motors which can run on electricity either stored in a battery, generated during braking and general running or created using a hydrogen fuel cell. Moreover, these vehicle can be stand-alone or hybrid depending on the product offering. Thereby, these vehicles can be classified into battery electric vehicles (BEVs), plug-in hybrid electric vehicles (PHEVs) and fuel cell electric vehicles (FCEVs). The BEVs are essentially vehicles which only run on an electric motor powered by electricity stored in a large battery cell in the vehicle. Thereby, these vehicles offer a long drive range with practically zero emissions and these vehicles can be charged at various public charging stations or at home. The PHEVs offer combined benefits of a traditional combustion engine along with an additional electric motor. The electric motor in the PHEVs is run by a battery which gets charged while general running and braking of the vehicle moreover, the battery can be charged separately for long run. The FCEVs make use of the same electric motors used in BEVs however, differs in terms of its electricity generation process. The FCEVs make use of fuel cells which are filled with hydrogen and combine with atmospheric oxygen to produce electricity and water as a byproduct. These vehicles can be easily charged at hydrogen fuel stations and offer a similar driving rage as BEVs
Rising environmental concerns and growing demand for pollution free and energy efficient transportation solutions have led to the increasing demand for new energy vehicles across the world. Some of the leading markets across the world have witnessed growing demand for various types of NEVs such as passenger cars, buses, industrial vehicles, scooters and other low-velocity neighborhood cars, golf carts and personal mobility vehicles, among others. Depending on various government initiatives and existing infrastructure, these types of vehicles have witnessed varied rate of adoption in different countries. However, with increasing investments towards new energy vehicle production and favorable government policies, the overall NEVs market is expected to witness significant growth during the forecast period.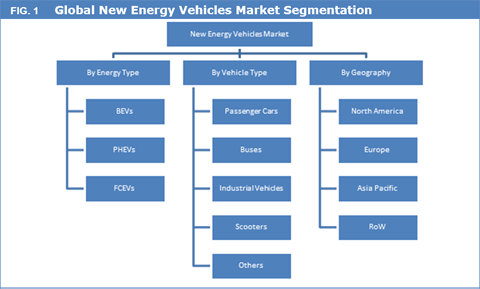 The report titled "Global New Energy Vehicles Market- Growth, Future Prospects and Competitive Analysis, 2017 – 2025" offers strategic insights into the global new energy vehicles market along with the market size and estimates for the duration 2015 to 2025. The said research study covers in-depth analysis of multiple market segments based on energy type, vehicle type and cross-sectional study across different geographies and sub-geographies. The study covers the comparative analysis of different segments for the years 2016 & 2025. The report also provides a prolific view on market dynamics such as market drivers, restraints and opportunities. In addition, the report covers a section providing production trends and sales in some of the major markets.
In order to help strategic decision makers, the report also includes competitive profiling of the leading providers of new energy vehicles, market positioning and key developments. Some of the major players profiled in the report are Renault-Nissan Alliance, Mitsubishi Motors Corporation, General Motors Company, Toyota Motor Corporation, Ford Motor Company, BMW Group, Zhejiang Geely Holding Group Co., Ltd., BAIC Motor Corporation, LTD., Volkswagen Group, BYD Auto Co., Ltd., Tesla, Inc., SAIC Motor Corporation Limited, China Anhui Jianghuai Automobile Co., Ltd. (JAC Motors), Motrec International, Inc., Taylor-Dunn Manufacturing Company, Karrior EV and Bradshaw Electric Vehicles.
Other in-depth analysis provided in the report includes:
Current and future market trends to justify the forthcoming attractive markets within the new energy vehicles industry
Market fuelers, market impediments, and their impact on the market growth
In-depth competitive environment analysis
Trailing 2-Year market size data (2015 – 2016)
SRC (Segment-Region-Country) Analysis
Overall, the research study provides a holistic view of the global new energy vehicles market, offering market size and estimates for the period from 2017 to 2025, keeping in mind the above mentioned factors.