This report titled "Oilfield Chemicals Market - Growth, Future Prospects, and Competitive Analysis, 2017 – 2025" offers strategic insights into the trends in oilfield chemicals market along with the market size and forecast for the duration 2017 to 2025. The said research study incorporates in-depth analysis of multiple market segments based chemical type, application and geographical distribution.
The global oilfield market is expected to witness high growth with growing emphasis on increasing productivity from existing oilfields as the cost as the cost of exploring new oilfields is increasing with low international prices. Further, increasing exploration of shale gas has changes the market dynamics of oil industry. Key players in the oilfield services market accounting for the major share of the global oilfield market. Further, increasing research and development and advancement in technology changing the nature of operations of the oil industry. Further, increasing shale gas exploration activities in Europe and Asia Pacific is further anticipated to fuel the demand for oilfield chemical over the forecast period
Rapid growth of this market has also resulted in creating further skilled job opportunities in major hubs spread across North America, Europe, Latin America, Middle East & Africa and Asia Pacific.
Based on chemical type, the global oilfield chemicals market is segmented as Biocides, Corrosion & Scale Inhibitors, Demulsifiers, Polymers, Surfactants, and Other Chemicals. By application, the global oilfield chemicals market is segmented into Drilling & Cementing, Enhanced Oil Recovery, Production, Well Stimulation and Workover & Completion. In addition, oilfield chemicals manufacturing companies, distributors and academic organizations form the major client types for oilfield chemicals market. Market size (US$ Mn) and forecast for all the considered segmentation is presented in this report for the period 2015-2025 along with their respective CAGRs (%) for the forecast period 2017-2025.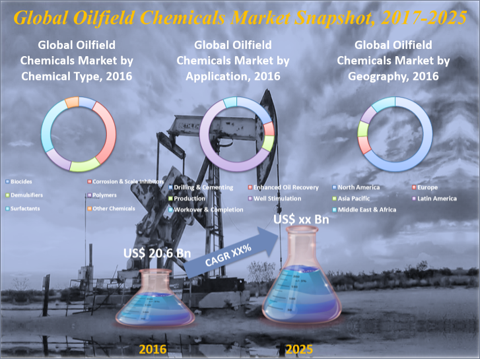 In terms of geographical distribution, the global oilfield chemicals market is a study for five major regions namely, North America, Europe, Asia-Pacific, Latin America, and Middle East & Africa. Market size and forecast for each regional and country-level market are included in the report for the considered periods. To further elucidate, the geographical distribution of the global oilfield chemicals market is performed as follows:
North America
Europe

U.K.
Germany
Italy
France
Russia
Rest of Europe

Asia-Pacific

China
Japan
Indonesia
South Korea
Rest of Asia Pacific

Latin America

Brazil
Mexico
Rest of Latin America

Middle East and Africa (MEA)
Along with the quantitative information sets, this report also provides qualitative information such as market dynamics and executive summary for the global oilfield chemicals market. Tools such as competition assessment and attractive investment proposition are also included in the report to provide the readers with competitive mapping assistance. This study concludes with company profiles section. This section includes major information about the key companies engaged in development, and provision of oilfield chemicals.