Industry Outlook
Operating room equipment market accounted for a market value of US$ 28,917.6 Mn in 2017 and projected to grow at a CAGR of 5.9% during the forecast period from 2018 to 2026. Operating rooms equipment have evolved drastically over the years and it's the result of constant innovation in the technology of medical devices and changing requirements of medical practitioners performing various types of surgical procedures. However, the recent wave of upgrading a device with smart technology is not new in healthcare most of the patient monitoring and diagnostic devices have been upgraded and can be accessed from any corner of the hospital by medical practitioners. Thus, this flexibility and availability of patient data on a click has reduced majority of the complexities developing in operating room.
Market Synopsis
Get a sample copy for more information
"Increasing number of ambulatory surgical centers expected to assist the demand for operating room equipment market"
Ambulatory surgical centers have been currently the fastest growing healthcare facilities globally due to increasing demand for cost-efficient and minimally invasive surgeries. In addition to that, its accessibility for patients is high due to its strategic placement in tier II and tier III areas of most developed and developing countries. To compete with ambulatory surgical centers many hospitals are focusing on their outpatient care centers due to which the demand for operating room equipment will significantly rise throughout the forecast period. According to AmSurg, In the United States over 2010 to 2015, the number of ambulatory surgical centers operating rooms (ORs) increased 2-3% per year as new construction increasingly skewed toward larger facilities and existing facilities added operating room capacity.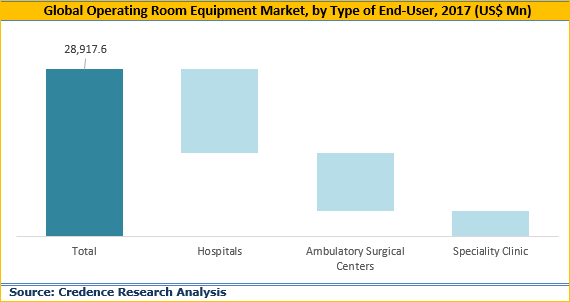 Get a sample copy for more information
"Asia Pacific identified as the fastest growing operating room equipment market due to rising number of hospitals & outpatient care centers, and booming medical tourism industry"
Asia Pacific is the most populated region due to presence of two most populated countries such as China & India. These two countries also known for their skyrocketing economic growth that is also assisting the infrastructure growth in healthcare sector. The infrastructural development in healthcare sector carried out by establishing healthcare facilities in remotest towns of the country, which assisted the overall growth in the awareness related to chronic disease and its treatment. The reimbursement scenario is also changing in Asia Pacific and well established in developed and developing countries but awareness related to supportive medical insurance is increasing which expected to assist the growth in number of patients approaching healthcare facilities for treatment. The number of private hospitals is increasing in Asia due to failure of the public hospital sector, as they are unable to meet changing community needs due to insufficient financial and policy support.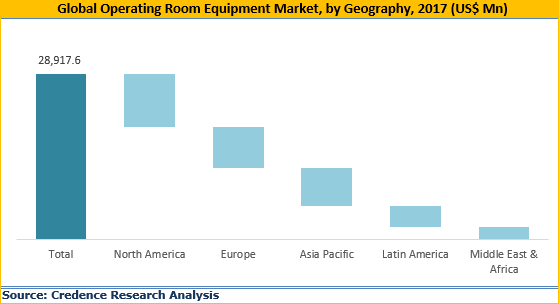 Get a sample copy for more information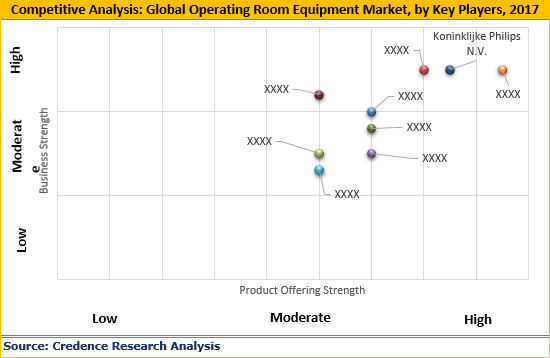 Historical & Forecast Period
The operating room equipment market analyzed considering current market trends for base year 2017 and based on future trends CAGRs calculated for the forecast period from 2018 to 2026.
Report Scope by Segments
This report includes detailed analysis of operating room equipment market covering qualitative and quantitative data focusing specifically on major market drivers, opportunities & restraints that affect the overall global market. An exhaustive information provided for market drivers, challenges & opportunities for a country-level market in the respective regional segments. This report covers detailed analysis related to the global operating room equipment market with segments such as types of product, end-users, and geography. The report comprises competitive landscape of the major players operating in operating room equipment market that covers in-depth data related to market competition and the recent strategies & products assisting or affecting the market in the near future.
ATTRIBUTE
DETAILS
Research Period
2016-2026
Base Year
2017
Forecast Period
2018-2026
Historical Year
2016
Unit
USD Million
Segmentation

Type of Product Segment (2016–2026; US$ Mn)
• Anesthesia & Respiratory Devices
o Anesthesia Systems
o Patient Warmers
o Ventilators
• Patient Monitoring
o Surgical Imaging Displays
o Movable Imaging displays
o Vital Signs Monitoring Devices
• Surgical Equipment
o Electrical Surgical Units
o Handheld Surgical Instruments
o Operating Tables
o Surgical Boom
• Other Products
o Microscopes
o Endoscopes
o Operating Room Integration Systems

End-User Segment (2016–2026; US$ Mn)
• Hospitals
• Ambulatory Surgical Centers
• Specialty Clinics

Geography Segment (2016–2026; US$ Mn)
• North America (U.S., Canada)
• Europe (U.K., Germany, Rest of Europe)
• Asia Pacific (Japan, China, Rest of APAC)
• Latin America (Brazil, Mexico, Rest of LATAM)
• Middle East and Africa (GCC, Rest of MEA)
The key players operating in the global market analyzed based on financial information, product portfolio, recent market updates, and key market strategies. This report also comprises attractive investment proposition analyzed with the help of in-depth geographical research based on PESTEL analysis. Major players profiled in the report include Philips Healthcare, Medtronic, Getinge AB, Stryker Corporation, Siemens Healthineers, Karl Storz GmbH & Co. Kg, GE Healthcare, Hill Rom (Trumpf Medical), STERIS plc, and Skytron among others.
Key questions answered in this report
Which is the trending product type in the market preferred in operating room & Why?
What are the recent market strategies followed by key players & competitive analysis specific to operating room equipment market?
Which are the major geographies (regions and countries) in operating room equipment market?
Which is the largest and fastest growing operating room equipment type globally?
How is the competitive landscape of operating room equipment market and strategies of major players operating in this industry?