Key Market Insights
"Growing penetration of smart home devices will enhance the market growth"
The global optocoupler IC market is expanding significantly, anticipated to surge at a CAGR of 5.9% during the estimated period from 2019 to 2027, starting from US$ 1.75 Bn in 2018.
The optocoupler IC market is majorly driven by the rapid increase in the adoption of electric vehicles worldwide and the growing penetration of smart home devices. In 2018, the global smart home market was valued at around US$ 80 Bn and expected to grow with a CAGR of approximately 15% in years to come. The rapid growth of the smart home market will surge the demand for the optocoupler IC market during the forecast period. The growing penetration of various smart devices such as home healthcare, smart speaker, smart kitchen, security control, and others will also help the market to grow significantly in years to come.
Wide application of optocoupler IC in the industrial, as well as the automotive industry, is another factor driving the market growth. Rising investments worldwide for advanced technology innovations such as autonomous vehicles, industrial robots, and others will enhance the market growth in upcoming years. The growing need for faster communication systems and increasing demand for high-end automobiles is also helping the market to grow significantly. Therefore, the market will show substantial growth throughout the forecast period.
Market Synopsis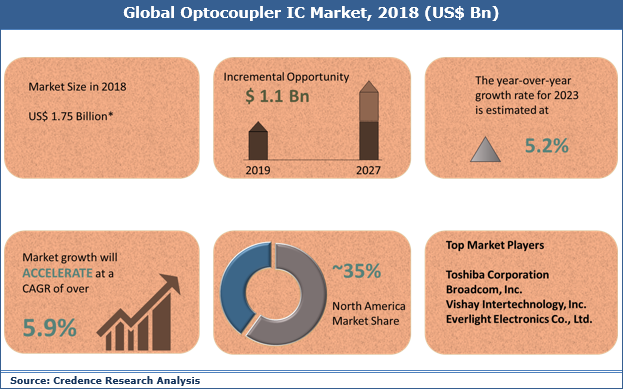 Get a sample copy for more information
Application Analysis
"Growing consumer electronics market will spur revenue growth"
The consumer electronics segment has a substantial share in the market in 2018. Rapidly growing adoption of smart consumer electronic devices is the major factor for the substantial share of the segment. The global consumer electronics market is growing yearly at a rate of around 5.8%. Growth of the consumer electronics market in the emerging nations such as India, China, Indonesia and others will also enhance the segment growth.
"Rising adoption of electric vehicles will boost the revenue growth"
The automotive segment will be the fastest growing segment during the forecast period. The segment will show the fastest growth owing to the rapid adoption of electric vehicles worldwide. The global electric vehicles market was esteemed at nearly US$ 120.0 Bn in 2018 and is anticipated to grow with a CAGR of more than 16% in years to come. According to a recent report, electric vehicle sales have grown more than 60% to reach over 2 Mn units globally in 2018. Rising penetration of electric vehicles in Asia Pacific region will also boost the market revenue.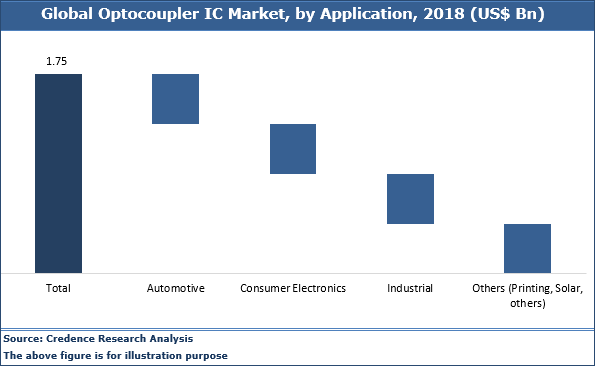 Get a sample copy for more information
Regional Analysis
"Rising technological advancements will enhance the market in North America"
North America dominates the market in 2018 and contributed to nearly 1/3rd of the global revenue share in the same year. North America has the highest share owing to rising technological advancements, adoption of electric vehicles and growing demand for smart consumer electronic devices. The U.S is the largest contributor with more than 80% market share in the North America optocoupler IC market. Growing investments for adoption of electric vehicles and the presence of major market players (such as Broadcom, Inc., Vishay Intertechnology, Inc., Standex Electronics, Inc. and others) are the major factors for the dominance of the U.S.
"Growing penetration of electric vehicles and consumer electronics will boost the market growth in Asia Pacific"
The Asia Pacific segment is expected to be the fastest growing segment owing to rapidly growing consumer electronics and electronic vehicles market in the region. China leads the electric vehicles market with nearly 50% market share in 2018 with 1.1 Mn units. Rapidly growing consumer spending ratio and rising investments in the region for the adoption of technologically advanced products are some other factors responsible for the fastest growth of the region.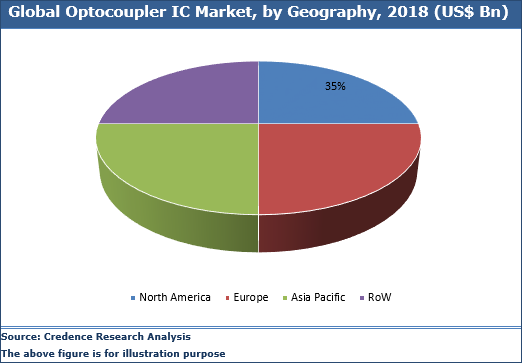 Get a sample copy for more information
"New product with advanced technology will be the key strategy by market players"
The launch of the new product with advanced technological innovations will be the major key strategy for major market players. Mergers & acquisitions with different players will be another strategy during the forecast period.
Key Industry Development:
In December 2017, Everlight Electronics Co., Ltd. launched a 4-pin photocoupler with features such as high isolation voltage, operating temperature up to +1100C, and others.
In September 2017, Toshiba Corporation launched a new IC photocoupler "TLP2735". The new IC photocoupler is coupled with UVLO function for IPM drive and digital control switching power supplies.
List of Companies Covered:
Renesas Electronics Corporation
Toshiba Corporation
Broadcom, Inc.
Vishay Intertechnology, Inc.
Taiwan Semiconductor Mfg. Co. Ltd.
Everlight Electronics Co., Ltd.
Infineon Technologies AG
IXYS Corporation
Panasonic Corporation
Phoenix Contact
Standex Electronics, Inc.
TT Electronics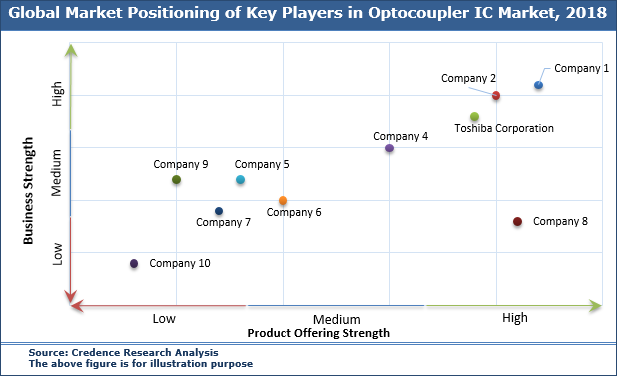 Historical & Forecast Period
This study report represents analysis for each segment from 2017 to 2027 considering 2018 to be the base year. Compounded Annual Growth Rate (CAGR) for each of the respective segments estimated for the forecast period from 2019 to 2027.
Market Segmentation
ATTRIBUTE
DETAILS
Research Period
2017-2027
Base Year
2018
Forecast Period
2019-2027
Historical Year
2017
Unit
USD Billion
Segmentation

Type (2017–2027; US$ Bn)
• High Linearity Optocouplers
• High-speed Optocouplers
• Logic Output Optocouplers
• MOSFET Output Optocouplers
• Transistor Output Optocouplers
• TRIAC & SCR Output Optocouplers
• Others

Pin (2017–2027; US$ Bn)
• 4 Pin
• 5 Pin
• 6 Pin
• 7 Pin

Application (2017–2027; US$ Bn)
• Automotive
• Consumer Electronics
• Industrial
• Others (Printing, Solar, others)

Geography Segment (2017–2027; US$ Bn)
• North America (U.S. and Canada)
• Europe (U.K., Germany, Spain, Italy, and Rest of Europe)
• Asia Pacific (Japan, China, India, and Rest of Asia Pacific)
• Rest of World (Middle East & Africa (MEA), Latin America)
The current report also comprehends qualitative and qualitative market valuation factors such as key market drivers, market trends, restraints and opportunities that give a better market understanding of the overall optocoupler IC market. Additionally, the global report also comprises graphical representation of competitive landscape based on their market initiatives and strategies, product portfolio and business strengths.
Key questions answered in this report
What are the current market trends and dynamics in the optocoupler IC market and valuable opportunities for emerging players?
Which segment accounts for the fastest CAGR during the forecast period?
What are the drivers of the optocoupler IC market?
Are low and middle-income economies investing in the optocoupler IC market?
Notable developments going on in the optocoupler IC market.
What is the market trend and dynamics in emerging markets such as Asia Pacific, Latin America, and Middle East & Africa?
Comparative scenario for all the segments for years 2018 (actual) and 2027 (forecast)