Pet wearables are primarily smart trackers and monitors embedded into small gadgets which can be worn by pets. Pet wearables are widely used across the world for applications such as pet tracking, health monitoring and emergency notifications. Pet wearables make use of various technologies including global positioning systems (GPS), radio frequency identification (RFID), sensors (proximity sensors, accelerometers, temperature and pressure sensors, heart rate monitors, etc.), Bluetooth and cellular connections, among others. Thereby, with the incorporation of several technologies, pet wearable manufacturers are able to offer a wide array of applications to their consumers. For instance, pet wearables have gained immense popularity in the recent years in applications such as identification and location, medical diagnostics and behavior monitoring. Companies engaged in the development of pet wearable technology have been focusing on designing various attractive tags, collars and vests to be used on pets. Consumers can buy such wearables and sync them to their smartphones, tablets or laptops to ensure constant monitoring and notifications.
One of the major factors driving the growth in the pet wearables market is the technological advancements in communication and sensor technologies. Increasing popularity of wearable technology for humans has paved way for various wearble products for pets. In addition, with decreasing costs for various sensors, pet wearable manufacturers have been able to incorporate numerous features and functions into singular products at affordable prices. Other technological factors resulting in higher adoption of pet wearable technology include growing demand for smart connected homes. Consumers from most of the developed markets in the North America and Europe region demand interconnectivity between various home systems enabling inclusion of pet monitoring and feeding systems.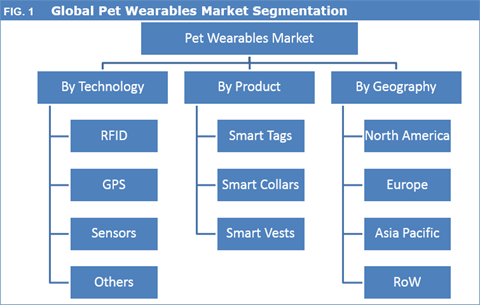 The report titled "Global Pet Wearables Market- Growth, Future Prospects and Competitive Analysis, 2017 – 2025" offers strategic insights into the global pet wearables market along with the market size and estimates for the duration 2015 to 2025. The said research study covers in-depth analysis of multiple market segments based on technology, product and cross-sectional study across different geographies and sub-geographies. The study covers the comparative analysis of different segments for the years 2016 & 2025. The report also provides a prolific view on market dynamics such as market drivers, restraints and opportunities. In addition, the report covers a section providing production and pricing trends in some of the major markets.
In order to help strategic decision makers, the report also includes competitive profiling of the leading providers of pet wearable technology, market positioning and key developments. Some of the major players profiled in the report are FitBark, Loc8tor Ltd., PetPace Ltd., Whistle Labs Inc., Pitpatpet Ltd., DOGSTAR LIFE, Fetch (GoPro, Inc.) and INUPATHY, Inc., among others
Other in-depth analysis provided in the report includes:
Current and future market trends to justify the forthcoming attractive markets within the pet wearables industry
Market fuelers, market impediments, and their impact on the market growth
In-depth competitive environment analysis
Trailing 2-Year market size data (2015 – 2016)
Overall, the research study provides a holistic view of the global pet wearables market, offering market size and estimates for the period from 2017 to 2025, keeping in mind the above mentioned factors.