Key Market Insights
"Rising government regulations for security will enhance the market demand globally"
The global physical security information management market is growing proficiently, projected to grow at a CAGR of 14.5% during the estimated period from 2019 to 2027, starting from US$ 930.5 Mn in 2018.
For lesser security breach, fraud reduction and risk assessment, government worldwide are making regulations such as HIPPA, GLBA, GDPR, PCI DSS, ISO, and others. To comply with the aforementioned regulations organizations are adopting PSIM software which is driving the market growth. According to a report, there will be 75 Bn IoT devices worldwide by 2025. Hence, the need to install PSIM software is increasing worldwide owing to which we expect that the market will grow significantly during the forecast period.
"Increasing need for a centralized security system will boost PSIM market"
Rising demand for a centralized security system and increased digitization worldwide will boost market growth. PSIM is a software platform that incorporates security devices & applications and control with one interface. PSIM software provides various organizational benefits such as management reporting, increased control, and enhanced situation awareness. Further, the aforementioned organizational benefits of PSIM help them in cost reduction, improved work efficiency, increased intelligence, improved security and others, that are helping the market growth.
Market Synopsis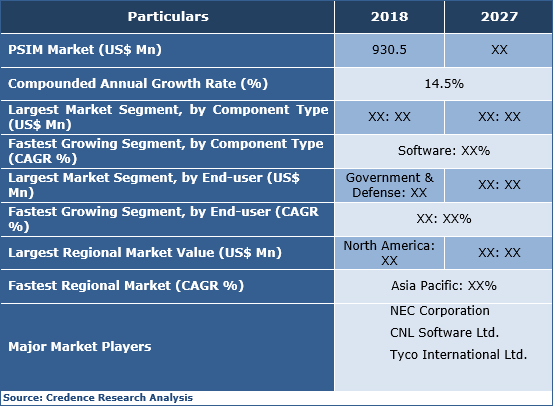 Get a sample copy for more information
End-user Analysis
"Rising development of smart cities worldwide will spur revenue growth"
The government & defense segment is estimated to be dominant in 2018. The government & defense segment contributed to around 35% of the market revenue share in the same year. Government initiatives for the development of smart cities along with a focus on safe city programs that majorly depend upon PSIM software will boost the segment growth. Rising investments and growing use of digitization in the defense sector worldwide will also spur the segment growth. According to research study and news, the defense sector worldwide will reach US$ 1.9 Tn by 2020.
"Rising digitization in transportation will enhance the Logistics segment"
The rapid inclination of digitization in the transportation industry and growing need for monitoring & security of logistics & transportation activities will boost the segment growth. The global logistics market was valued at US$ 8.6 Tn in 2018 and expected to grow with a CAGR of around 7% in years to come. Major logistics companies are deploying PSIM software solutions to secure client information, duty-free areas, and others.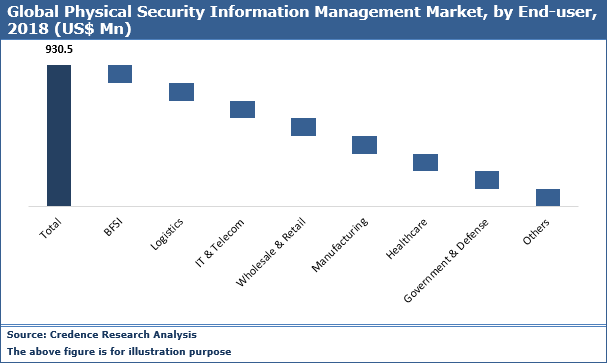 Get a sample copy for more information
Regional Analysis
"Rising demand for centralized management will boost the market in North America"
North America led the PSIM market in 2018 backed by Europe and Asia Pacific. North America contributes nearly 35% of the global market revenue share in the same year. North America dominates the market owing to the rising need for centralized management and control of security systems in the region. Growing physical & cybersecurity concerns, early technological adoption, and presence of PSIM vendors such as VidSys, Inc., videoNEXT, Hexagon AB (Intergraph Corporation) and others in the region will also boost the region growth.
"Increased government initiatives will boost the PSIM market in the region"
We expect that Asia Pacific will grow with the fastest CAGR in years to come due to increased government initiatives such as smart cities, and to decrease the security breach. For instance, in 2015, the government of India launched the 'Smart Cities Mission' program, in the aforementioned program total of 100 cities have selected across the country for development. Rising deployment of digitization in the defense sector will also boost the region's growth.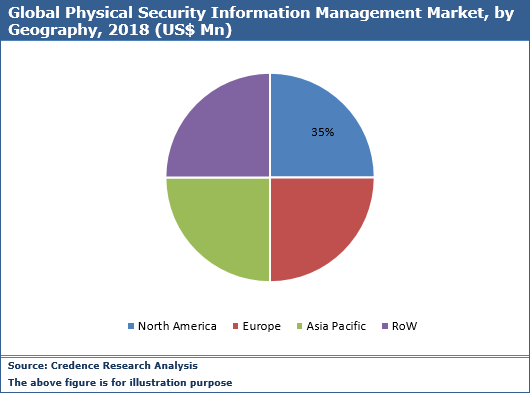 "Rising Partnerships, Mergers & Acquisitions will enhance the Industry Growth"
Major PSIM software vendors are focusing on strategic partnerships, acquisition & merger and collaborations with other players. These strategies will help companies to increase their product portfolio and can develop more efficient security solutions.
Key Industry Development:
In January 2018, Red Five Security, LLC and VidSys, Inc. collaborated for developing leading-edge security solutions. This strategic partnership will help both companies to increase their customer base and market share in the industry.
In October 2019, CNL Software Ltd., world leader in PSIM market awarded as technology partner of the year by Edge360 due to CNL's excellence in implementation and innovation of consumer centric solutions.
List of Companies Covered:
NEC Corporation
CNL Software Ltd.
Tyco International Ltd.
NICE Systems Ltd.
VidSys, Inc.
Hexagon AB (Intergraph Corporation)
videoNEXT
Red Five Security, LLC
S2 Security Corporation
Milestone Systems A/S
Genetec, Inc.
AxxonSoft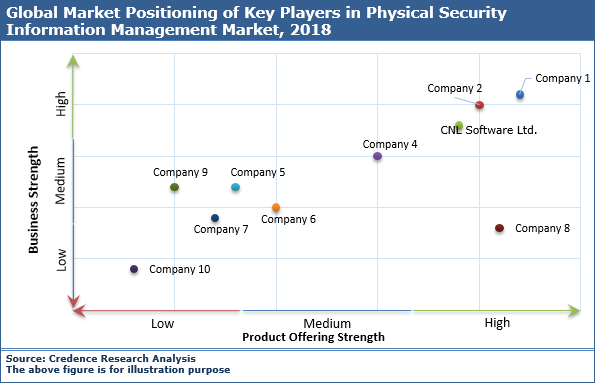 Historical & Forecast Period
This study report represents analysis for each segment from 2017 to 2027 considering 2018 to be the base year. Compounded Annual Growth Rate (CAGR) for each of the respective segments estimated for the forecast period from 2019 to 2027.
Market Segmentation
ATTRIBUTE
DETAILS
Research Period
2017-2027
Base Year
2018
Forecast Period
2019-2027
Historical Year
2017
Unit
USD Billion
Segmentation

Component Type (2017–2027; US$ Mn)
• Software
o Off-the Shelf
 On-premise
 Cloud-based
o Customized
 On-premise
 Cloud-based
• Service

End-user (2017–2027; US$ Mn)
• BFSI
• Logistics
• IT & Telecom
• Wholesale & Retail
• Manufacturing
• Healthcare
• Government & Defense
• Others (Energy & Utility, Residential, etc.)

Geography Segment (2017–2027; US$ Mn)
• North America (U.S. and Canada)
• Europe (U.K., Germany, Spain, Italy and Rest of Europe)
• Asia Pacific (Japan, China, India, and Rest of Asia Pacific)
• Rest of World (Middle East & Africa (MEA), Latin America)
The current report also comprehends qualitative and qualitative market valuation factors such as key market drivers, market trends, restraints and opportunities that give a better market understanding of the overall physical security information management market. Additionally, the global report also comprises graphical representation of competitive landscape based on their market initiatives and strategies, product portfolio and business strengths.
Key questions answered in this report
What are the current market trends and dynamics in the physical security information management market and valuable opportunities for emerging players?
Which segment accounts for the fastest CAGR during the forecast period?
What are the drivers of the physical security information management market?
Are low and middle-income economies investing in the physical security information management market?
Notable developments going on in the PSIM market.
What is the market trend and dynamics in emerging markets such as Asia Pacific, Latin America, and Middle East & Africa?
Comparative scenario for all the segments for years 2018 (actual) and 2027 (forecast)