Since the early bronze age, metal joining process has been one of the most important and inseparable fragment of metal work. Among the several methods, riveting made a special place in permanent fastening and still has no replacement for several end-use applications such as construction of heavy structures and tanks & boilers vessels. Riveting is reliable fastening process and hence, the demand for preventing machines are observing a steady growth over decades and is not expected to cease for years to come. In 2017, riveting machines market registered a market value of US$ 189.0 Mn and projected to touch US$ 267.9 Mn mark by 2026. The market is estimated to grow with a decent growth rate of 3.9% throughout the forecast period from 2018 to 2026.
Market Synopsis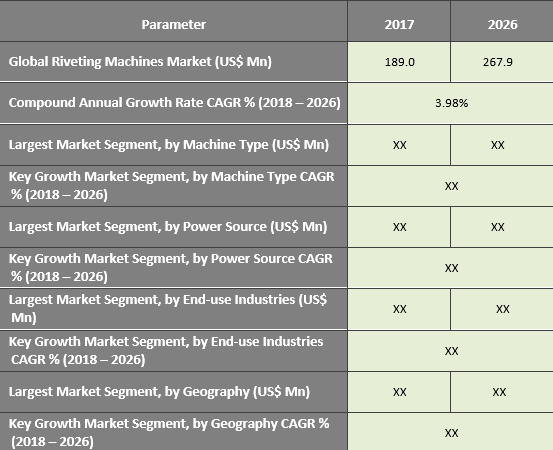 Get a sample copy for more information
Riveting is simple method of permanently joining two metal sheets and is classified into several methods based on the machines type. The research study discusses market value, estimates, and growth of impact riveting machines, orbital riveting and other riveting machines. Other riveting machines includes radial riveting, roller-form riveting, automatic drilling & riveting machines, etc. In 2017, the overall riveting machines market is dominated by impact riveting. The method is widely used for construction of heavy structures and several other industrial manufacturing and processing machines. However, impact riveting machine is expected to face tough competition from orbital riveting machines for market share in coming years.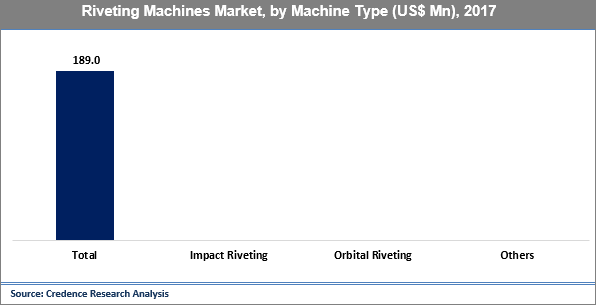 Get a sample copy for more information
"Hydraulic and Pneumatic Riveting Machines to lose their Share to Electric Riveting Machines"
Riveting machines need an external power source such as hydraulic, pneumatic and electricity to punch rivets into the metal sheets. Consequently, the research study included the market study of riveting machines based on the power source. From past many years, hydraulic and pneumatic powered machines were the only available riveting machine used for different end-use industries. However, with the introduction of better electric motors and advanced drive controllers, electric riveting machines are taking over the market shares of hydraulic and pneumatic riveting machines market.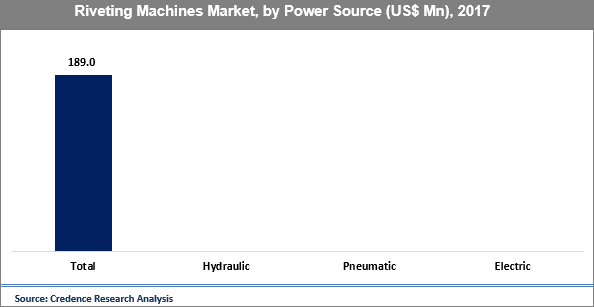 Get a sample copy for more information
"Heavy Development in Industrial and Construction Sector Allowed Asia Pacific to Dominate Over the Global Riveting Machines Market"
Several ongoing constructions of public and private infrastructures in Asia Pacific aided the region to register a strong market value in the overall riveting machines market. Besides construction, rapid industrial development in countries such as China, India, and South Korea among others also helping the market to flourish in this region. Asia Pacific market is closely followed by North America and Europe in terms of market share. However, other developing regions including Middle East & Africa and Latin America are expected to make an impact on the global riveting machines market.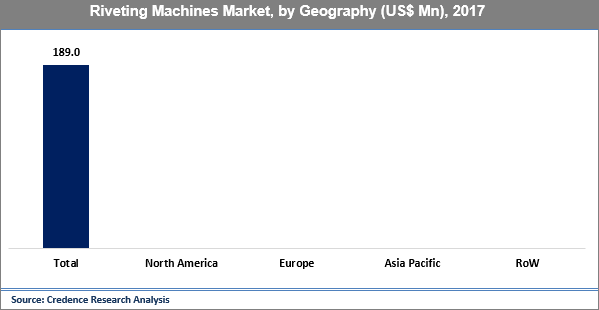 Get a sample copy for more information
Market Segmentation
ATTRIBUTE
DETAILS
Research Period
2017-2027
Base Year
2018
Forecast Period
2019-2027
Historical Year
2017
Unit
USD Billion
Segmentation

Product Type Segment (2017–2027; US$ Bn)
• Linear Vibrating Screen
• Circular Vibrating Screen
• Elliptical Vibrating Screen

Drive Type Segment (2017–2027; US$ Bn)
• Direct Drive
• Indirect Drive

End Use Segment (2017–2027; US$ Bn)
• Mining
• Construction
• Recycling
• Agriculture
• Others

Geography Segment (2017–2027; US$ Bn)
• North America (U.S. and Rest of North America)
• Europe (U.K., Germany, France, and Rest of Europe)
• Asia Pacific (Japan, China, India, and Rest of Asia Pacific)
• Rest of World (Middle East & Africa (MEA), Latin America)
Competitive Landscape
The research study covers some of the leading riveting machine manufacturers including Stanley Black & Decker, GESIPA Blindniettechnik GmbH, BalTec UK Ltd., Bollhoff Fastenings Pvt. Ltd. (Bollhoff Group), Arconic Inc., CAPMAC INDUSTRY Srl, VVG-Befestigungstechnik GmbH & Co., Superior Rivet Machines, Zhejing JUDA, Machinery Co., Ltd., LA CLUSIENNE-CLUFIX, Meta Precision Industry Co., Ltd., ATOLI MACHINERY CO., LTD. Global riveting machines market is quite fragmented and competitive in nature owing to a number of small & big, and domestic as well as international manufacturers. The competitive nature of market enforced the companies to come up with different business strategies in order to survive and maintain their market position. The study also includes detailed company profiles of the leading riveting machines manufacturing companies.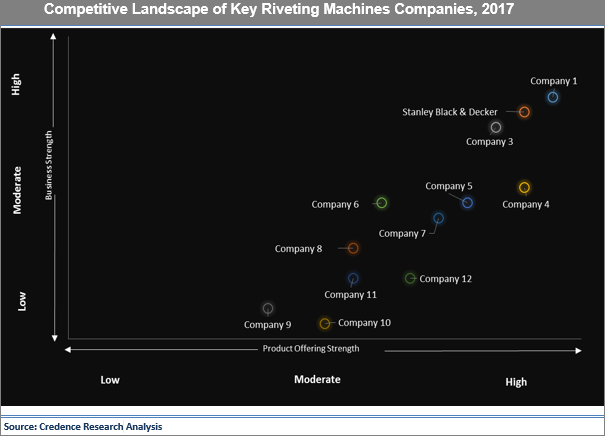 Key questions answered in this report
How Development in electric drives and control aided riveting machines market to flourish?
Which are the most noticeable end-use industries and how their growth is assisting riveting machines market to grow?
What are different types of riveting machines and what are their standing in terms of market value?
How vital is the growth of construction and automotive industries is and what is its effect on the sales of riveting machines?
How industrially emerging region such as Asia Pacific and Latin America emerge as the game-changer in coming years?