The face shaped fabrics soaked in nutrition packed solution called serum are known as sheet face masks. The sheet can be made up of a variety of materials such as cotton, paper, fibres or gel types. It claims to moisturize and brighten skin and also treat fine lines. The sheet prevents quick evaporation of serum thus, allowing the ingredients to penetrate deep into the skin. Even when applied once, these masks outperform the effects of the traditional serum-type skincare. Sheet masks are usually, packed individually and are meant for a single use thus making them convenient, fast and easy to use.
These masks are originated from South Korea. Currently, sheet masks are widely popular in Asia as a whole. Sheet masks are the new trend in the beauty industry and are gaining popularity in the other regions as well. It has gained popularity majorly because of celebrities using it and posting their selfies on social medial, the trend is being called "face sheet masks selfies". Overwhelming other categories in the skincare business the sale of face sheet mask has seen a growth of about 60%.
Once considered the domain of the young, the sheet face mask is becoming popular within the older generation as well. And with the popularity of sheet face masks growing, a great opportunity exists to capture this market using innovative ingredients and novel formulas. Another big demographic which has immense potential is Men. There is reason to believe that with the right execution more men will try masks.
Sheet face masks come in many variations that claim different results such as lifting, hiding fine lines and preventing acne but some studies suggest that face masks are only good for hydration. Also, using them every day can get pretty expensive and hence they cannot fully replace serum.
Despite challenges the future of sheet face masks seems bright. In today's fast paced world, the convenience and portability of these masks offer a great advantage over other beauty products that most of the times require you to wash your face after application. These tap and go contraptions certainly appeal more to the modern metropolitan humans. Some of the key players present in this market are Starskin, Sephora Inc., Dolce & Gabbana S.r.l., Kracie Holdings, and Star Skin Beauty Group AG among others.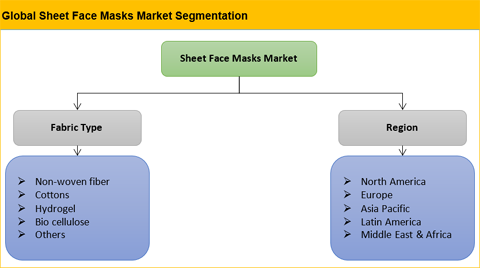 The report titled "Global Sheet Face Masks Market - Growth, Future Prospects, and Competitive Analysis, 2017 – 2025" offers strategic insights into the global sheet face masks market along with the market size and estimates for the duration 2015 to 2025. The said research study covers in-depth analysis of multiple market segments based on fabric type and cross-sectional study across different geographies. The study covers the comparative analysis of different segments for the years 2016 & 2025. The report also provides a prolific view on market dynamics such as market drivers, restraints and opportunities.
In order to help the strategic decision makers, the report also includes profiles of the leading sheet face masks manufacturers, along with their, product portfolio and key developments. Other in-depth analysis provided in the report includes:
Current and future market trends to justify the forthcoming attractive markets within the sheet face masks industry
Market fuelers, market impediments, and their impact on the market growth
In-depth competitive environment analysis
Trailing 2-Year market size data (2015 – 2016)
SRC (Segment-Region-Country) Analysis
Overall, the research study provides a holistic view of the global sheet face masks market, offering market size and estimates for the period from 2017 to 2025, keeping in mind the above mentioned factors.