"Rapidly Transforming Information & Communication Technology (ICT) to Stimulate the Demand for Smart Water Management Market"
Smart water management market touched the market value of US$ 11.62 Bn in 2017, with an immense CAGR of 13.15% during the forecast period from 2018 to 2026. Essentially directed by North America, smart water management market chiefly driven by the integration of Information and Communication Technology (ICT) with overall water management process. ICT recognized as strategic enabler in the process of developing innovative solutions to address problems of water scarcities. In addition, such technologies facilitate the analysis of environmental data that enables climatologists or researchers to build more precise models for weather forecasting in the looming era of climate change. Adoption of Internet of Things (IoT) technologies allows water management companies to reduce operational cost, control water quality and save water & energy. Such technologies give operators a comprehensive view of the water network performance in real time and enable them to efficiently manage their distribution network.
Market Synopsis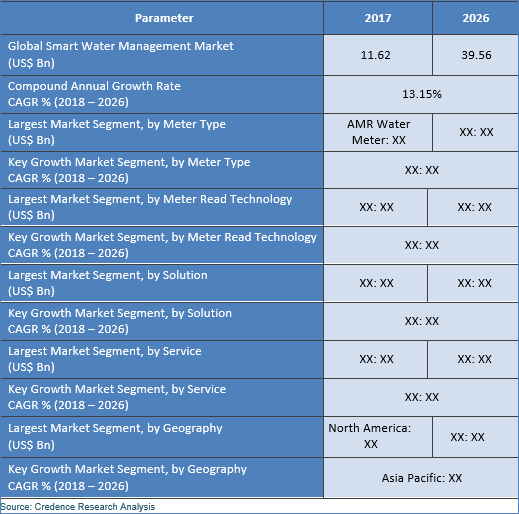 Get a sample copy for more information
"Automatic Meter Reading (AMR) Water Meters to Cement its Dominance in Smart Water Management Market"
AMR water meters automatically collects consumption, diagnostic & status data and transfers that to central database for billing, troubleshooting, and analysis. Primary advantage these meters offer that billing is based on near real-time consumption of water. Real-time data coupled with analysis helps both utility providers and consumers to better control water consumption. On the other hand, Automated Metering Infrastructure (AMI) water meters segment poised to display fastest gains in the coming years. With advancements in technology, utilities expected to grow sophisticated in their operations and data analytics. The functions such as pressure testing, leak detection, and hydraulic monitoring among several others carried out more regularly, quickly and with higher quality assurance using AMI technology.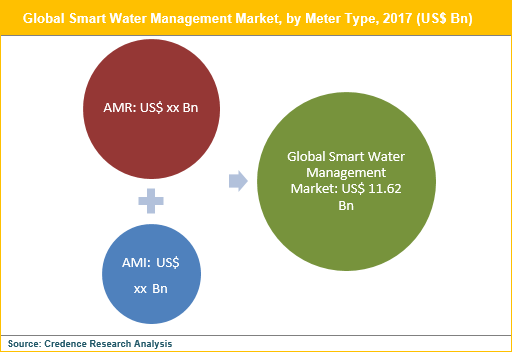 Get a sample copy for more information
"Asia Pacific to Display Fastest Growth in Overall Smart Water Management Market"
Presently, North America is the front-runner of the overall smart water management market followed by Europe and Asia Pacific respectively. The smart city concept is rapidly gaining traction in the Asia Pacific region. Similarly, urban population of Asia Pacific region is growing faster than any other region. It is expected that the urbanization rate in region will reach 50% in 2026. The water cycle is an essential part of the urban infrastructure, swaying each pillar of urban life and its functionality. The increasing concentration of people in urban areas usually places stress on water resources, which translates into a growing demand for clean water supplies and adequate sanitation, required to ensure human dignity. With region rapidly moving towards the state of art technologies, adoption for smart water management process expected to immensely surge in following years.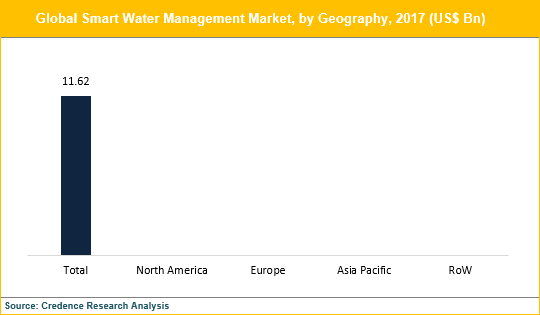 Get a sample copy for more information
Key players of global smart water management market include Honeywell International Inc., ET Water Systems LLC, Schneider Electric SA, i20 Water Ltd., TaKaDu Ltd., General Electric Co., International Business Machines Corporation, Arad Metering Technologies, Itron Inc., ABB Ltd., Emerson Electric Corporation, Sensus USA Inc., Evoqua Water Technologies, Siemens AG, Nalco Water and others.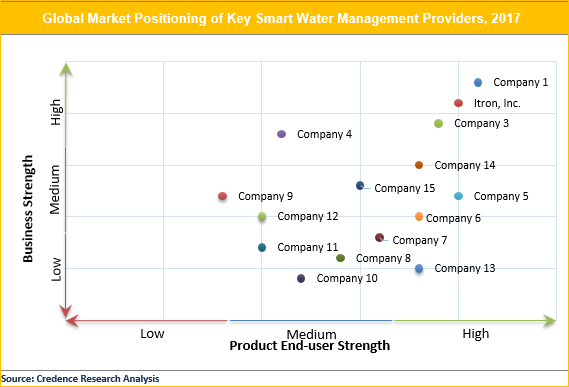 Historical & Forecast Period
This research report presents the analysis of each segment from 2016 to 2026 considering 2017 as the base year for the research. Compounded Annual Growth Rate (CAGR) for each respective segments calculated for the forecast period from 2018 to 2026.
Report Scope by Segments
Smart water management market report provides market size and estimates based on market dynamics and key trends observed in the industry. The report provides a holistic view of global smart water management market based on meter type, meter read technology, solution, service, and geography. Key segments covered in the report are as follows:
ATTRIBUTE
DETAILS
Research Period
2016-2026
Base Year
2017
Forecast Period
2018-2026
Historical Year
2016
Unit
USD Billion
Segmentation

Meter Type Segment (2016–2026; US$ Bn)
• AMR Water Meters
• AMI Water Meters

Meter Read Technology Segment (2016–2026; US$ Bn)
• Fixed Technology
• Cellular Technology

Solution Segment (2016–2026; US$ Bn)
• Supervisory Control & Data Acquisition (SCADA) Systems
• Advanced Pressure Management
• Advanced Analytics
• Network Monitoring
• Smart Irrigation Management System
• Meter Data Management
• Residential Water Efficiency
• Enterprise Asset Management for Water & Wastewater Utilities

Service Segment (2016–2026; US$ Bn)
• Managed Services
• Professional Services

Geography Segment (2016–2026; US$ Bn)
• North America (U.S., Rest of North America)
• Europe (U.K., France, Germany, Rest of Europe)
• Asia Pacific (Japan, China, India, Rest of APAC)
• Rest of the World (Latin America, Middle East & Africa)
Key questions answered in this report
What was the market size of smart water management in 2017 and forecast up to 2026?
Which is largest regional market for smart water management?
What are the key market trends observed in the smart water management market?
Which are the most promising meter type, meter read technology, solution, and service in smart water management market?
Who are the key players leading the market?
What are the key strategies adopted by the leading players in market?
What are the key application industry trends across different geographies and sub-geographies?