Transformation of raw material into healthy food product is resultant of efficient processing, preparation, distribution and finally consumption of food product. Increasing concerns of consumers regarding healthy and green food products, demand for plant products is anticipated to remain significant in the near future. Technological advancements in food have led towards development of varied soy products including isolates, concentrates and other edible soy products. This has further led to increased consumption of soy-based products among consumers across the globe. Soy protein products are used as functional and nutritional food ingredient across various food products. Owing to demand for low-cost source of protein from plants, the food product formulators are focused on developing products, which offer enhanced nutrients required for the human body.
Some of the factors driving the demand for soy protein ingredients include changing consumer food patterns, inclination of consumers towards vegetarian food, rising meat prices, ban on usage of animal sources by governments of various countries, increasing availability of ready-to-eat food products and increasing concerns of consumers towards healthy and nutritious food products. However, taste preferences for soy-based products restricts its adoption among few consumers and thus, might hinder the soy protein ingredients market growth rate in the near future.
Globally, soy protein ingredients market in North America is expected to be largest in terms of value followed by Europe and Asia Pacific. Increasing government support and subsidies related to improved agricultural practices and crop yield methods. Asia Pacific is further anticipated to exhibit fastest CAGR during the forecast period, which is attributed to growing food and beverage industry in China and India leading towards demand for soy protein ingredients coupled with awareness among consumers regarding of soy protein ingredients benefits such as low fat and sugar content, environment friendly as compared to animal protein ingredients and high nutritional content.
Global soy protein ingredients market is expected to be valued at US$ 8.0 Bn by the end of 2016 and is projected to expand at a CAGR 6.3% during the forecast period 2016-2023.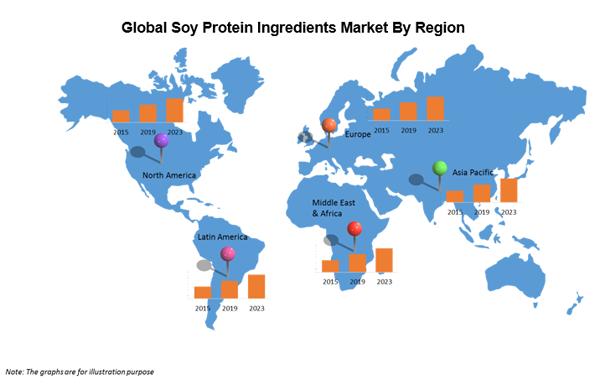 Purpose of the Report
The purpose of this strategic research study titled "Global Soy Protein Ingredients Market- Growth, Future Prospects, Competitive Analysis and Forecast, 2016 – 2023" is to provide company executives, industry investors, and industry participants with in-depth insights to enable them make informed strategic decisions regarding the opportunities in the global soy protein ingredients market.
Target Audience
Industry Investors
Research Professionals
Emerging Companies
soy protein ingredients manufacturers
Oil & Gas exploration and production companies
Downstream & Midstream Companies
Research Institutes
USP and Key Offerings
The report titled "Global Soy Protein Ingredients Market- Growth, Future Prospects, Competitive Analysis and Forecast, 2016 – 2023" offers strategic insights into the soy protein ingredients market along with the market size and estimates for the duration 2013 to 2023. The said research study covers in-depth analysis of multiple market segments based on type, application and cross-sectional study across different geographies. In order to help strategic decision makers, the report also includes competitive profiling of the leading soy protein ingredients manufacturers, their expansion strategies, market positioning, and latest developments. Other in-depth analyses provided in the report include:
Current and future market trends to validate the forthcoming attractive markets within chemicals and materials industry
Market fuelers, market impediments, and their impact on the market growth
In-depth competitive environment analysis
Trailing 3-Year market size data (2013 – 2015)
SRC (Segment-Region-Country) Analysis
Overall, the research study provides a holistic view of the global soy protein ingredients market growth, offering market size and estimates for the period from 2013 to 2023, keeping in mind the above mentioned factors.