Bourgeoning Construction Industry to Stimulate the Demand for Stone Crushing Equipment
Stone crushing equipment market expected to hit the global market value of US$ 4.5 Bn in 2026 and accounted to demonstrate the promising growth with a steady CAGR throughout the forecast period. Stone crushing industry proved as vital industrial sector across the world, involved in producing crushed stone of various sizes subject to the requirement. Rapid growth of urban areas across the world has put massive pressure on existing construction material resources, as there is increasing demand from infrastructure, housing, recreation and industrial activity. Public funded infrastructure projects consume most crushed stones, used in construction of roads, bridges and canals among several others. Crushed stones are vital to the construction industry, which maintains & enhances the built environment and transportation infrastructure. Rising urbanization with growing per capita disposable income accounted to drive the construction industry growth, thereby stimulating the subsequent surge of stone crushing equipment market.
Market Synopsis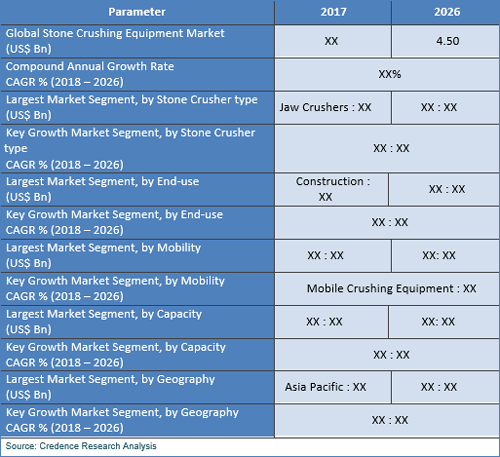 Get a sample copy for more information
Jaw Crushers to Cement the Dominating Position in Stone Crushing Equipment Market
Jaw crushers majorly used for primary crushing of wide variety of materials in the mining, recycling and quarry industries. Jaw crushers are basic compression crushers while the others operate principally by the application of impact. Corresponding to easy maintainability and simple design, jaw crushers commonly used as primary size reduction equipment in mechanical and mining industries. Jaw crushers generally used in the mineral processing industry producing thick, hard and medium hard crushed stones as well as, sometimes in the production of other industrial sectors and small ore-crushing role. Over the past 10 years, with continuous innovation & transformation, increase of varieties & specifications, jaw crusher has gradually approached the advanced level.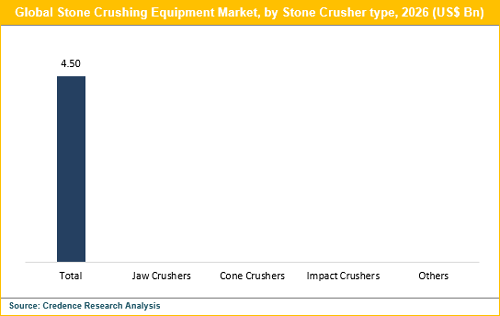 Get a sample copy for more information
Emerging Markets' Share in Global Stone Crushing Equipment Market Continue to Rise with Steady Rate
In 2017, Asia Pacific market represented the largest share, in terms of market value, principally due to development of construction industries. As the global construction industry endures to shift towards developing countries, position of the region in the global stone crushing equipment market continues to improve throughout the forecast period. Chiefly driven by changing demographic trends, investment of Asia Pacific in manufacturing and transportation infrastructure expected to continue leading the construction market. In 2017, China retained its dominating position in Asia Pacific market, accounting for over 40% of the construction output of the region. China has substantial construction projects underway, including making establishment for the movement of 250 Mn people to its megacities in the next ten years. Further, construction plays a major part in economic growth of India. Numerous long term and short-term projects are underway in the public and private sector including 22.5 km Mumbai trans-harbour link and many new metro lines in country. Growing construction activities and steady growth of economies expected to stimulate the demand for crushed stone, thereby driving the stone crushing equipment market in the region.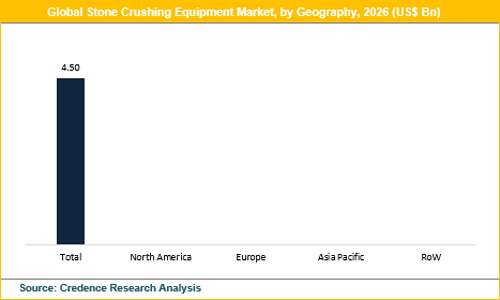 Get a sample copy for more information
Sturdy Distribution Base to Remain the Key Strategy
Stone crushing equipment market considered as fragmented in nature with players are aiming to cater large customer base through strong distribution network. Distributors are providing support and services of stone crushers pertaining to specific requirements of customers. Number of market players are aiming alliance with domestic and international distributors to enhance their customer reach. Popular instances include addition of Cribas to distributor list of Latin American distributors by Eagle Crusher Company, Inc. Similarly Eagle Crusher Company, Inc., also announced addition of Mellot Co. to distribution network. Further, addition of Stowers Machinery by Metso Oy. Key players of global stone crushing equipment market includes Eagle Crusher Company, Inc., Sandvik AB, Metso Oyj, Caterpillar Inc., Terex Corporation, Komatsu Ltd., CNH Global N.V., BUCY International, Shanghai Shibang Machinery Co. Ltd., IROCK Crushers, Mormak Equipment Inc., Superior Industries, Inc., Triaso, SA, McLanahan Corporation and others.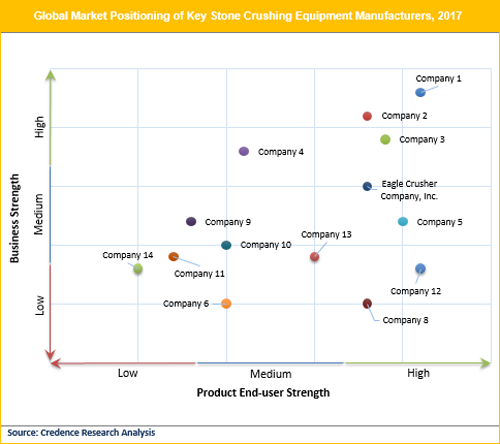 Historical & Forecast Period
This research report presents the analysis of each segment from 2016 to 2026 considering 2017 as the base year for the research. Compounded Annual Growth Rate (CAGR) for each respective segments calculated for the forecast period from 2018 to 2026.
Report Scope by Segments
Stone crushing equipment market report provides market size and estimates based on market dynamics and key trends observed in the industry. The report provides a holistic view of global stone crushing equipment market based on stone crusher type, end-use, mobility, capacity and geography. Key segments covered in the report are as follows:
ATTRIBUTE
DETAILS
Research Period
2016-2026
Base Year
2017
Forecast Period
2018-2026
Historical Year
2016
Unit
USD Billion
Segmentation

Stone Crusher type Segment (2016–2026; US$ Bn)
• Jaw Crushers
• Cone Crushers
• Impact Crushers
• Others (Mineral Sizers, Hammer Mills etc.)

End-use Segment (2016–2026; US$ Bn)
• Mining & Quarrying
• Recycling
• Construction
• Others (Agricultural, Chemical & Metallurgical etc.)

Mobility Segment (2016–2026; US$ Bn)
• Mobile Crushing Equipment
• Stationary Crushing Equipment

Capacity Segment (2016–2026; US$ Bn)
• Upto 50 Tonnes/Hour
• From 50 to 200 Tonnes/Hour
• More than 200 Tonnes/Hour

Geography Segment (2016–2026; US$ Bn)
• North America (U.S. and Rest of North America)
• Europe (U.K., Germany, France, and Rest of Europe)
• Asia Pacific (Japan, China, India, and Rest of Asia Pacific)
• Rest of World (Middle East & Africa (MEA), Latin America)
Key questions answered in this report
What was the market size of stone crushing equipment in 2017 and forecast up to 2026?
Which is largest regional market for stone crushing equipment?
What are the key market trends observed in the stone crushing equipment market and outlook for construction industry?
Which is the most promising stone crusher type, end-use, mobility and capacity in stone crushing equipment market?
Who are the key players leading the market?
What are the key strategies adopted by the leading players in market?
What are the key technology trends in stone crushing equipment across different geographies and sub-geographies?