The practice of tattooing has been growing in the recent days due to changing sociocultural phenomena. Furthermore, due to fickle decisions, there has also been a rising trend of cases of laser removal in clinics and tattoo studios. Some professions also expect absence of tattoos at specific sites. Salabrasion and CO2 lasers were the older clinical methods of tattoo removal which were caustic and caused significant residual pigmentation and scarring. This has led to discontinuation of such treatments. Such reported shortcomings prevented people from opting to laser tattoo removal using the normal mode of ruby laser. The advent of Q-switched lasers formed the basis of tattoo removals. Several tattoo removal methods with laser are witnessing growing demand in the population for partial or complete tattoo removal.
Dermatology asthetics is also witnessing significant traction in the emerging countries, which as consequently resulted in augmenting the demand for tattoo removal solutions. Growing preference for colored tattoos and the resultant growth in demand for multicolor tattoo removal which can remove tattoos of several pigments while giving minimal discomfort to the patients with reduced scarring. As the tattoo removal technologies are advancing, safety, and need for less removal sessions are ensured therefore attracting more and more patients towards opting for laser tattoo removal.
Market Synopsis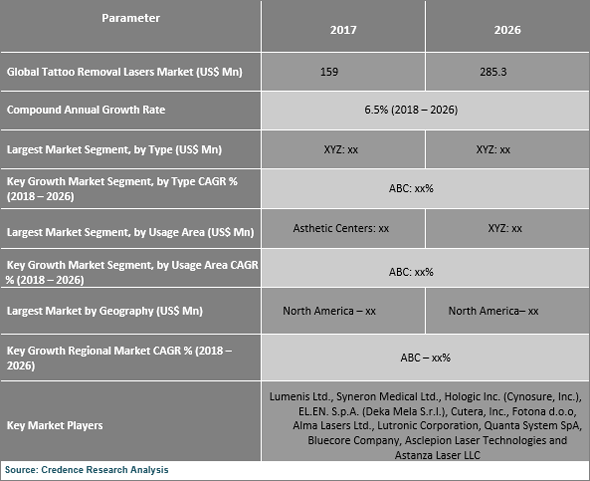 Get a sample copy for more information
"Q-switched lasers to hold the dominant market share"
Q-switched lasers are viewed as the gold standard for laser enabled tattoo removal. These systems are more effective in removing tattoos with a well-established safety profile, despite certain limitations. Currently, several sessions are required over a period of time have remained the suite for laser tattoo clearing. Some of the prominent limitations of Q-switched tattoo removal include remaining traces of pigment, longer treatment duration with large gaps between sessions, ink retention, and side effects such as dyschromia and blistering. Several initiatives are being undertaken to oversome such limitations by technique modifications thus bringing methods such as R20, R0, combination of imiquimod and Q-switch laser and so on. This makes Q-switch laser as the mainstay of laser tattoo removal solutions as demonstrated in several studies and reviews. There are situations where more than one type of laser is used for removing multicolored tattoos, and appropriate laser selection further improves treatment outcomes while ensuring low scarring or pigmentary alterations. Black and dark blue pigments respond well to Q-switched ruby laser, as well as green pigment. Additionally Q-switched Nd:YAD 532 nm laser efficiently clears red pigments in a average course of three sittings.
Get a sample copy for more information
"Asthetic centers to remain the prime usage area for tattoo removal lasers"
Asthetic centers is the largest usage area where the highest number of tattoo removal lasers are deployed. Greater purchasing powers and higher patient footfall are the driving factors of the dominance of this segment. For treatments with lasers, patients often prefer to take professional and medical assistance as unjustified use of lasers may come with hazards and prominent mishaps. Furthermore, affordability is also a major factor that restricts widespread adoption of lasers in tattoo studios, along with challenged expertise.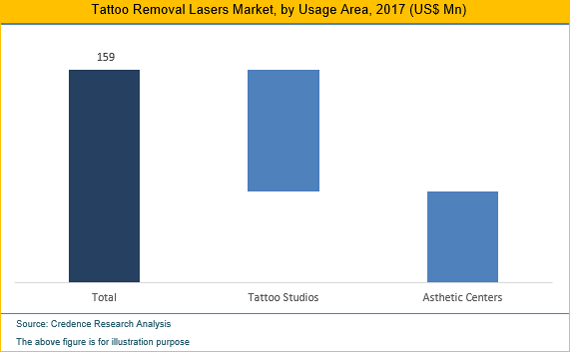 Get a sample copy for more information
"Asia Pacific market will advance at rapid CAGR, surpassing the global benchmark"
For the purpose of this report, the global tattoo removal lasers market is classified into regional markets such as North America, Europe, Asia Pacific, Latin America and Middle East & Africa. Among these, North America holds the largest market share both in terms of revenue and volume of device uptake. Frequent upgrading of devices is also commonly evident in North America market. Furthermore, Asia Pacific market will progress at a swift CAGR. Major drivers of this regional market are growing awareness, increasing uptake of tattoos and consequent growing need for tattoo removal. Cheaper costs of laser therapy also attracts customers from other countries for laser removal treatments to Asia Pacific.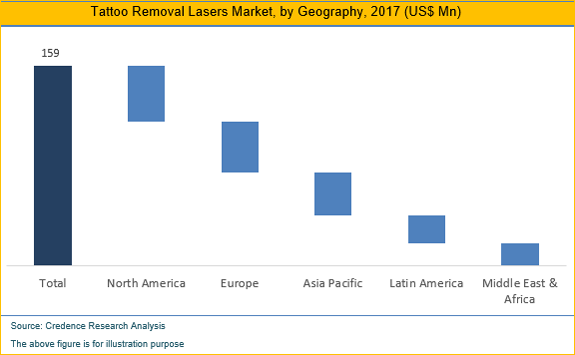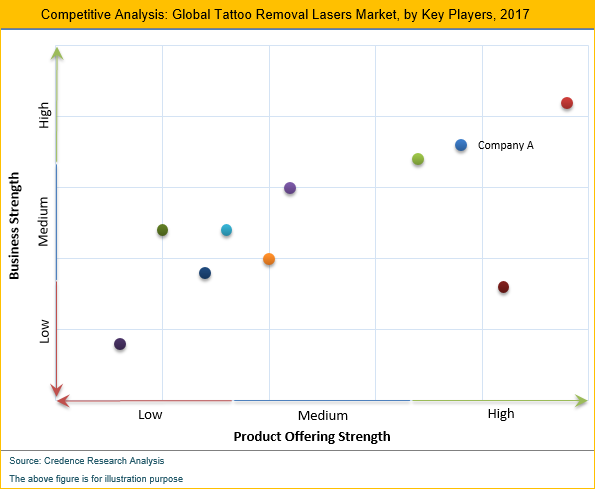 Historical & Forecast Period
This research report presents the analysis of each considered segment for the period from 2016 to 2026, having 2017 as the base year for estimations. Compounded annual growth rates (CAGRs) for each segment are calculated for the forecast period from 2018 to 2026.
Report Scope by Segments
The tattoo removal lasers market report provides quantitative assessment of the industry terms of current and forecasted market size, while also presenting the market dynamics. This market is segmented based on types, and geography.
ATTRIBUTE
DETAILS
Research Period
2016-2026
Base Year
2017
Forecast Period
2018-2026
Historical Year
2016
Unit
USD Million
Segmentation

By Type (2016–2026; US$ Mn)
• Q-switched Ruby Laser (694 nm)
• Q-switched Nd:YAG Laser (532 nm, 1064 nm)
• Q-switched Alexandrite Laser (755 nm)
• Picosecond Laser
• Combination Laser

By Usage Area (2016–2026; US$ Mn)
• Tattoo Studios
• Asthetic Centers

Geography Segment (2016–2026; US$ Mn)
• North America (U.S., Canada)
• Europe (U.K., Germany, Italy, France, Spain, Russia, Rest of Europe)
• Asia Pacific (China, Japan, India, Australia, Rest of APAC)
• Latin America (Brazil, Mexico, Rest of Latin America)
• Middle East and Africa (GCC, South Africa, Rest of Middle East and Africa)
This report also includes company profiles section that gives insights on the company overview, product portfolio, financial information and key developments of major market players. The major players profiled in this report include Lumenis Ltd., Syneron Medical Ltd., Hologic Inc. (Cynosure, Inc.), EL.EN. S.p.A. (Deka Mela S.r.l.), Cutera, Inc., Fotona d.o.o, Alma Lasers Ltd., Lutronic Corporation, Quanta System SpA, Bluecore Company, Asclepion Laser Technologies and Astanza Laser LLC.
Key questions answered in this report
What is the current and future market size of the global tattoo removal lasers market during the period from 2016 to 2026?
At what CAGR will the global market progress during the forecast period 2018 to 2026?
Which are the key reasons supporting the dominance of Q-switch lasers in the tattoo removal market?
How will be the progress of combined lasers in the near future?
Who are the key market players and what are main strategies employed by such companies?
Which usage area is expected to continue to dominate the global market?