Tumor Necrosis Factor (TNF) Inhibitor Market Projected to Grow With Double Digit CAGR during the Forecast Period
Global TNF inhibitor market accounted for US$ 43,394.4 Mn in 2017 and expected to attain US$ 181,139.7 Mn in 2026 growing at a CAGR of 16.5% during the forecast period from 2018 to 2026. The TNF inhibitor market is currently driven by five approved biologics namely, adalimumab, certolizumab, etanercept, golimumab and infliximab. Adalimumab accounted for the highest market share in 2017 and expected to maintain its position throughout the forecast period from 2018 to 2026. Abbvie, Inc.'s adalimumab (Humira) claims to be the world's bestselling drug accounting to 60% of its total revenue. With more than 100 patents, Abbvie extended adalimumab rights until 2023 in the U.S and up to October 2018 in Europe. With advent of biosimilars, the TNF inhibitor market is expected to show remunerative growth throughout the forecast period. Of the various indications TNF inhibitors are approved for, plaque psoriasis accounted for maximum market value in 2017.
Growing prevalence of Crohn's disease and the rising demand for target-based therapies drives the growth of this segment. North America indicated highest market shares in 2017 while Asia Pacific projected to grow with fastest CAGR during the forecast period from 2018 to 2026. Rise in prevalence of autoimmune disorders, incessant research activities, structured reimbursement policies and penetration of cost-efficient biosimilars in low and middle-income economies ensured lucrativeness throughout the forecast period.
Market Synopsis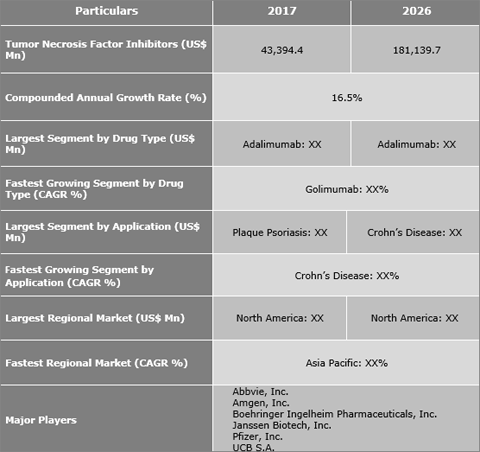 Golimumab to exhibit fastest growth rate during the forecast period
Golimumab projected to grow with a double digit CAGR during the forecast period from 2018 to 2026. Retention of patent rights in North America and Europe until 2024 and continuous research activities in label expansion ensures lucrativeness during the foreseen period. On October 2017, the FDA granted approval for golimumab for the treatment of adults with psoriatic arthritis and ankylosing spondylitis. Adalimumab accounted for largest market share in 2017 owing to its extensive label use in autoimmune diseases. Adalimumab solely accounted to over 40% of the overall market share in 2017. Infliximab exhibited steady growth owing to early patent expiry and its market taken over by biosimilars. Infliximab biosimilars gained market attractiveness owing to its cost efficiency and increased availability across geographies.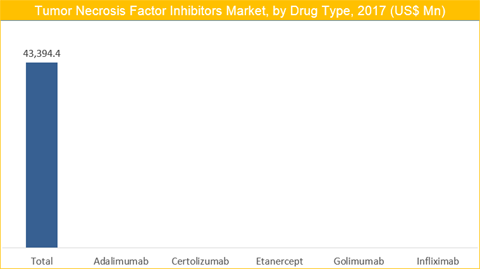 Crohn's disease to gain largest market share by 2026
Crohn's disease projected to grow with highest CAGR during the forecast period from 2018 to 2026. According to Centers for Disease Control and Prevention, Crohn's disease accounted to 201 cases per 100,000 adults in 2015. This prevalence is foreseen to grow during the forecast period from 2018 to 2026 thus ensuring remunerative growth. Approval of all TNF inhibitors for the treatment of Crohn's disease further contributes to the growth of this segment. Additionally, TNF inhibitors are the only target based treatment option for Crohn's diseases thus holding dominancy in this segment. Plaque psoriasis accounted for largest market share in 2017 owing to increased prevalence across geographies. According to the American Academy of Dermatology, around 7.5 million people in the U.S. suffer from psoriasis, 80% of which suffer from plaque psoriasis. As other indications namely, rheumatoid arthritis, psoriatic arthritis, ulcerative colitis, ankylosing spondylitis, uveitis, juvenile arthritis and hidradenitis suppurativa have a higher unmet need of target-based therapies, manufacturers are looking forward to promote TNF inhibitors for these indications.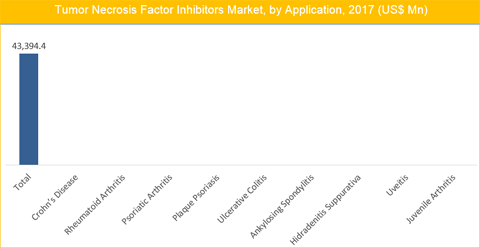 North America Dominated in 2017 and Continues This Trend Through 2026
North America accounted for major market share of more than 40% in 2017 and projected to continue the trend throughout the forecast period. Majority of drugs retaining patent rights for longer duration in North America additionally catalyzes the market growth. Higher prevalence of autoimmune conditions such as Crohn's disease and ulcerative colitis in U.S. and Canada contribute to the overall market growth in this region. According to press release published by Abbvie, Inc. in August 2017, around 104,000 Canadians suffer from ulcerative colitis and 4,500 new cases are diagnosed each year. The development of biosimilars in Europe is faster owing to the ease of approval of the same by European regulatory bodies. This factor thus leads to increase in availability of TNF inhibitors indicating steady growth during the forecast period. Asia Pacific exhibited fastest growth rate during the forecast period with investment from various local manufacturers in promoting biologics & biosimilars and the growing prevalence of autoimmune conditions.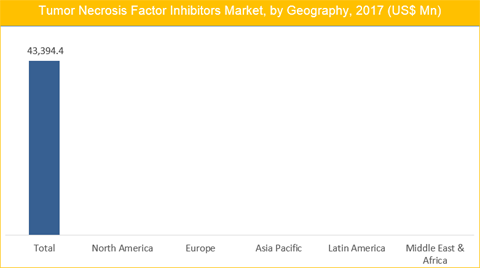 Investments in Biosimilar Development has led to Increased Competition among TNF Inhibitor Market Players
TNF inhibitors market indicates an extensive competitive pool of players with continuous investments in research activities pertaining to label expansion or development of suitable biosimilars. The key players with their biological products namely, Abbvie, Inc.'s adalimumab, UCB S.A's certolizumab, Amgen, Inc.'s etanercept and Janssen Biotech, Inc.'s golimumab & infliximab are expected to dominate the market until their patent expiry. Growth of biosimilars would affect the growth of existing biological drugs during the forecast period. Manufacturers across geographies are continuously investing in biosimilars thus promoting the growth of TNF inhibitors globally. Amgen, Inc. and Boehringer Ingelheim was granted FDA approval for Humira (adalimumab) in September 2016 and August 2017 respectively. Thus, post patent expiry of the major biologics, TNF inhibitor market is projected to witness extensive competition among the biosimilar market players. Credence Research Inc. believes that, a new biologic drug with extensive label use and controlled pricing is expected to have an opportunity in the TNF inhibitor market.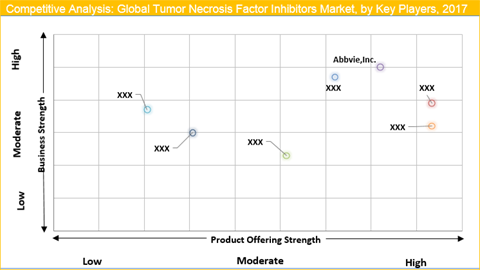 Historical & Forecast Period
2016 – Historical Year
2017 – Base Year
2018-2026 – Forecast Period
This study report provides analysis for each segment during the period from 2016 to 2026, keeping 2017 as the base year. The CAGR for each segments are also estimated for the forecast period from 2018 to 2026.
Report Scope by Segments
Tumor necrosis factor inhibitors market report includes an elaborative analysis on the current market trends and dynamics along with qualitative analysis of the global market. The report provides in depth analysis of global tumor necrosis factor inhibitors market by categorizing the market based on drug type, application and geography. The preliminary objective to publish this study is to guide healthcare professionals and market stakeholders in decision making and strategic initiatives in tumor necrosis factor inhibitors market.
Drug Type Segment (2016–2026; US$ Mn)

Adalimumab
Certolizumab
Etanercept
Golimumab
Infliximab
Pipeline Analysis

Phase III Molecules

IBI303
HLX03
BCD-057
M923

Phase I & Phase II Molecules

Application Segment (2016–2026; US$ Mn)

Crohn's Disease
Rheumatoid Arthritis
Psoriatic Arthritis
Plaque Psoriasis
Ulcerative Colitis
Ankylosing Spondylitis
Hidradenitis Suppurativa
Uveitis
Juvenile Arthritis

Geography Segment (2016–2026; US$ Mn)

North America
Europe

U.K.
Germany
Rest of Europe

Asia Pacific

Japan
China
Rest of Asia Pacific

Latin America

Mexico
Mexico
Rest of Latin America

Middle East & Africa

GCC
Rest of Middle East & Africa
The current study report also includes qualitative market analysis considering factors such as key market trends, market drivers, restraints & opportunities that would enable in complete understanding of the overall tumor necrosis factor inhibitors market scenario. Furthermore, the report also includes a graphical representation of competitive landscape depicting market position of key market leaders based on their market initiative, product offerings and business strengths. Key market leaders profiled in this report are Abbvie, Inc., Amgen, Inc., Biocad Biopharmaceutical Co., Boehringer Ingelheim Pharmaceuticals, Inc., EPIRUS Biopharmaceuticals, Inc., Innovent Biologics, Inc., Janssen Biotech, Inc., Merck & Co., Inc., Novartis A.G., Pfizer, Inc., Shanghai Henlius Biotech, Inc. and UCB S.A.
Key questions answered in this report
What are the current market trends in the tumor necrosis factor inhibitor market and valuable opportunities for industrial players?
How does the regulatory framework affect the market dynamics?
Which was the most successful drug that contributed maximum to market growth and what was its market share in 2017?
How would biosimilars contribute to the lucrativeness of TNF inhibitor market during the forecast period from 2018 to 2026?
Which disease area exhibits fastest CAGR during the forecast period from 2018 to 2026?
Which industry player enjoyed supremacy in 2017?
Which region encompassed maximum market share in 2017?
What is the market trend and dynamics in emerging markets such as Japan, Latin America and Middle East & Africa?