Consistently Growing Adoption of RFID Technology to Drive the Global UHF RFID Inlays Market
Global UHF RFID inlays market was valued US$ 355.0 Mn in 2017 and set to grow at a CAGR of 14.8% throughout the forecast period from 2018 to 2026. The market mainly driven by rising adoption of RFID technology across several end-use verticals worldwide. Increasing need for longer detection range observed as another prominent factor helping UHF RFID inlays market to witness robust growth. Inlays operates as a heart of passive RFID tags, hence witness high impact of passive RFID tags market growth. Passive RFID tags are accounted for more than 2/3rd of the overall market for RFID tags. Approximately, 8 Mn RFID tags were sold in 2017, registering high growth of 29.5% with respect to 2016. The RFID market for passive tags expected to grow at high rate owing to low cost, small size and higher life as compared to the active counterparts. Passive RFID tags market has also seen remarkable growth after the evolution of RAIN RFID alliance, which works for spreading the awareness of UHF RFID among the potential users. Thus, the overall UHF RFID inlays market would continue exhibiting promising growth over the forecast period.
Market Synopsis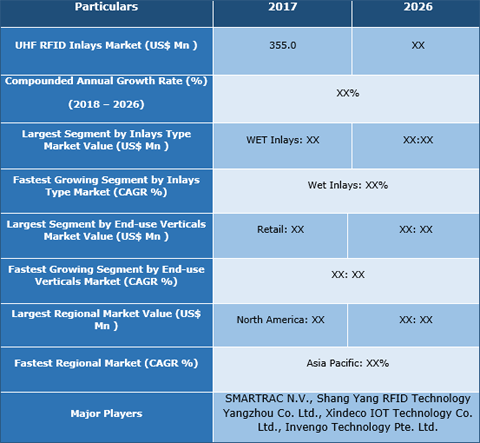 Wet Inlays Segment to Lead UHF RFID Inlays Market throughout the Forecast Period
In 2017, wet inlays segment accounted for largest share in the overall UHF RFID inlays market owing to low cost and easy handling features. Comparatively less cost of supportive paper labels reduces the overall price of wet inlays; thereby setting passive tags market to grow significantly over the forecast period. Apart from the retail sector, healthcare, industrial and transportation sectors have also witnessed growth in adoption of wet inlays owing to benefits they offer. However, dry inlays segment, due to relatively higher price, serves comparatively lesser number of applications. As a result, wet RFID inlays would continue dominating the market throughout the forecast period.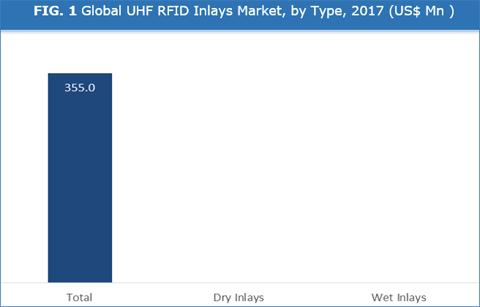 North America Dominating Global Market with more than 40% Market Share; Asia Pacific to Emerge as the Next Promising Market
North American RFID inlays manufacturers consistently improving the quality of RFID tags by introducing upcoming generations of UHF RFID inlays in the global market. The U.S. has recently launched 4th generation UHF RFID inlays thereby enlarging the application scale for the passive tags. Technological improvements coupled with the increasing adoption rate are some of the prominent factors helping North America to lead global market. For instance, in April 2018, Fujitsu Frontech North America, Inc., one of the leading players in innovation technologies and front-end solutions, launched super slim washable UHF RFID line tags manufacturing technology and expected to be available by the end of 2018. These tags are 30%-40% smaller than conventional tags, hence can easily fit into smaller seams of washable items.
Retail sector accounted for the highest market share in UHF RFID inlays market in North America considering its increasing adoption of RFID tags. Consistently growing retail sector observed as one of the most influencing factors for the UHF RFID inlays market in North America. Total retail sales in the U.S. crossed almost US$ 5 Tn in 2017 and expected to reach US$ 5.5 Tn by 2026. Online retailing observed as one of the recent trends gaining rapid traction in overall North America, opening new avenues for the market. At the same time, Mexico has captured notable market share from the retail sector in overall UHF RFID tags market in Latin America.
Asia Pacific region projected to register fastest growth in UHF RFID inlays market over the forecast period from 2018 to 2026. Growing security concerns along with increasing demand for assets tracking are some of the factors supporting market growth. Technological advancements across some of the leading countries including China, Japan and South Korea among others playing crucial role in overall RFID market expansion. Low cost of these inlays observed as the most prominent factor for Asia Pacific UHF RFID inlays market growth.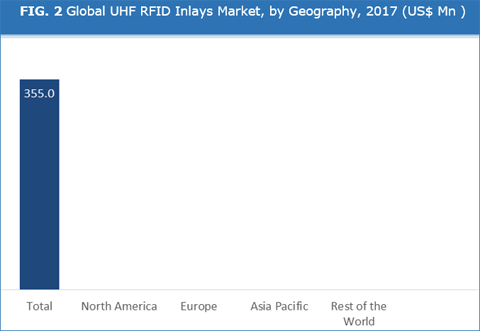 Product Development to Remain Key Strategy
Leading players in UHF RFID inlays market introducing next generation UHF RFID inlays with an aim of serving wide range of applications apart from retail. Market players focusing more on development of passive RFID tags having higher power of radio frequencies coupled with longer detection range. North America seems consistent in introducing newer generations of RFID technology, thus accounted for highest share. Product development along with geographic expansion are some of the key strategies followed by UHF RFID inlays market leaders.
For instance, in February 2017, Invengo Technology Pte. Ltd., global RFID technology provider launched "LinTRAK-Slim", a new generation linen tag. LinTRAK-Slim is the slimmest UHF RFID tag for laundry and textile end-use, based on the latest smaller inlays chip available in the market. LinTRAK-Slim specifically designed for commercial laundries and other consumer sites such as hotels and hospitals for product security.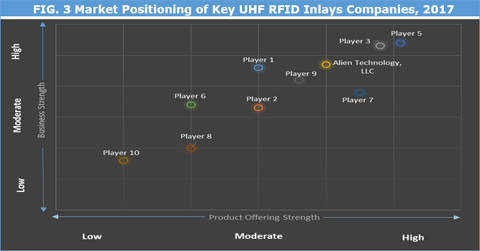 Historical & Forecast Period
2016 – Historical Year
2017 – Base Year
2018-2026 – Forecast Period
This research report presents the analysis of each segment from 2016 to 2026 considering 2017 as the base year for the research. Compounded Annual Growth Rate (CAGR) for each respective segments calculated for the forecast period from 2018 to 2026.
Report Scope by Segments
The UHF RFID inlays market report provides market size and estimates based on market dynamics and key trends observed in the end-use. The report provides a holistic view of global UHF RFID market based on type and geography. Key segments covered in the report are as follows:
UHF RFID Inlays Type Segment (2016–2026; US$ Mn)
UHF RFID Inlays End-use Verticals Segment (2016–2026; US$ Mn)
Retail
Financial Services
Healthcare
Industrial
Government
Transport & Logistics
Others (Pharmaceuticals and Automotive etc.)
Geography Segment (2016–2026; US$ Mn)
North America


United States
Rest of North America

Europe


United Kingdom
Germany
France
Rest of Europe

Asia Pacific (APAC)


China
Japan
South Asia
Rest of APAC

Rest of the World (RoW)


Middle East & Africa (MEA)
Latin America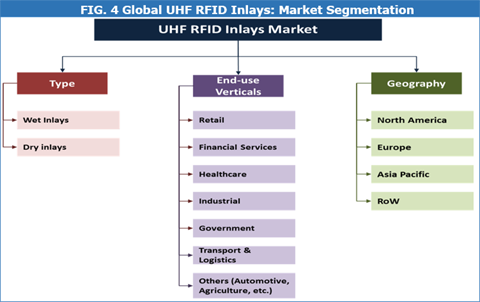 Key questions answered in this report
What was the market size of UHF RFID inlays in 2017 and forecast up to 2026?
Which is the largest regional market for UHF RFID inlays?
What are the key market trends observed in the UHF RFID inlays market?
Which is the most promising inlays type in UHF RFID inlays market?
Who are the key players leading the market?
What are the key strategies adopted by the leading players in market?
Unique data points of this report
Statistics on major end-use verticals worldwide
The market size for UHF RFID inlays market has been calculated on concrete parameters including end-use vertical size and adoption scenario
In addition, dynamics in RFID end-use across different geographies have been equally considered for estimating the growth rate and forecast market size
Attractive investment proposition for both dry as well as wet inlays segment including geography and end-use verticals
Comparative scenario for all the segments for years 2017 (actual) and 2026 (forecast)