"Ultrasound bladder scanners market to exhibit productive growth during the forecast period"
The global ultrasound bladder scanners market is growing fruitfully, valued at US$ 122.4 Mn in 2017 and expected to reach US$ 207.2 Mn by 2026. Worldwide increasing urological disorders (urinary tract infections, urinary incontinence, and voiding dysfunction) along with utilization of advanced handheld or portable devices will drive the overall market growth. New technological advancements in the field of mobile technology, improvement in clinical governance and healthcare infrastructure will further spur revenue growth. New product launches in 3D portable segment, collaboration with small scale medical technology companies and expansion in developing nations are few factors driving the overall growth of the market.
Market Synopsis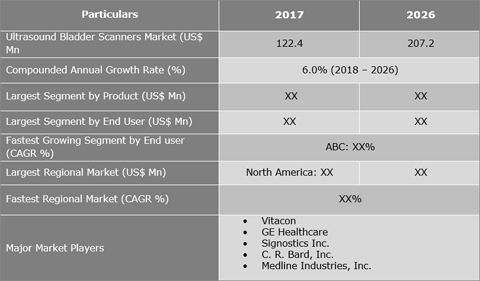 Get a sample copy for more information
"Portable devices expected to register higher growth during the forecast period"
Adoption of 3D ultrasound bladder scanners is in demand due to its higher visualization quality, integrated algorithms, and mobile technology (Wi-Fi, Bluetooth connectivity). Newly manufactured products are also utilized in various applications including emergency care, pediatrics, maternity, rehabilitation, oncology, and home care. The portable devices allow fast and consistent data management and interoperability with electronic health record systems. 3D devices holds maximum market share in the portable segment due to its ease with enhanced technology.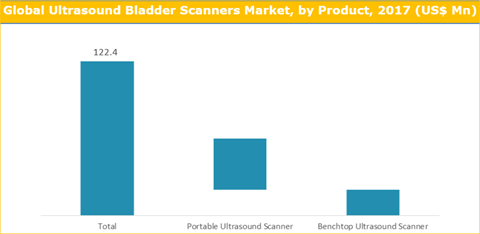 Get a sample copy for more information
"Increasing adoption of portable devices in the hospital segment to witness a significant CAGR"
Urological disorders are significant variables expected for the growth & development of the ultrasound bladder scanners market. Increasing procedures for urology, obstetrics-gynecology, surgery, rehabilitation, and others in the hospitals segment generated a significant market share in the present time. Growing demand for 3D products for various applications will spur revenue growth during the forecast period. Increasing adoption of new handheld devices with noninvasive measurements of bladder volume along with integrated software tools for higher optimization and safety is driving the market growth in the end user segment.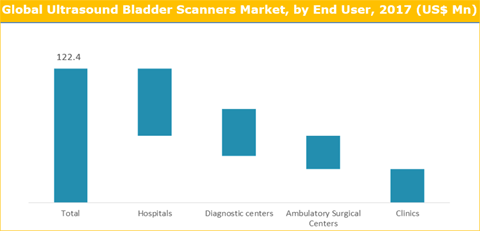 Get a sample copy for more information
"Increasing population, new product approvals with enhanced technology holds the U.S. in dominant position"
In 2017, North America generated maximum revenue in the global ultrasound bladder scanners market attributed to the rising prevalence of urological disorders, increasing diagnostic procedures and increasing utilization of mobile portable ultrasound devices in clinics and hospitals. Portable ultrasound scanners deliver great results in real-time and reduces the need for catheterization in patients. The top medical device manufacturers are constrained to lower the overall costs of ultrasound bladder scanners for increasing penetration in the developing nations worldwide. However, in moderate monetary nations such as India, Brazil, South Africa, and others, the availability of advanced ultrasound models along with diagnostic services is limited. Shortage of skilled professionals, high cost of devices (avg. cost US$ 5,000 – 7,000), and unstructured reimbursement scenario are few factors restraining the growth of the market.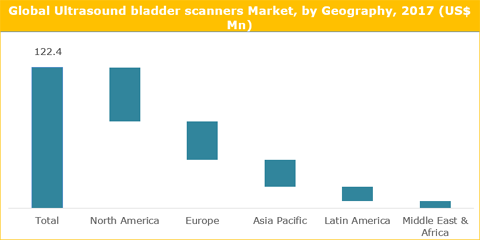 "Dominance of multinational manufacturers with strong product portfolio in the developed regions"
Major players in the ultrasound bladder scanners market are GE Healthcare Inc., Patricia Industries (LABORIE), Caresono , Roper Technologies, Inc., C. R. Bard, Inc., SRS Medical Systems, Inc., Mcube Technology Co., Ltd., Verathon Inc., Medline Industries, Inc., Vitacon, Mianyang Meike Electronic, dBMEDx, Inc., Meda Co., Ltd., ECHO-SON, Signostics, Inc. and others. Topmost companies are executing growth strategies along with new technology advancement in ultrasound bladder scanners models, new product launch, and partnerships with medical technology companies. For example, in May 2016, Signostics received U.S. FDA approval for Uscan™, world's first smart mobile-connected ultrasound visualization device for urology care.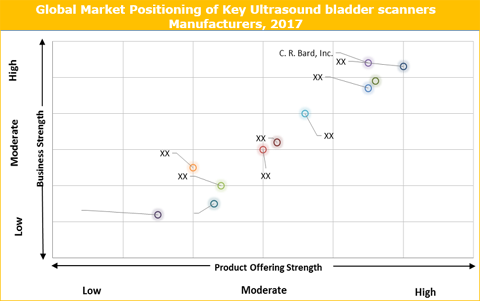 Historical & Forecast Period
This study report represents analysis for each segment from 2016 to 2026 considering 2017 to be the base year. Compounded Annual Growth Rate (CAGR) for each of the respective segments estimated for the forecast period from 2018 to 2026.
Report Scope by Segments
ATTRIBUTE
DETAILS
Research Period
2016-2026
Base Year
2017
Forecast Period
2018-2026
Historical Year
2016
Unit
USD Million
Segmentation

Product Type Segment (2016-2026; US$ Mn)
• Wired
• Wireless

Application Segment (2016-2026; US$ Mn)
• Residential
• Commercial
• Industrial
• Government

Geography Segment (2016–2026; US$ Mn)
• North America (United States and Canada)
• Europe (U.K., Germany, Rest of Europe)
• Asia Pacific (China, Japan, Rest of Asia Pacific)
• Latin America (Brazil, Mexico, Rest of Latin America)
• Middle East and Africa (GCC, Rest of MEA)
The current report also comprehends qualitative and qualitative market valuation factors such as key market drivers, market trends, restraints and opportunities that gives a better market understanding of the overall ultrasound bladder scanners market. Additionally, the global report also comprises graphical representation of competitive landscape based on their market initiatives and strategies, product portfolio and business strengths.
Key questions answered in this report
What are the current market trends and dynamics in the ultrasound bladder scanners market and valuable opportunities for emerging players?
Market positioning of major key players operating in the market?
What is the impact of high cost in the ultrasound bladder scanners market?
What is the market trend and dynamics in emerging markets such as Asia Pacific, Latin America and Middle East & Africa?
Related Reports:
Handheld Ultrasound Scanners Market