Industry Outlook
Immunization of livestock has been carried out worldwide for centuries and is also accepted as a cost effective measure of controlling infections. Until recently, vaccines were either live attenuated or inactivated organisms formulated with oil-based adjuvant; however these methods and formulations were not very effective. Introduction of gene delivery systems has rendered the development of novel therapeutic and prophylactic vaccines. Identification of vaccine candidates in genomic sequenced turned out to be a revolutionary approach, where it was assumed that antibodies easily access cell surface. Reverse vaccinology makes use of different bioinformatics algorithms for predicting antigen localization and is now successfully applied for immunization against a range of veterinary diseases.
Growing prevalence of animal diseases, increasing demand for companion animals worldwide are the prime drivers of the global veterinary vaccines market. Vaccination protects millions of animals from diseases and fatality. As the field of veterinary medicine is advancing, disease prevention has become a priority. Therefore, one of the best measures for disease prevention is enhancing animal immunity. Vaccination programmes for farm animals depends on management systems, farm location, and nature of herd or flock. Veterinary vaccines continue to play a major role in animal health protection and consequently ensuring public health and reduced use of antibiotics in animals. Some prominent veterinary vaccines include rinderpest and rabies vaccines. Rabies vaccines for domestic and wild animals have nearly eradicated the risk of human rabies. The Global Rinderpest Eradication Program that involved trade restrictiosn, surveillance and vaccination, has rendered significant reduction in incidence making it the second disease after small pox to be eradicated worldwide. Prominent examples of new technologies in animal vaccines which are licensed include DNA vaccines, virus-like particle vaccines, and recombinant modified live virus vaccines. Animal vaccines also make use of novel adjuvants that are not yet incorporated in human use. Furthermore, animal vaccines can also be developed and commercialized more quickly than human vaccines. Furthermore, for animal vaccine in order to effectively safeguard animal health, they should be widely used and therefore need to be affordable. Regulatory processes therefore, need to ensure product safety and efficacy without increasing the licensing and production costs.
Market Synopsis
Get a sample copy for more information
"Live-attenuated Vaccines to Dominate the Global Market"
Live-attenuated vaccines based on genetic mutation are the most dominance segment in the global market. Better long-term immunity, inclusion of both cellular and humoral immunity, efficacy and targeting and ease of administration are the key factors that support the dominance of this segment. However, fact that live strains are not very effective, and need for refrigerated storage may restrain the market growth of this segment. Live attenuated vaccines are developed in two ways, either by combining attenuated animal of human virus strains; or by serial passage of initially pathogenic virus or bacteria and selection of less pathogenic strains that may induce protective immunity. These vaccines are believed to augment immunologic response similar to the response resulting from natural infection. Advantage of live-attenuated vaccine is from the replication of organism and antigen processing, mimicking natural infection, both cell-mediated and humoral. Such conferred immunity may also be long lasting or even lifelong.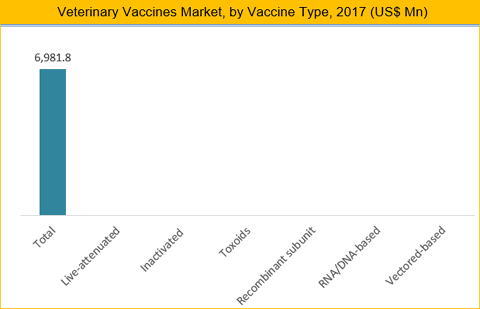 Get a sample copy for more information
"High Uptake for Pet/Companion Animals and Increased Healthcare Spending in this Group to Augment Market Growth"
At present, livestock, particularly porcine breeds occupy the largest share in consumption of veterinary vaccines. Increase in global consumption of livestock through meat and dairy products is the prime factor driving the dominance of this segment. As the global population is increasing the world is facing more mouths to feed with nutritional products, this has urged the food industry to enhance the production of farm animals. The purpose of using vaccines for livestock is increasing productivity and profitability of producers. Use of vaccination for zoonotic diseases in livestock is expected to eliminate or reduce the risk of transmission of these diseases to consumers while also protect industry animals. Large-scale use of nontherapeutic antibiotics in livestock has resulted in emergence of antibiotic resistant bacteria. Such issues have promoted increased use of vaccines in livestock animals. On the other hand, the growth rate of pet/companion animal vaccines is expected to be surpassing the overall market benchmark during the forecast period. In companion animal vaccines, canine vaccines hold the most prominent share and will assist in development of the market through the forecast period. Increased adoption of pet animals in the general population, heightened uptake in disabled patients, and increasing spending on scheduled wellbeing measures of such animals are the key factors facilitating the swift growth of this segment.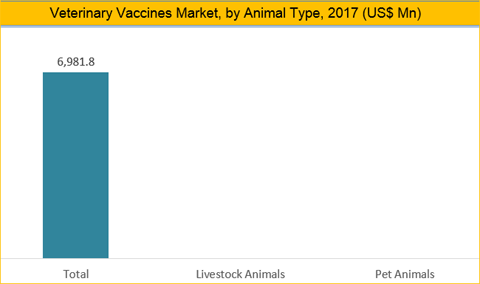 Get a sample copy for more information
"Vaccines for Viral and Bacterial Infections Spearhead the Global Market"
At present there are no broad-spectrum antiviral medications available for veterinary purpose. Therefore employment of hygienic environment, limiting exposure, and vaccination are the only methods for prevention of viral infections in animals. RNA viruses are very variable and many of viral infections occur from viruses with different serotypes. Therefore, several of the currently available viral vaccines are not able to combat with infections of the prevailing strains. Several conventional inactivate and live-attenuated vaccines are being produced by veterinary health companies and are in the market for many decades as a part of routine vaccination protocol. Furthermore, many subunit and rationally designed vaccines are being introduced in the market. Several prophylactic live-attenuated or inactivated bacterial vaccines are available in the market. For a majority of attenuated bacterial strains, the form of attenuation is unknown and since there is no proven track record, researchers have done little to characterize the underlying genetics. However in some cases, the old live strains are not very protective and perpetual research is being conducted to develop new and improved vaccines strategies against diseases such as paratuberculosis, brucellosis and bovine tuberculosis.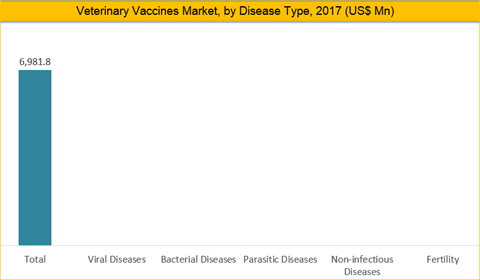 "United States Leads the Global Veterinary Vaccines Market due to Greater Awareness and Supportive Business Environment"
Geographically, North America, particularly the United States holds the largest revenue share in the global veterinary vaccines market. Enhanced and widespread vaccination programmes, increasing adoption of companion animals and greater awareness are the key factors supporting the dominance of this regional market. Furthermore, acceptance of advanced vaccines products such as DNA and recombinant vaccines is also significantly high in North America. Asia Pacific shall advance at the fastest growth rate during the forecast period from 2018 to 2026. The ownership of companion animals is perpetually growing in the region due to increasing disposable incomes. Livestock farming in Asia Pacific is also perpetually advancing in terms of animal healthcare and technologies. Countries such as India, China, Brazil and South Africa will be the fastest progressing country-level markets.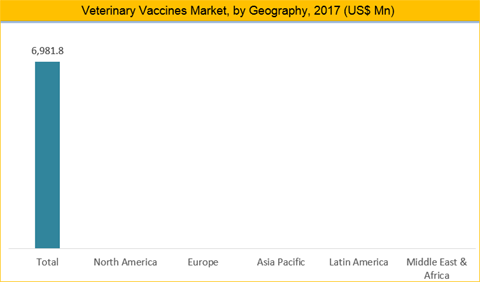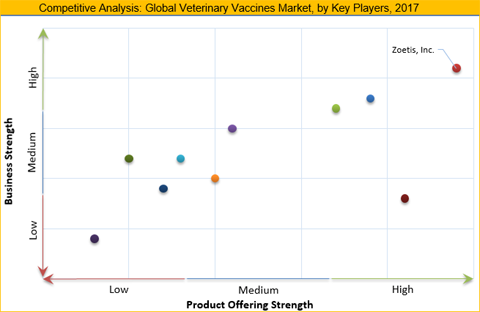 Historical & Forecast Period
This research report presents the analysis of each considered segment for the period from 2016 to 2026, having 2017 as the base year for estimations. Compounded annual growth rates (CAGRs) for each segment are calculated for the forecast period from 2018 to 2026.
Report Scope by Segments
This report presents the market analysis on veterinary vaccines in terms of qualitative and quantitative information of the market for the forecast period from 2016 to 2026. The study includes qualitative information as market analysis for each mentioned segment, market drivers, challenges and opportunities relevant to the industry. The global veterinary vaccines market is segmented in terms of vaccine types, wound type, by disease type and geography.
ATTRIBUTE
DETAILS
Research Period
2016-2026
Base Year
2017
Forecast Period
2018-2026
Historical Year
2016
Unit
USD Million
Segmentation

By Vaccine Type (2016–2026; US$ Mn)
• Live-attenuated
• Inactivated
• Toxoids
• Recombinant subunit
• RNA/DNA-based
• Vectored-based

By Animal Type (2016–2026; US$ Mn)
• Livestock
• Bovine
• Poultry
• Porcine
• Others (Sheep/goats, Fish)
• Pet Animals
• Feline
• Canine
• Equine
• Others (Rodents, Birds etc.)

By Disease Type (2016–2026; US$ Mn)
• Viral Diseases
• Bacterial Diseases
• Parasitic Diseases
• Non-infectious Diseases
• Fertility

Geography Segment (2016–2026; US$ Mn)
• North America (United States and Canada)
• Europe (U.K., Germany, Rest of Europe)
• Asia Pacific (China, Japan, Rest of Asia Pacific)
• Latin America (Brazil, Mexico, Rest of Latin America)
• Middle East and Africa (GCC, Rest of MEA)
The report also presents insights on the competitive landscape prevalent in the global veterinary vaccines market along with profiling of key companies operating in the industry. Such major market players profiled in this report include Merck Animal Health, Zoetis, Inc., Merial (Boehringer Ingelheim International GmbH), Elanco Animal Health, Bayer Animal Health, Novartis Animal Health, Virbac Group, Ceva Santé Animale S.A., and Biovac.
Key questions answered in this report
What is the market size and forecast for the period from 2016 to 2026?
What is the compounded annual growth rate of the global veterinary vaccines market?
How the livestock animals segment holds dominance in the global market?
What is the prospect of DNA and recombinant vaccines in the market?
What are the drivers, challenges and opportunities relevant in the industry?
How will Asia Pacific region progress on the global front?
What is the competitive landscape in the global veterinary vaccines market and which companies hold key position in the global market?
What is the situation of emerging markets of Middle East & Africa, Latin America through the forecast period?