Industry Outlook
The vitamin D therapy market is set to reach US$ 4,721.9 Mn by 2027 from US$ 1,919.4 Mn in 2018 showcasing spectacular growth at a compounded annual growth rate (CAGR) of 10.6% during the forecast period from 2019 to 2027. As per the research findings of International Osteoporosis Foundation (IOF), one in three women and one in five men above the age of 50 years is prone to suffer with fracture during their lifetime. Malnourishment, increasing consumption of alcohol & tobacco and hormonal imbalance are causing bone and skin disorders associated with vitamin D deficiency.
Market Synopsis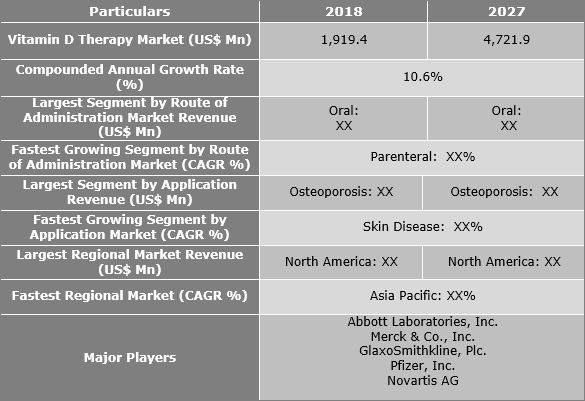 Get a sample copy for more information
"Excellent pharmacokinetic and pharmacodynamic drug profile will help parenteral route to register faster growth"
Oral route of administration is reigning the vitamin D therapy market in the present scenario. It is very popular in children due to ease of administration and formulated in different sizes and colors which increases its external aesthetic appeal hence increasing its palatability in childrens. It is also beneficial in improving vitamin D levels in adults with no systemic illness. Parenteral route are gaining traction on account of its inherent features such as excellent pharmacokinetic and pharmacodynamic drug profile useful in elderly patients suffering with impaired vitamin D absorption via the gastrointestinal tract.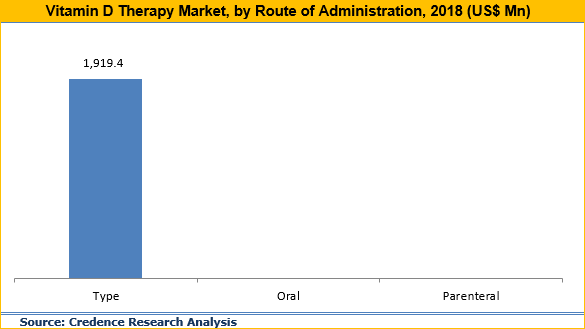 Get a sample copy for more information
"Increasing consumption of diet deficient in vitamin D & calcium and hormonal imbalance causes osteoporosis with progressive ageing in humans"
Osteoporosis is currently dominating the applications segment for vitamin D therapy market. As per the latest statistics provided by International Osteoporosis Foundation (IOF), globally osteoporosis causes 8.9 million bone fracture occurring at every 3 seconds. The risk factors associated with osteoporosis is increasing consumption of diet efficient in calcium and Vitamin D and hormonal imbalance with progressive ageing in humans. The occurrence rate is high in female as compared to the male population. Malnutrition is causing rickets in children at an early age in the developing and poor countries. Skin disease are garnering huge traction on account of huge deletion of ozone layers causes the harmful UV radiation to skin surface depleting keratinocytes useful in Vitamin D3 synthesis in skin. Skin inflammatory diseases such as atopic dermatitis and psoriasis are associated with depleting levels of skin vitamin D levels.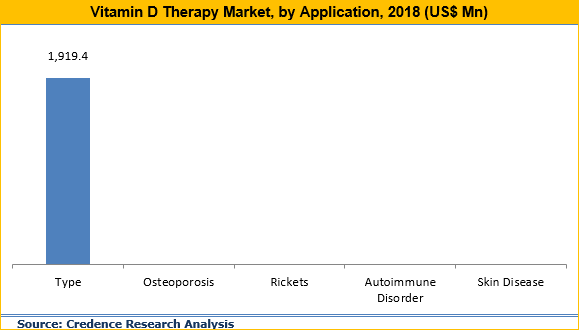 Get a sample copy for more information
"Rising prevalence of osteoporosis & low bone mass and increasing public health awareness drive the market growth in North America region"
North America is currently representing 33% market share in the regional segment for vitamin D therapy market. The major factors influencing its market growth are rising prevalence of osteoporosis and low bone mass. According to the research findings brought forward by National Osteoporosis Foundation (NOF), approximately one half of the total adult population in the United States is suffering with osteoporosis. Increasing public health awareness in the region will further propel the market growth. Europe is in the second place holding 30% market share owing to rising prevalence of skin disorders associated with low serum cholecalciferol levels. Favorable reimbursement scenario associated with vitamin D therapy consolidates the market growth in European Region. Asia Pacific accounts for 20% market share primarily due to rising prevalence of malnutrition in children causing rickets at an early age. Presence of major players such as GlaxoSmithkline, Plc., Torrent Pharmaceuticals Ltd., Cadila Healthcare, Alkem Laboratories etc. drive the market growth in Asia Pacific region.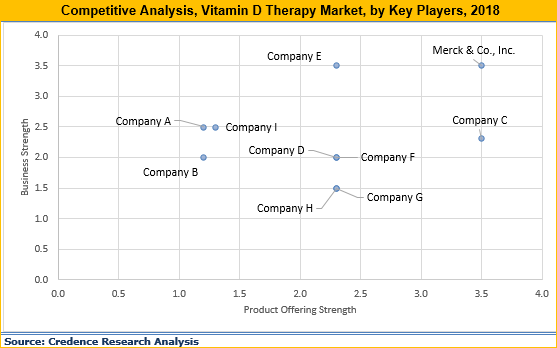 Historical & Forecast Period
This research report presents the analysis of each segment from 2017 to 2027 considering 2018 as the base year for the research. Compounded annual growth rate (CAGR) for each respective segments are calculated for the forecast period from 2019 to 2027.
Report Scope by Segments
The market segmentation for the scope of report is done as by route of administration, application and geography.
ATTRIBUTE
DETAILS
Research Period
2017-2027
Base Year
2018
Forecast Period
2019-2027
Historical Year
2017
Unit
USD Million
Segmentation

By Route of Administration (2017–2027; US$ Mn)
• Oral
• Parenteral

By Application (2017–2027; US$ Mn)
• Osteoporosis
• Rickets
• Autoimmune Disorder
• Skin Disease

Geography Segment (2017–2027; US$ Mn)
• North America (U.S., Canada)
• Europe (U.K., Germany, Rest of Europe)
• Asia Pacific (China, Japan, Rest of Asia Pacific)
• Latin America (Brazil, Mexico, Rest of Latin America)
• Middle East and Africa (GCC, Rest of MEA)
Pharmaceutical companies providing vitamin D therapy are Abbott Laboratories, Inc., Alkem Laboratories, Cadila Healthcare Ltd., GlaxoSmithkline, Plc., Merck & Co., Inc., Novartis AG, Pfizer, Inc., Sanofi S.A., Sun Pharmaceutical Industries Ltd. and Torrent Pharmaceutical Ltd.
Key questions answered in this report
What is the competitive scenario existing in the vitamin D therapy market?
What are the latest collaboration and strategic mergers and acquisitions taking place in the vitamin D therapy market?
What is the disease etiology and prevalence rate associated with bone and skin deformities due to vitamin D deficiency?
Which risk factors are associated with the occurrence of osteoporosis and rickets?
What are the different formulation aspects associated with oral and parenteral route of administration?
What will be the market performance in both developed and developing nations?