In the recent years, vitreoretinal surgery has made prominent progress with respect to the drugs, materials and instrumentation. Several ophthalmic conditions such as diabetic retinopathy, proliferative vitreoretinopathy and diabetic retinopathy total or partial vitreous removal. At present, permanent and temporary vitreous substitutes have structural function for ensuring retinal adherence following retinopexy or for control of intraocular hemorrhages and maintenance of intraocular pressure. It is anticipated that, the future polymers used as vitreous substitutes will favorably interact with the intraocular anatomy along with ensuring appropriate intraocular drug distribution. However, one of the most significant challenges is with respect to the control of immune reactions modifying stability of substitutes and functionality of intraocular structures.
Market Synopsis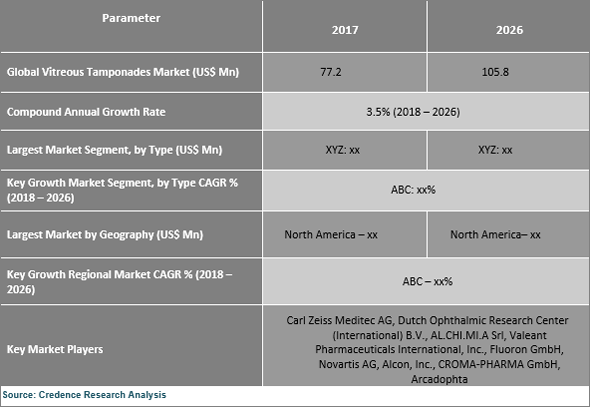 Get a sample copy for more information
Gas tamponades to continue to dominate the global market
Since its introduction, intraocular gas tamponades have been a vital part of vitreoretinal surgery. At present, sulfur hexafluoride and perfluoropropane are most commonly used in treatment of complicated vitreoretinal diseases. They are heavier than air, odorless, nontoxic and colorless and retain their tamponades effect owing to better surface tension. Both the gas types were approved by the USFDA in 1993 for being used for pneumatic retinopexy. Sulfur hexafluoride is commonly used retinal surgeries, as the gas expands in the cavity within one to two days of the surgery and remains there for a period of one to two weeks. Additionally, perfluoropropane expands to four times of the original volume in three to five days of injection and remains in the vitreous cavity for six to eight weeks. Due to their better buoyancy, gas tamponades assist in maintaining the desired position of retina against the RPE; however, this effect is restricted to the upper part and therefore does not affect the inferior retina. The adverse effects of gas tamponades is increase of pressure during surgery and until a few days after injection, cataract formation and endothelial changes in the cornea. The use of liquid materials as adjunctive agents in retinal surgery plays a prominent role in treating retinal detachment. The use of liquid materials as adjunct to vitreo-retinal surgery has an important role in ensuring retinal reattachment. Such products are often used in intraoperative settings for reinstating intraocular volume and separating retina adherent membranes.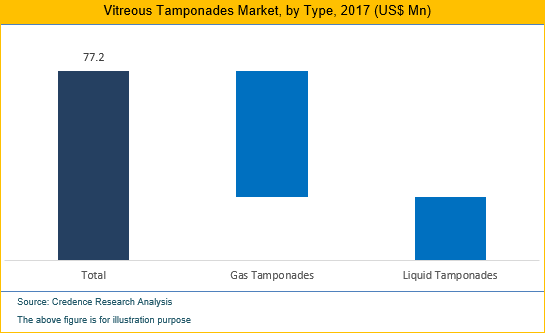 Get a sample copy for more information
Asia Pacific to witness rapid growth in demand for vitreous tamponades
In 2017, North America is estimated as the largest regional market for vitreous tamponades, followed by Europe. Widespread usage of vitreous tamponades in ocular surgeries, greater awareness and favorable reimbursements are the key factors that support the dominance of these regions. On the other hand, these regions also witness fastest adoption of new technologies and methods in the mainstream operations due to favorable regulations, better purchasing powers and domicile of major market players. On the other hand, Asia Pacific market shall be advancing at rapid growth rate registering higher than the global benchmark. Rapid growth of the healthcare infrastructure in the region, and high prevalence of diabetes and therefore diabetic retinopathy along with improving awareness in the healthcare providers are supporting the pace of Asia Pacific market. Furthermore, the development of Asia Pacific market as a hub for medical tourism will open additional growth opportunities in the region.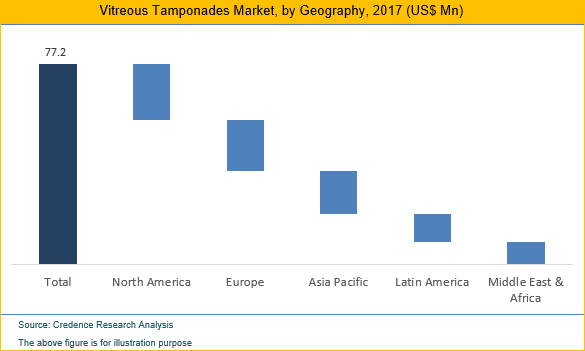 Get a sample copy for more information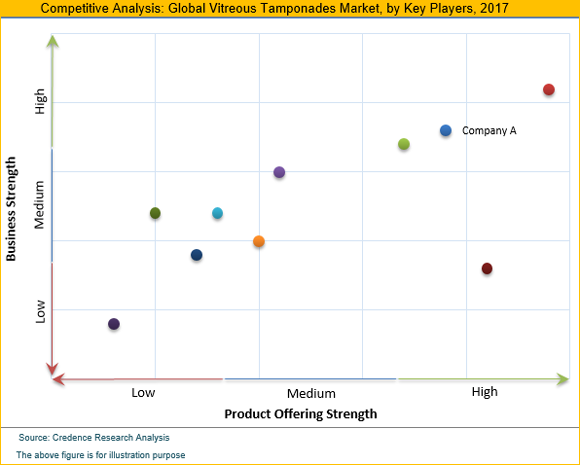 Historical & Forecast Period
This research report presents the analysis of each considered segment for the period from 2016 to 2026, having 2017 as the base year for estimations. Compounded annual growth rates (CAGRs) for each segment are calculated for the forecast period from 2018 to 2026.
Report Scope by Segments
The vitreous tamponades market report provides quantitative assessment of the industry terms of current and forecasted market size, while also presenting the market dynamics. This market is segmented based on types, and geography.
ATTRIBUTE
DETAILS
Research Period
2016-2026
Base Year
2017
Forecast Period
2018-2026
Historical Year
2016
Unit
USD Million
Segmentation

By Type (2016–2026; US$ Mn)
• Gas Tamponades
• Sulfur Hexafluoride (SF6)
• Perfluoroethane (C2F6)
• Perfluoropropane (C3F8)
• Liquid Tamponades
• Silicone Oil
• Perfluorocarbon Liquids (PFCL)

Geography Segment (2016–2026; US$ Mn)
• North America (U.S., Canada)
• Europe (U.K., Germany, Rest of Europe)
• Asia Pacific (China, Japan, Rest of APAC)
• Latin America (Brazil, Mexico, Rest of Latin America)
• Middle East and Africa (GCC, Rest of Middle East and Africa)
This report also includes company profiles section that gives insights on the company overview, product portfolio, financial information and key developments of major market players. The major players profiled in this report include Carl Zeiss Meditec AG, Dutch Ophthalmic Research Center (International) B.V., AL.CHI.MI.A Srl, Valeant Pharmaceuticals International, Inc., Fluoron GmbH, Novartis AG, Alcon, Inc., CROMA-PHARMA GmbH and Arcadophta.
Key questions answered in this report
What is the current and projected market size of the global vitreous tamponades market during the period 2016 to 2026?
Which product type shall be expected to witnessing significant growth in demand during the forecast period?
Will the rapid growth of the Asia Pacific market will result in the region surpass the dominance of North America?
What are the key strategies adopted and implemented by the market players for gaining competitive edge?