"Growing adoption of consumer electronics is fueling the growth of VXI test equipment market"
Globally, the VXI test equipment market is expected to grow with a CAGR of 25.3% during the forecast period of 2019 to 2027, starting from US$ 17.5 Bn in 2018. VXI is based on the VMEbus it is an old technology, which is being in used since 1980s in various industries. VXI Consortium developed the VXI standards. These standards were developed for standardizing the multi-manufacturers standard, which allows the test solutions to be more compact. VXIbus offers time-tested bus, which supports mechanized test and needs for measurements. VXIbus is a recognized, well-conceived, and time tested, and also continues to drive the market due to its current and future applications as per the requirements. The VXI test equipment has wide utilization in automated test systems, which is controlled within a rack. Moreover, these instruments can be used for various applications including field repair and maintenance, testing for production, in military and avionics applications. One of the benefit of these instrument is that these equipment allot more time development process, also reduces the human efforts, be eliminating the difficulty of checking defects in product.
Market Synopsis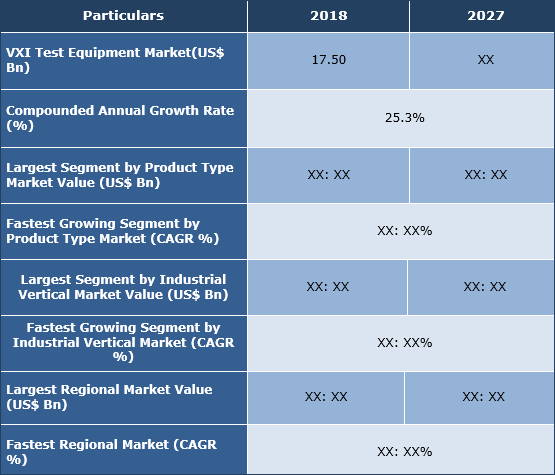 Get a sample copy for more information
"Consumer electronics based VXI Test Equipment are expected to grow at a higher CAGR during the forecast period"
The advancement in technology is one of the major factor for the growth of the VXI test equipment market globally. These equipments are used for various automated test systems for testing of production, maintenance and field repair. Based on industrial vertical the market has been segmented as communications, consumer electronics, military and defense, aerospace, and industrial electronics. The consumer electronics is considered to account the largest market share and is expected to increasing demand of smart phones, laptops and other consumer instruments is a major factor which is driving the consumer electronic market.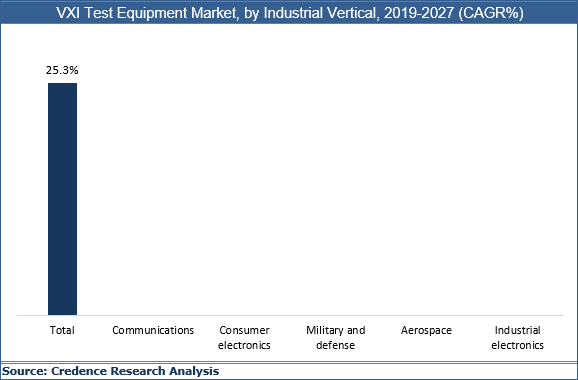 Get a sample copy for more information
"Asia Pacific to Register the Fastest Growth"
North America dominates the VXI test equipment market by holding the largest market share on global level. The increasing technological advancement in telecommunications and aerospace & defense sectors is a major factor which is driving the market in the region. Additionally, the presence of US, and Canada is a major factor for the growth of the market. US dominate the market in the region due to presence of various key players in the market including National Instruments Corporation, Kinetic Systems Inc. and others. However, the Asia-Pacific region is expected to be the fastest growing region due to presence of various developed and developing nations in the region.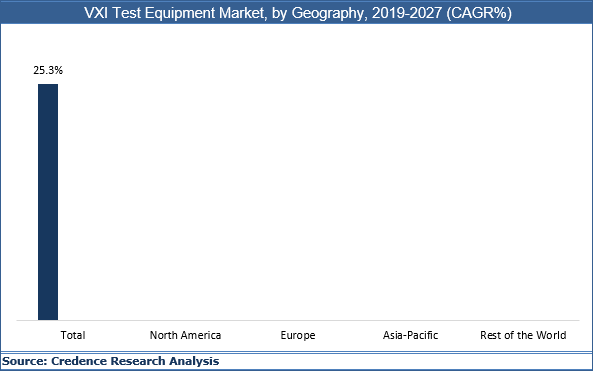 Get a sample copy for more information
Some of the prominent players operating in the VXI testing equipment market include Kinetic Systems, National Instruments, Interface Technology Inc., Giga-tronics Inc., Informtest, C&H Technologies Inc., Analogic Corp., ASCOR Inc., Agilent Technologies, Pickering Interfaces Ltd., Aeroflex Inc., VXI Technology Inc., among others.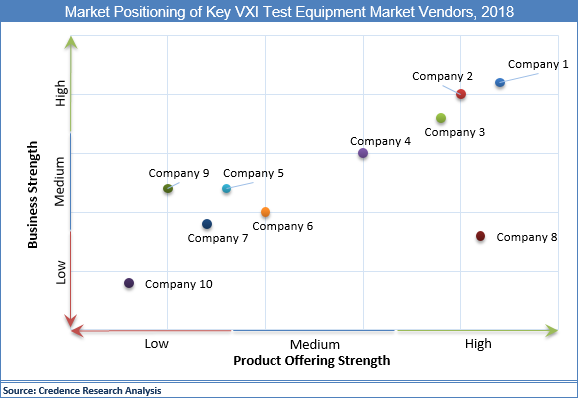 Historical & Forecast Period
This research report presents the analysis of each segment from 2017 to 2027 considering 2018 as the base year for the research. Compounded Annual Growth Rate (CAGR) for each respective segments calculated for the forecast period from 2019 to 2027.
Report Scope by Segments
The VXI test equipment market report provides market size and estimates based on market dynamics and key trends observed in the industry. The report provides a holistic view of global VXI test equipment market based on product type, industrial vertical, and geography. Key segments covered in the report are as follows:
ATTRIBUTE
DETAILS
Research Period
2017-2027
Base Year
2018
Forecast Period
2019-2027
Historical Year
2017
Unit
USD Billion
Segmentation

Product type Segment (2017–2027; US$ Bn)
• Function generators
• Oscilloscopes
• Power suppliers
• Others


Industrial Vertical Segment (2017–2027; US$ Bn)
• Communications
• Consumer electronics
• Military and defense
• Aerospace
• Industrial electronics

Geography Segment (2017–2027; US$ Bn)
• North America (U.S., Rest of North America)
• Europe (U.K., Germany, France, Rest of Europe)
• Asia Pacific (China, Japan, India, Rest of Asia Pacific)
• Rest of the World (Middle East & Africa, Latin America)
Key questions answered in this report
What was the market size of VXI Test Equipment in 2018 and forecast up to 2027?
Which is the largest regional market for consumer electronics segment?
What are the major trends followed in VXI Test Equipment market across different regions?
Who are the key VXI Test Equipment companies leading the market?
What are the key strategies adopted by the leading VXI test equipment companies in market?
Unique data points of this report
Statistics on VXI test equipment penetration and spending worldwide
Recent trends across different regions in terms of adoption of VXI test equipment
Notable developments going on in VXI test equipment industry
Attractive investment proposition for segments as well as geography
Comparative scenario for all the segments for years 2018 (actual) and 2027 (forecast)