Industry Outlook
Scarcity of potable water left human race with limited alternatives including water recycling and seawater desalination that allowed the global water desalination market to register market value of US$ 16.4 Bn in 2017. The market expected to reach US$ 37.6 Bn in 2026 with a growth rate of 9.5%, an eye-opening number of several industrial giants planning to venture into water desalination. The market is quite mature in the region of Middle East, Africa, Southern Europe and some part of the Caribbean Islands. However, the market has huge potential in developing and highly populated regions of Asia Pacific and continuously developing countries of Latin America. More than 1,700 desalination plants are producing fresh water each day and more desalination plants are waiting to get commissioned. Reducing resources of fresh water, adverse environment changes and growing population all constitute together as catalyst for the water desalination market growth throughout and beyond forecast period from 2018 to 2026.
Market Synopsis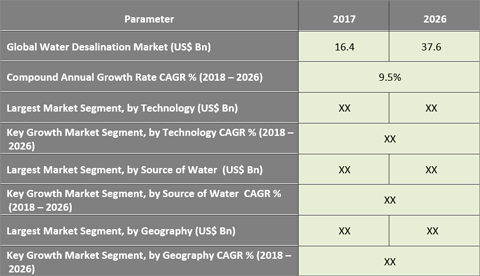 Get a sample copy for more information
"Reverse Osmosis Technology to Filter Out Fresh Water In Future years"
Thermal desalination techniques such as vapor compression, multi-effect desalination or multi-stage flash desalination dominated the earlier part of water desalination market. Membrane filtration involved considerable membrane cost and the overall process was not affordable. From past few years, significant development in manufacturing techniques and introduction of advanced material helped in reducing the cost of RO membranes. Owing to this RO technology made a massive comeback in overall water desalination market. The technology projected to remain dominant in coming years as this is more efficient and requires less energy compared to thermal desalination methods. Thermal desalination methods expected to get some leverage by introduction of renewable energy. However, the technologies will lose its share to reverse osmosis making RO lucrative segment to invest in future.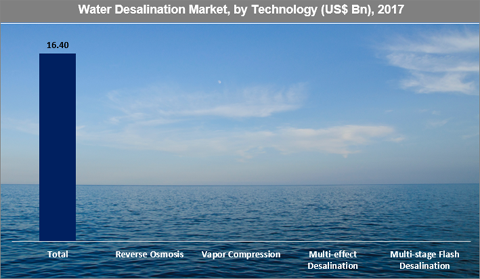 Get a sample copy for more information
"Oceans to the Rescue as Chief Source for Water Desalination"
Water desalination plants use multiple sources for water processes depending on the availability. Very few countries are blessed with ample fresh water sources such as Canada. However, most of the countries have vast coastlines having direct access to seawater. This helped seawater segment to lead the segment with overall market share of more than 70% and projected to lead further in coming years. Continuous development in desalination techniques and over-consumption of fresh water projected to help brackish water and wastewater to regain some lost market share. As an inexpensive source, almost endless availability and easy accessibility projected to keep seawater on top of the podium as prime source for desalination.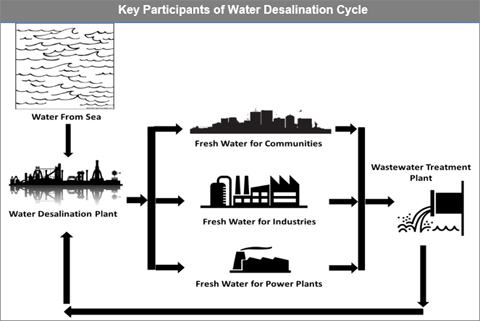 Get a sample copy for more information
"High Presence of Desalination Plants helped Middle East Emerge as Global Leader"
Presence of countries such as Saudi Arabia, United Arab Emirates and Kuwait among others depends heavily on seawater desalination to quench their thirst for fresh water. Middle East Asia leads and directs the global desalination market with almost 55% of the global water desalination plants present in this region. The combined desalination capacity of all above three countries crosses 20 Mn m3 of water per day which is almost double the global capacity. Spain in Europe region holds the majority of share and is the fourth largest country in terms of desalination capacity. Europe is home to several leading desalination companies and offers prospects for the market to grow. However, Asia Pacific is predicted to be the fastest growing region on account of notable economic development and high population. China and India projected to double their desalination capacity in next five years offering tremendous growth opportunities for the companies to mark their presence in Asia Pacific. Australia is another country to watch out with desalination capacity of more than 1.8 Mn m3 of water per day and growing. Similarly, Latin America and Africa continent pose great growth potential for global desalination market in coming years.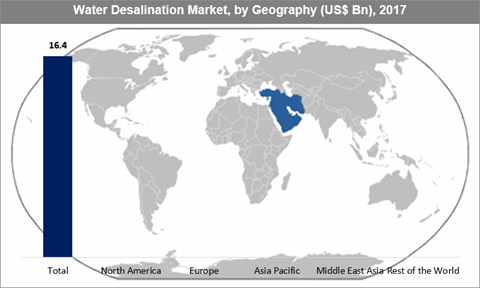 Market Segmentation
ATTRIBUTE
DETAILS
Research Period
2016-2026
Base Year
2017
Forecast Period
2018-2026
Historical Year
2016
Unit
USD Million
Segmentation

Product Type Segment (2016-2026; US$ Mn)
• Wired
• Wireless

Application Segment (2016-2026; US$ Mn)
• Residential
• Commercial
• Industrial
• Government

Geography Segment (2016–2026; US$ Mn)
• North America (U.S. and Rest of North America)
• Europe (U.K., Germany, France, and Rest of Europe)
• Asia Pacific (Japan, China, India, and Rest of Asia Pacific)
• Rest of World (Middle East & Africa (MEA), Latin America)
"Companies Making their Way from Intense Competition towards Prospects"
Remarkable opportunities are waiting for water desalination plant companies across the globe. However, these companies have to go through a stiff competition to bag such opportunities. The market is characterized by a number of companies pioneers in setting-up renewable energy and water treatment plants. Several companies hail from Europe and have successful background of setting plants in Middle East Asia. These companies are further in search of new prospects as several countries are willing to set-up water desalination plants for fresh water. Few of the heavyweights in water desalination market covered in this research study includes Suez SA, Befesa S.A., Valoriza Agua S.L., Acciona, S.A., Veolia Environnement S.A., Doosan Group, Fisia Italimpianti SpA, Degrémont, Acciona, S.A., Hyflux Ltd, Biwater International Limited, TEDAGUA, Wetico Ltd., Cadagua, Aqualia, and Mitsubishi Corporation among others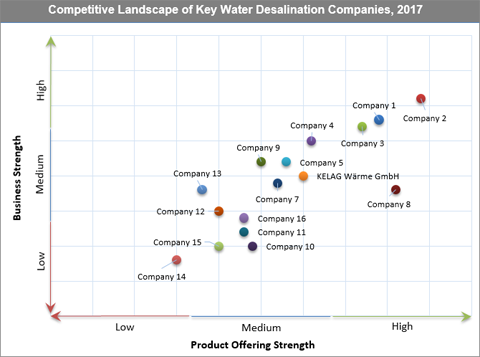 Key questions answered in this report:
What are the latest trends in the water desalination market and potential opportunities for the players?
How government initiatives and growing demand for potable water will affect global as well as regional water desalination market?
Which are the largest and fastest growing segment in terms of technology used for desalination and water sources for feed water?
Which is the most attractive geographical region/country for overall water desalination market?
How global warming is affecting the demand for fresh water and how water desalination will help to overcome associated issues?
What is the market size and trends in developing regions such as Asia Pacific, Africa, and Latin America?