Wax is an organic compound which is hydrophobic in nature and malleable solids near ambient temperatures. It is basically organic substance similar to plastic, which remains solid at room temperature and turns liquid on melting. Due to its similarity to plastic, it also deforms under pressure without the heating. It is high value product of energy reserve. Waxes are either naturally or synthetically derived. However, with technological advancement there is rise in number of substance of similar composition and properties termed as wax. Currently majority of wax product available are petroleum derived. Wax is basically a byproduct derived during production of lubricating oils. Though mostly wax is derived from crude petroleum and oil base, other sources also play important role which includes natural gas, vegetable, lignite and animal.
There are wide variety of industrial application starting from candle, construction, plastic, packaging, personal care product, pharmaceuticals, paints, paper, automotive, rubber, aerospace, 3D printing and many other industries. With extensive industrial application of wax and technological advancement in synthetic wax manufacturing drives the growth of wax market. Rising market of fragrant and decorative candles across the world and expanding cosmetic industry especially in emerging markets would further fuel the growth of wax market.
Candles was observed to be the largest application segment and is projected to maintain its dominance during the forecast period. Growing demand for scented and decorative candles for festive and special occasion for aesthetic purpose is expected to drive the demand for the wax over the forecast period. Followed by candle the next growing segment is packaging segment in the global wax market.
In 2016, Asia Pacific was the largest and projected to be the fastest growing market for the forecast period 2017-2025 chiefly due to factors such as rapid industrialization and urbanization leading to increasing demand for wax treated products, rising GDP and per capita income leading to increased disposable income for the region. Changing fashion trend has resulted into deep market penetration for the wax treated textiles and leather goods which contributes as aesthetic appeal.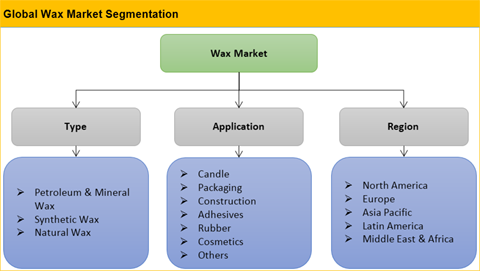 The report titled "Global Wax Market - Growth, Future Prospects, and Competitive Analysis, 2017 – 2025" offers strategic insights into the global wax market along with the market size and estimates for the duration 2015 to 2025. The said research study covers in-depth analysis of multiple market segments based on type, application and cross-sectional study across different geographies. The study covers the comparative analysis of different segments for the years 2016 & 2025. The report also provides a prolific view on market dynamics such as market drivers, restraints and opportunities.
In order to help the strategic decision makers, the report also includes profiles of the leading wax manufacturers, along with their, product portfolio and key developments. Other in-depth analysis provided in the report includes:
Current and future market trends to justify the forthcoming attractive markets within the wax industry
Market fuelers, market impediments, and their impact on the market growth
In-depth competitive environment analysis
Trailing 2-Year market size data (2015 – 2016)
SRC (Segment-Region-Country) Analysis
Overall, the research study provides a holistic view of the global wax market, offering market size and estimates for the period from 2017 to 2025, keeping in mind the above mentioned factors.