Key Market Insights
"Increase use of aerosol of in paint industry will spur the market revenue growth"
The global aerosol market accounted for US$ 80.74 Bn in 2018 and is anticipated to grow to US$ 138.86 Bn growing at a CAGR of 6.3% throughout the forecast period from 2019 to 2027. In 2018, in terms of volume market register sales of 16.14 Bn units and anticipated to reach 20.61 Bn units expanding at a CAGR of 3.1%.
The growth of the global aerosol market is anticipated to be driven by factors including increasing consumption of personal care products such as deodorants, hair spray, and shaving creams among others. The rising environmental concerns and steep growth in the packaging industry are key factors propelling the demand of the aerosol market. The combination of benefits offered by aerosol products such as ease of use, eco-friendly packaging, aesthetic appeal and recyclability among others contribute towards the aerosol market growth. Aerosol products find usage in wide areas including personal care, automotive, paint, and household among others. The rise in disposable income across the globe is also one of the key factor contributing to the growth of the aerosol market.
Additionally, the growing innovation and investments in research and development in the healthcare industry anticipated to create more opportunities for the growth of aerosol market. The growing automotive, construction and paint industry especially in the emerging economies such as India, and China among others and globally are projected to further boost the demand for aerosol products thus driving the aerosol market growth. Moreover stringent environmental regulations imposed by governments across the globe for producing pollution-free vehicles and products are expected to increase the demand for the aerosol market in the years to come.
Market Synopsis
Get a sample copy for more information
Material Type Analysis
"Aluminum to dominate the market throughout the forecast period"
Based on material type, the aerosol market is classified into aluminum, steel, glass, and plastic. Aluminum segment dominates the global aerosol market and is anticipated to grow at a significant pace. In 2018, the aluminum segment contributed revenue share of approximately 40% and volume share of more than 40%. The factors contributing to the growth of the segment are eco-friendly nature, recyclable multiple times, aesthetic appeal, and offers strong packaging.
In contrast, the plastic segment projected to grow at a rapid pace and is in demand by aerosol manufacturers owing to the benefits offered by it including, low-cost low weight, and high recyclability of PET plastic. However, the ban on plastic by governments and the environmental impact of plastic hinder the market growth of this segment.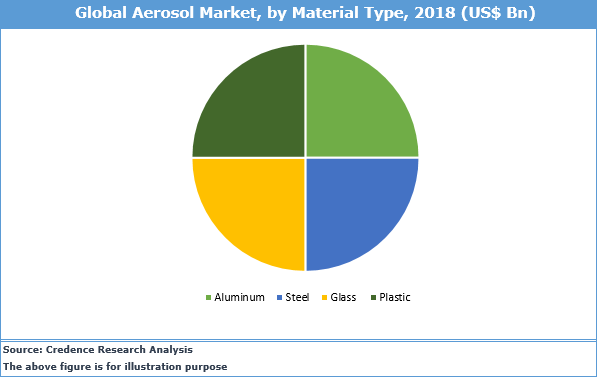 Get a sample copy for more information
Application Analysis
"Personal Care segment expected to dominate the market during the forecast period"
On the basis of application, the global aerosol market is further classified into personal care (deodorants, hairsprays, shaving mousse & gel, hair mousse, others), household (air freshener, insecticides & plant protection products, furniture waxes & polishes, textile and fabric care, shoe/leather care, bathroom & kitchen cleaning mousse, oven cleaners, others), automotive,(grease, spray oil & lubricants, cleaners), food & beverage (oils, sprayable flavours, edible mousse & whipped cream), pharmaceutical (inhaler, topical application), paints. The personal care segment dominated the aerosol market and is expected to retain its position during the forecast period. The segment accounted for more than 30% share in terms of revenue and more than 35% share in terms of volume. Out of the sub-segments deodorants segment accounted for the largest market share accounting for more than 35% of the market. The growth in this segment can be associated with growing demand of deodorants and hair care products and increasing demand for personal care products in emerging economies such as India and China among others.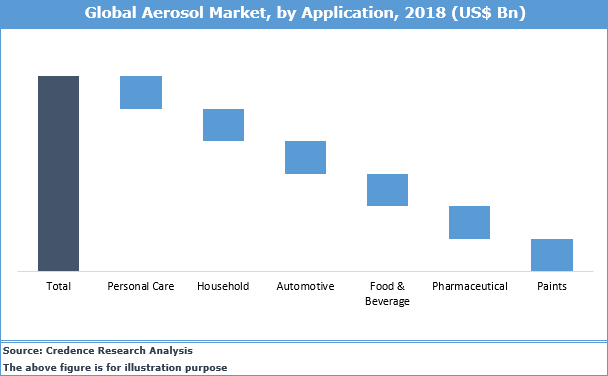 Get a sample copy for more information
Regional Analysis
"Rising environmental concerns to bolster the growth in Asia Pacific region"
In 2018, Europe region dominated the global aerosol market and accounted for 34% of revenue generated globally and more than 30% in terms of volume. The growth in the region can be attributed to, rapidly growing personal care industry owing to increasing consumption of cosmetics, high growth in the fragrance industry, and rise in consumer spending in countries such as Germany, the UK, and Italy among others.
In contrast, Asia Pacific region is anticipated to expand at a significant growth rate. Owing to growing personal care products and household product demand in the region such as China, and India among others. Rapid urbanization, infrastructural development, rising consumer spending and increasing awareness regarding aesthetic appearance are expected to propel the market growth in the region.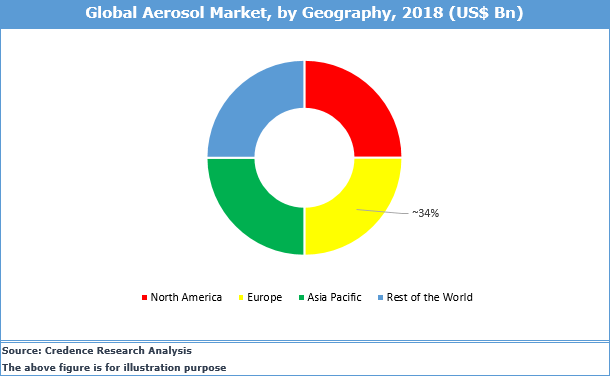 List of Companies Covered:
Procter & Gamble
Honeywell International Inc.
SC Johnson & Son Inc.
Henkel AG
Thymes LLC
Crabtree & Evelyn, Ltd.
AkzoNobel N.V.
Crown Holdings Inc.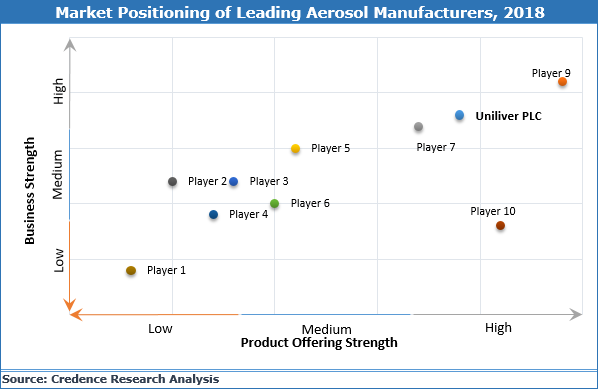 Key Industry Development:
In July 2017, Henkel AG announced the acquisition of Darex Packaging Technologies in order to strengthen its product portfolio. Darex technologies provide high-performance sealants and coatings for metal packaging industries and produces beverage, food and aerosol cans.
Historical & Forecast Period
This study report represents analysis for each segment from 2017 to 2027 considering 2018 to be the base year. Compounded Annual Growth Rate (CAGR) for each of the respective segments estimated for the forecast period from 2019 to 2027.
Market Segmentation
ATTRIBUTE
DETAILS
Research Period
2017-2027
Base Year
2018
Forecast Period
2019-2027
Historical Year
2017
Unit
USD Billion
Segmentation

Material Type Segment (2017–2027; US$ Bn)
• Aluminum
• Steel
• Glass
• Plastic

Application Segment (2017–2027; US$ Bn)
• Personal Care
o Deodorants
o Hairsprays
o Shaving Mousse & Gel
o Hair Mousse
o Others
• Household
o Air freshener
o Insecticides & Plant protection products
o Furniture waxes & polishes
o Textile and fabric care
o Shoe/leather care
o Bathroom & kitchen cleaning mousse
o Oven cleaners
o Others
• Automotive
o Grease
o Spray Oil & Lubricants
o Cleaners
• Food & Beverage
o Oils
o Sprayable Flavors
o Edible Mousse & Whipped Cream
• Pharmaceutical
o Inhaler
o Topical Application
• Paints

Geography Segment (2017–2027; US$ Bn)
• North America (U.S., Rest of North America)
• Europe (U.K., Germany, France, Russia, Italy, Turkey, Spain, Netherlands, Rest of Europe)
• Asia Pacific (Japan, China, India, Australia, Thailand, Rest of Asia Pacific)
• Rest of the World (Middle East & Africa (Saudi Arabia, South Africa, Rest of MEA), Latin America (Brazil, Mexico , Argentina, Rest of Latin America)
The current report also comprehends qualitative and qualitative market valuation factors such as key market drivers, market trends, restraints and opportunities that gives a better market understanding of the overall Aerosol market. Additionally, the global report also comprises graphical representation of competitive landscape based on their market initiatives and strategies, product portfolio and business strengths.
Key questions answered in this report
What are the current market trends and dynamics in the aerosol market and valuable opportunities for emerging players?
Estimated forecast and market projections up to 2027
Which segment accounts for the fastest CAGR during the forecast period?
Which application segment holds a larger market share and why?
Are low and middle-income economies investing in the aerosol market?
Which is largest regional market for aerosol?
What is the market trend and dynamics in emerging markets such as Asia Pacific, Latin America and Middle East & Africa?
Worldwide market value of the aerosol market in 2017 and 2018
Which are the key trends driving the global aerosol market growth?
Who are the leading manufacturers in the aerosol market worldwide?