"Growing Demand for Modern Agricultural Techniques and Technological Advancements Are Likely to Fuel the Growth of the Agriculture Analytics Market"
Globally, the agriculture analytics market is expected to grow with a CAGR of more than 15.3% during the forecast period from 2019 to 2027, starting from US$ 560.0 Mn in 2018. Globally, the agricultural sector is rapidly progressing in terms of technology, machinery, and quantity of yield. Number of farmers and farming companies in various developed and developing countries are increasingly adopting advanced technologies such as big data analytics, artificial intelligence and machine learning with an aim to maintain and improving the track of yield in these changing climatic conditions. Analytics solutions help farmer in planning and execution of various activities that help them fulfill the growing need to enhance the farm production. This major factor is driving the adoption of agriculture analytics across the globe. Moreover, there has been a significant decline in rate of skilled labor in agricultural sector, which is equally affecting the production and quality of the yield. Utilization of analytics enables the farmers to study, evaluate the conditions, and derive solutions to enhance the quantity of yield. In addition to this, increasing government support to provide latest technologies in remote corners for agricultural purposes is also contributing to the increased adoption of analytics in this sector. These factors are expected to drive the growth of agriculture analytics market during the forecast period. However, high cost of analytics solutions and low spending power of farmers in developing and underdeveloped countries, lack of technical skills to use modern tools, and lack of data management and data calibration in agriculture industry are likely to have a negative impact on the growing agriculture analytics market during the forecast period.
Market Synopsis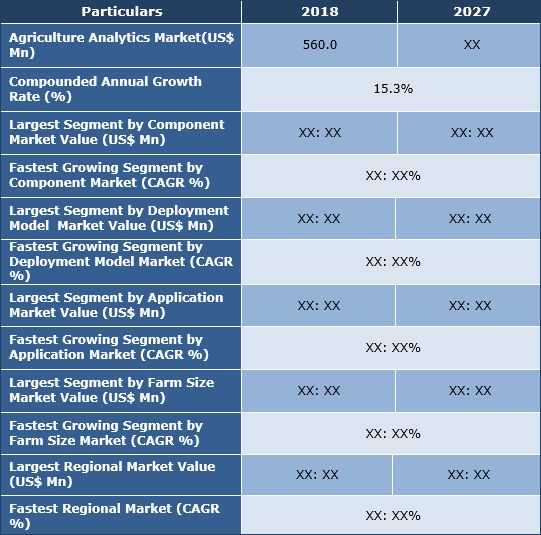 Get a sample copy for more information
"Livestock Management Application is expected to Continue Dominating the Market"
In 2018, the livestock management segment led the market by contributing the maximum market share in the global Agriculture Analytics Market. Livestock is a primary factor of agricultural sector, which is used to perform large number of tasks daily. The activities involving livestock in agriculture generates large volumes of data about animals. Implementation of analytics tools for livestock management enables the farmers to keep a track on activities revolving around the animals such as feeding, milk harvesting, breeding, and behaviors monitoring. In order to eliminate the possibilities of mismanagement and keeping a track on the diet and grooming of these animals, it is essential for the farmers to conduct critical analysis. This helps them maintain the daily routine and reduce the increasing pressure of livestock management. Followed by livestock management, farm analytics segment is also growing at a significant pace.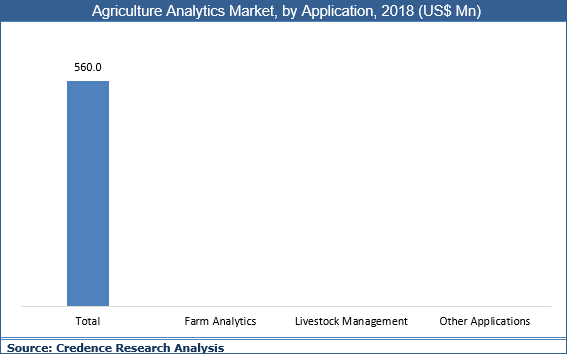 Get a sample copy for more information
"Asia Pacific to Register the Fastest Growth"
North America dominates the Agriculture Analytics Market. In 2018, the regional market accounted for nearly 41% of the total revenue generated worldwide. Primary factor attributed to this high market share is growing adoption of modern farming techniques in US and Canada. Companies based in North American region are largely investing in research and development to provide best-in-class farming equipment to the farmers and farming companies at an affordable price. This enables the companies to enhance their annual revenue and contribute to the increasing market size of agricultural analytics. However, Asia-Pacific is projected to grow at a highest CAGR during the forecast period. Based on the fact that huge chuck of agricultural industry is in this region, there has been significant investment in adoption of digital tools in agriculture sector of developing countries. This is expected to primarily contribute to the high growth of this regional segment. Along with this, various international companies are expanding their presence in this region to leverage the lucrative opportunities in this region. However, lack of standardization with respect to data management, and dearth of skilled personnel can hamper the market growth in this region.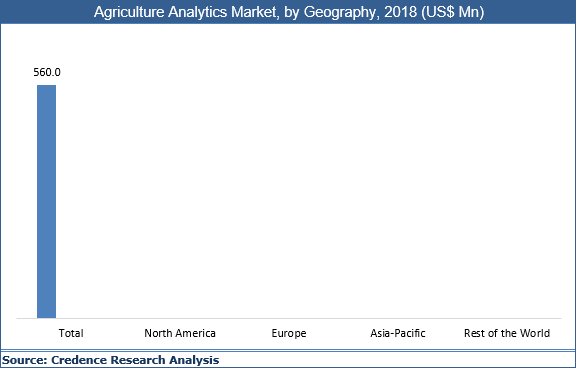 Get a sample copy for more information
Some of the prominent players operating in the Agriculture Analytics Market include Deere & Company, IBM Corporation, SAP SE, Trimble, Monsanto Company, Oracle Corporation, Accenture, Iteris Inc., TARANIS, Agribotix LLC, Agrivi, DTN, aWhere Inc., Conservis Corporation, DeLaval, Farmer's Business Network, Farmers Edge, GEOSYS, Granular, Gro Intelligence, Proagrica, Precision Hawk, RESSON, Stesalit Systems, AgVue Technologies, among others.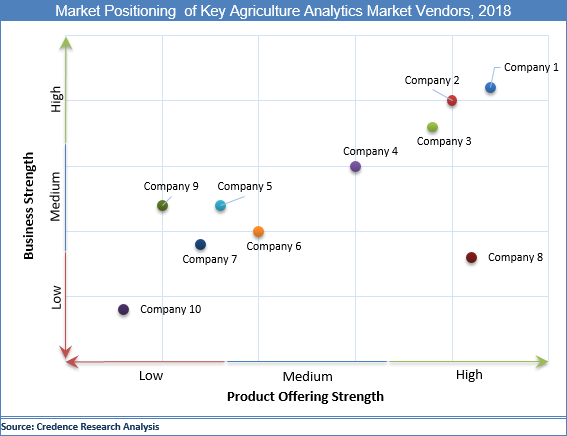 Historical & Forecast Period
This research report presents the analysis of each segment from 2017 to 2027 considering 2018 as the base year for the research. Compounded Annual Growth Rate (CAGR) for each respective segments calculated for the forecast period from 2019 to 2027.
Report Scope by Segments
The Agriculture Analytics Market report provides market size and estimates based on market dynamics and key trends observed in the industry. The report provides a holistic view of global Agriculture Analytics Market based on application, and geography. Key segments covered in the report are as follows:
ATTRIBUTE
DETAILS
Research Period
2017-2027
Base Year
2018
Forecast Period
2019-2027
Historical Year
2017
Unit
USD Million
Segmentation

Component Segment (2017–2027; US$ Mn)
• Software
• Services
o Integration and Implementation
o Consulting Services
o Support and Maintenance
o Training and Education
o Managed Services

Deployment Model Segment (2017–2027; US$ Mn)
• Cloud
• On-premise

Application Segment (2017–2027; US$ Mn)
• Farm Analytics
o Planning
o Farm Production
o Post-Harvest Activities
• Livestock Analytics
o Feeding Management
o Heat Stress Management
o Milk Harvesting
o Breeding Management
o Behavior Monitoring and Management
o Others
• Aquaculture Analytics
o Fish Tracking and Fleet Navigation
o Feed Management
o Water Quality Management
o Others
• Other Applications

Farm Size Segment (2017–2027; US$ Mn)
• Small and Medium-Sized Farms
• Large Farms

Geography Segment (2017–2027; US$ Mn)
• North America (U.S., Rest of North America)
• Europe (U.K., Germany, France, Rest of Europe)
• Asia Pacific (China, Japan, India, Rest of Asia Pacific)
• Rest of the World (Middle East & Africa, Latin America)
Key questions answered in this report
COVID 19 impact analysis on global Agriculture Analytics industry.
What are the current market trends and dynamics in the Agriculture Analytics market and valuable opportunities for emerging players?
What is driving Agriculture Analytics market?
What are the key challenges to market growth?
Which segment accounts for the fastest CAGR during the forecast period?
Which product type segment holds a larger market share and why?
Are low and middle-income economies investing in the Agriculture Analytics market?
Key growth pockets on the basis of regions, types, applications, and end-users
What is the market trend and dynamics in emerging markets such as Asia Pacific, Latin America, and Middle East & Africa?
Unique data points of this report
Statistics on analytics solutions penetration and spending worldwide
Recent trends across different regions in terms of adoption of analytics solutions for various applications in agriculture sector
Notable developments going on in agriculture analytics industry
Attractive investment proposition for segments as well as geography
Comparative scenario for all the segments for years 2018 (actual) and 2027 (forecast)
Get a sample copy for more information
---
Related Report:
Connected Agriculture Market By Component (Solution, Services), By Offerings (Device Management, Application Enablement, Connectivity Management), By Application (Precision Farming, Yield Monitoring, Soil Monitoring, Irrigation System, Fish Farming, Horticulture, Livestock Monitoring, Smart Green House, Others) - Growth, Future Prospects, And Competitive Landscape, 2019 - 2027
Agriculture Sensors Market By Sensors Type (Physical Sensors, Mechanical Sensors And Chemical Sensors), Application (Yield Monitoring And Mapping, Soil Monitoring, Disease Control And Detection, And Irrigation And Water Management) - Growth, Share, Opportunities & Competitive Analysis, 2018 – 2026
Global Agriculture Market Size, Segmentation, Opportunities, Trends, Growth and Industry Forecast To 2027