"Focus Towards Improving Operational Efficiency at Airports to Drive the Airport Baggage Handling Systems Market Growth"
The airport baggage handling systems market was valued at US$ 8.14 Bn in 2017 and expected to be growing at a compounded annual growth rate (CAGR) of 8.2% from 2018 to 2026. One of the most prominent factors complimenting the market growth can be attributed to the increasing requirement for improving the operational efficiency at airports. In recent years, airports across the world have been focusing on improving experience for the passengers. Baggage handling systems in this context has greatly enhanced this experience by ensuring timely and efficient delivery of baggage or goods. Deploying these systems at airports helps to improve passenger convenience and at the same time reduces aircraft turnaround time. Airport modernization programs has been another prominent factor complimenting the airport baggage systems market growth. The rise in air passenger traffic has led to the establishments of new airports with better operational methods, thereby contributing to the baggage handling systems market growth. These factors in combination are expected to compliment the baggage handling systems market growth.
Market Synopsis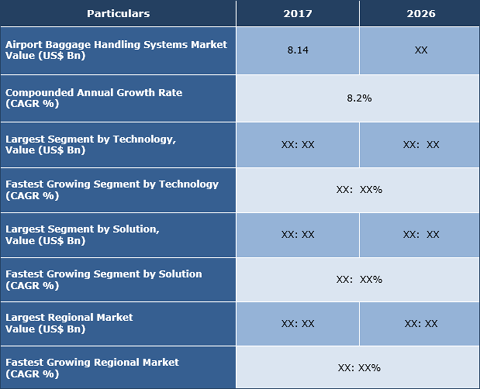 Get a sample copy for more information
"Increasing Number of Airports to Deploy RFID Technology in Coming Years"
As of 2017, the global baggage handling systems market was led by the RFID segment. In coming years, RFID segment expected to register a faster growth. As compared to barcode, RFID is a relatively newer technology and helps to identify the location of the baggage. Unlike barcode systems wherein baggage information is primarily tagged and stored, RFID also offers tracking option thereby minimizing chances of misplacement and theft. Moreover, RFID tags reduces efforts of workers as they no longer require to scan each piece of baggage manually thereby freeing up workers to provide other services. It also enables security checks run a lot smoother, and reduces wait time. As per recent findings, global deployment of RFID technology has the potential to save the air transport industry more than US$3 billion by 2022. The benefit of RFID technology can be further understood from the fact that Delta Airlines has experienced an accuracy read rate of 99.9% for tracking bags across its stations equipped with RFID.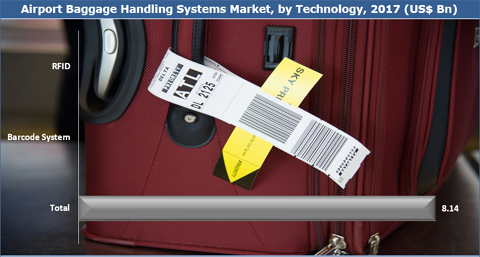 Get a sample copy for more information
"High Initial Investments Offsetting Market Growth in Developing Countries"
High initial investments coupled with complex architecture of baggage handling systems are the major factors offsetting market growth. Other challenges hampering the baggage handling systems market growth includes costs associated with maintenance and availability of manpower with adequate skills to operate these systems.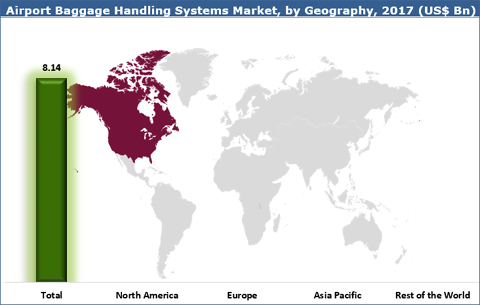 Get a sample copy for more information
"Asia Pacific to Emerge as Lucrative Market for Investments in Coming Years"
The global baggage handling systems market was dominated by North America in terms of market value in 2017. Factors leading to its dominance includes the large scale of domestic and international air traffic in the region coupled with the region's willingness to embrace advanced solutions. However, in coming years, Asia Pacific expected to witness the fastest CAGR growth on account of a significant increase in the number of air passengers in the region and also as a result of improved connectivity. India, China and Southeast Asian countries have undergone rapid up gradation of public transportation systems in recent years and airports in this context is no exception. The growth of the region can be understood from the fact that by 2020, passenger traffic at Indian airports expected to increase to 421 million from 265 million in 2017. Similarly, China in its 13th "Five Year Plan", has planned to build over 56 new airports, expand 91 airports and re-locate 16 airports during the period from 2015 to 2020. Therefore, these factors are expected to make Asia Pacific as the most lucrative market for investments in the coming years.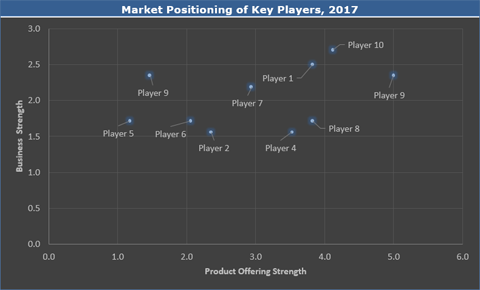 Historical & Forecast Period
This research report presents the analysis of each segment from 2016 to 2026 considering 2017 as the base year for the research. Compounded Annual Growth Rate (CAGR) for each respective segments are calculated for the forecast period from 2018 to 2026.
Report Scope by Segments
The report elucidates the detailed outline of global baggage handling systems market by categorizing the market in terms of technology, solution and geography.
ATTRIBUTE
DETAILS
Research Period
2016-2026
Base Year
2017
Forecast Period
2018-2026
Historical Year
2016
Unit
USD Billion
Segmentation

Technology (2016–2026; US$ Bn)
• Barcode System
• Radio-frequency Identification (RFID)

Solution (2016–2026; US$ Bn)
• Sorting
• Conveying
• Tracking and Tracing
• Diverting

Geography Segment (2016–2026; US$ Bn)
• North America (U.S. and Canada)
• Europe (U.K., Germany, France, and Rest of Europe)
• Asia Pacific (Japan, China, India, and Rest of Asia Pacific)
• Rest of World (Middle East & Africa (MEA), Latin America)
Key players profiled in the report include Vanderlande Industries, Siemens AG, Pteris Global Limited, Daifuku Company Ltd., Beumer Group, BCS Group, Grenzebach Maschinenbau GmbH, G&S Airport Conveyor, Scarabee Systems & Technology B.V., Logplan Llc, Alstef Automation S.A., SITA and Fives Group among others.
Key questions answered in this report
What was the global baggage handling systems market size in 2017 and forecast for 2026?
What are the current trends in the baggage handling systems market?
What are the various valuable opportunities for the players in the market?
Which is the largest regional market for baggage handling systems?
Which region expected to be the fastest growing and why?
What are the future prospects for the baggage handling systems market?
What are the major drivers and restraints influencing the market growth?
What are the key strategies adopted by the leading players in market?