Industry Outlook
Allergy immunotherapy market accounted for a market value of US$ 1,499.0 Mn in 2017 and projected to grow at a CAGR of 10.1% during the forecast period from 2018 to 2026. Allergy immunotherapy helps to prevent or minimize the allergic reactions and provide log-term benefit to patients. This therapy helps to increase immunological tolerance and changes the course of disease due to which demand for immunotherapy is increasing globally.
Market Synopsis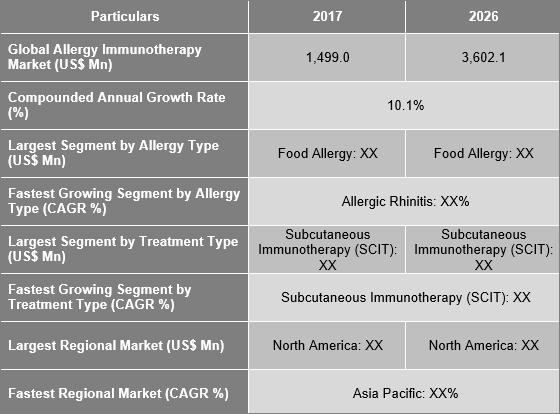 Get a sample copy for more information
"Subcutaneous immunotherapy (SCIT) is highly demanded treatment for allergic rhinitis & asthma as it provides long-term relief to the patients"
SCIT is an effective therapy against allergic diseases as it delivers symptomatic relief by altering the effect of allergic reaction by focusing the basic mechanism of immunology. Thus, in 2017 SCIT identified as the largest allergy immunotherapy type that is preferred and adopted by most of the physicians. In addition to that, compared with conventional treatment the cost-effectiveness of SCIT is high and new molecules under trials will assist the overall growth of allergy immunotherapy.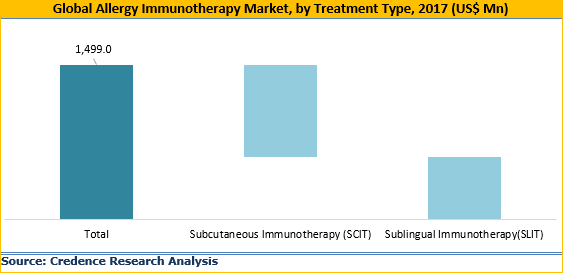 Get a sample copy for more information
"Air pollution has increased due to infrastructural development & industrialization in China & India specifically assisting the growth in asthma & allergic rhinitis"
The Asia Pacific is the fastest growing segment due to key driving factors such as rising prevalence & awareness related to allergic conditions, and industrialization & infrastructural development has increased air pollution in China & India. According to the World Health Organization (WHO), there has been significant growth in the prevalence of allergic rhinitis in Asia–Pacific within the last decade that has increased the economic burden. According to experts, the key factors responsible for sudden growth in allergic rhinitis is result of changing the environment, development in hygiene & reduced infections, and increasing cases of genetic complications.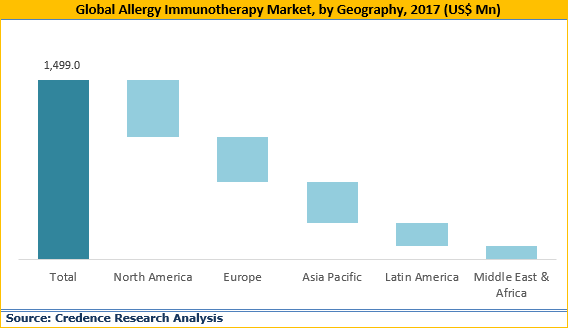 Get a sample copy for more information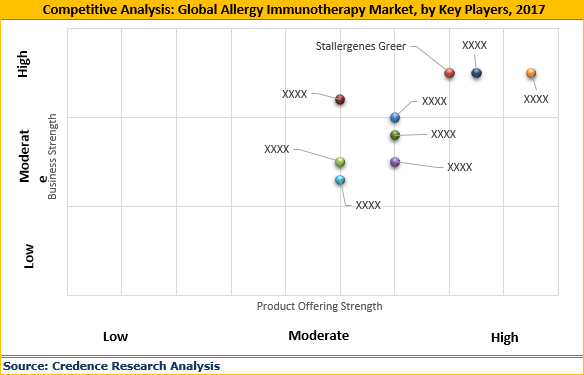 Historical & Forecast Period
The allergy immunotherapy market analyzed considering current market trends for base year 2017 and based on future trends CAGRs calculated for the forecast period from 2018 to 2026.
Report Scope by Segments
This report on allergy immunotherapy market covers exhaustive analysis with quantitative and qualitative data points associated with the major market dynamics (opportunities, drivers, & restraints) affecting or assisting the market along with regional trends and further sub-segmented market by countries. Extensive information on the global allergy immunotherapy market provided in the report by segmenting the market based on the type of allergy, treatment, and geography. The major objective of publishing this research report is to assist the companies operating in this market to design & implement strategies in the allergy immunotherapy market.
ATTRIBUTE
DETAILS
Research Period
2017-2027
Base Year
2018
Forecast Period
2019-2027
Historical Year
2017
Unit
USD Million
Segmentation

Allergy Type Segment (2016–2026; US$ Mn)
• Food Allergy
• Allergic Rhinitis
• Skin Allergy
• Insect-bite Allergy
• Other Allergies (Drug Allergy, Eye Allergy, Latex Allergy, etc.)

Treatment Segment (2016–2026; US$ Mn)
• Subcutaneous Immunotherapy (SCIT)
• Sublingual Immunotherapy (SLIT)

Geography Segment (2016–2026; US$ Mn)
• North America (U.S., Canada)
• Europe (U.K., Germany, Rest of Europe)
• Asia Pacific (Japan, China, South Korea, Rest of APAC)
• Latin America (Brazil, Mexico, Rest of LATAM)
• Middle East and Africa (GCC, Rest of MEA)
This report also covers segments including data specific to major market trends, opportunities, drivers, and restraints, to gain precise information against global allergy immunotherapy market. The key market players analyzed in the report based on major attributes such as business strength, product portfolio, and important market strategies. The report also covers an attractive investment proposition based on the in-depth geographical research executed based on PESTEL analysis. The companies profiled in the report are Hollister Stier, Leti, WOLW Pharma, Aimmune Therapeutics, ALK-Abello A/S, Stallergenes Greer, Allergopharma, DBV Technologies, Allergy Therapeutics, Biomay AG, HAL Allergy Group, Circassia, and Merck KGaA, among others.
Key questions answered in this report
Which is the trending allergy type in the market & Why?
What are the recent market strategies adopted and implemented by key companies present in allergy immunotherapy market?
Which are the most attractive markets (regions and countries) prominent and rapidly growing throughout the forecast period in allergy immunotherapy market?
Which is the largest and fastest growing allergy immunotherapy treatments globally?
Which are the major treatments contributing to the overall growth of allergy immunotherapy in the near future?
How is the competitive environment in allergy immunotherapy market and strategies of major companies in this industry?