Industry Outlook
The pigmentation disorders treatment market is set to reach US$ 9,649.9 Mn by 2026 from US$ 5,311.5 Mn in 2017 showcasing a steady growth at a compound annual growth rate (CAGR) of 6.9% during the forecast period from 2018 to 2026. The American Association for Pediatric Ophthalmology and Strabismus (AAPOS) claims that 1 in 17,000 people suffer with some form of Albinism. Vitiligo is a lifelong condition and there is no permanent cure; however, exposure to UVA and UVB phototherapy stimulates the growth of melanocytes on the skin patches and treats hypopigmentation to a certain extent. In the present scenario, pharmaceutical manufacturers are using topical creams in combination such as adapalene/benzoylperoxide, adapalene/clindamycin for the treatment of face dark spots created due to acne vulgaris. Currently, imiquimod cream (MEDA Pharma GmbH & Co. KG) is in phase 3 clinical trials being tested for better clinical outcomes in the treatment of Solar Lentigines.
North America currently dominates the pigmentation disorders market on account of growing melasma incidence in pregnant women. Existence of well-developed healthcare infrastructure and presence of major players prove beneficial in treating patients suffering with post inflammatory hyperpigmentation in North America. The pigmentation disorders treatment market is growing at a rapid pace in Asia Pacific on account of key drivers such as competition exerted by local manufacturers. The other factors promoting growth are supportive regulatory norms favoring growth of topical drugs, and rise in per capita income.
Market Synopsis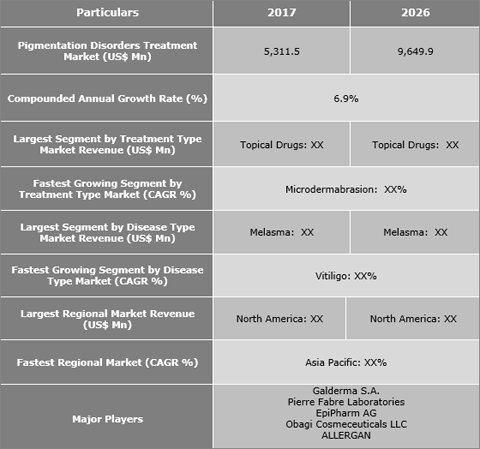 Rising incidence of skin hyperpigmentation to cater excellent growth for topical drugs
In the current scenario, topical drugs are dominating the treatment type segment owing to better clinical outcomes in patients suffering with pigmentation disorders. The topical drugs commonly prescribed throughout the globe are azelaic acid, hydroquinone, L-ascorbic acid etc. Chemical peels have found prominence in the last 2 decades to treat facial hyperpigmentation disorders. They are effective in treating face wrinkles caused due to aging and harmful sun light, improve the appearance of mild scars and treat dark spots caused due to acne. Dermabrasion has developed a niche market owing to its popularity in solving facial defects such as pox scars, accident scars, age spots and dull skin. Rise in per capita income and upgraded lifestyle are the driving factors for the growth of phototherapy and laser therapy for treating pigmentation disorders. However the high costs associated with photo and laser therapy is a limitation for its market growth.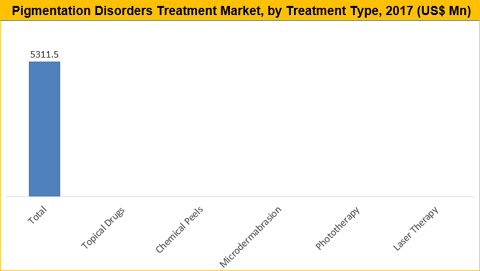 Higher incidence of melasma in women post pregnancy will result in impressive double-digit growth
Melasma often known as chloasma occurs in 90% of the pregnant women. It results in discoloration of the skin in patches usually in the forearms, chin, cheeks, bridge of the nose and forehead. The incidence of melasma is higher in dark skinned people, in comparison to fair skinned people. The chief factors responsible for the occurrence of melasma in women are hormones, pregnancy and use of birth control pills. Melasma results in huge demand for topical drugs, chemical peels and microdermabrasion for dermal treatment. Post inflammatory hyperpigmentation is set to register growth at a rapid pace due to key factors such as increasing number of domestic accidents resulting in dermal burns and skin tissue abrasion, resulting in hyperpigmentation due to excess melanin production during healing process.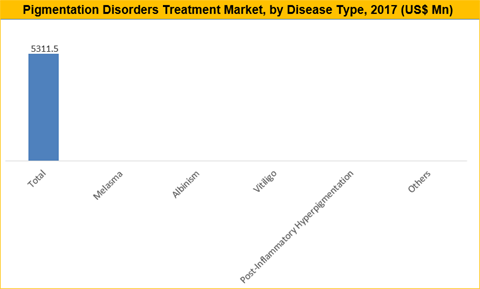 Increasing competition from local players in Asia Pacific will result in tremendous growth during the forecast period
North America accounts for 42% of the market share and thus dominates the global pigmentation disorders treatment market. The important parameters responsible for the burgeoning growth of North America is the presence of market leaders pioneering in dermatology products such as Galderma S.A., RXi Pharmaceuticals Corporation and Vivier Pharma. Rising number of patients suffering with skin pigmentation disorders due to harmful exposure to UV radiation and increasing public awareness related to skin diseases propels the pigmentation disorders treatment market growth in Europe. Asia Pacific is set to register faster growth owing to the competition created by local players. Increase in per capita income and enhanced funding by the pharmaceutical companies in the research and development to enhance the quality and efficacy of dermal products impose a positive effect on the market growth in Asia Pacific.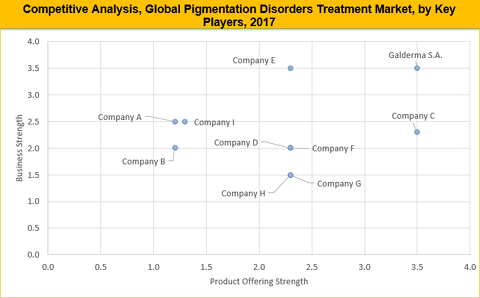 Historical & Forecast Period
2016 – Historical Year
2017 – Base Year
2018-2026 – Forecast Period
This research report presents the analysis of each segment from 2016 to 2026 considering 2017 as the base year for the research. Compounded annual growth rate (CAGR) for each respective segments are calculated for the forecast period from 2018 to 2026.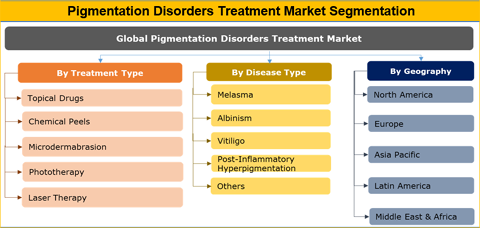 Report Scope by Segments
Quantitative analysis for the report pigmentation disorders treatment market is furnished on the basis of latest market trends. The market segmentation comprises of treatment type, disease type and geography.
By Treatment Type (2016–2026; US$ Mn)
Topical Drugs
Chemical Peels
Microdermabrasion
Phototherapy
Laser Therapy
By Disease Type (2016–2026; US$ Mn)
Melasma
Albinism
Vitiligo
Post-Inflammatory Hyperpigmentation
Others (Solar Lentigines, Acne Vulgaris)
Geography Segment (2016–2026; US$ Mn)
North America

Europe


United Kingdom
Germany
Rest of Europe

Asia Pacific (APAC)

Latin America (LATAM)


Brazil
Mexico
Rest of Latin America

Middle East and Africa (MEA)


GCC
Rest of Middle East and Africa
In order to understand the prevailing market trend and quantitative analysis the market assessment of pigmentation disorders treatment market is performed. Product portfolio is helpful in giving valuable information of the medicines being currently used for the treatment of pigmentation disorders. The major players spearheading the pigmentation disorders treatment market are ALLERGAN, Bayer AG, Galderma S.A., EpiPharm AG, Pierre Fabre Laboratories, La-Roche Posay, Obagi Cosmeceuticals LLC, RXi Pharmaceuticals Corporation, SkinCeuticals and Vivier Pharma.
Key questions answered in this report
What will be the performance of the pigmentation disorders treatment market during the forecast period from 2018 to 2026?
Who are the leading players in the pigmentation disorders treatment market?
What are the latest market trends existing in the pigmentation disorders treatment market?
What are the drivers and challenges that control the pigmentation disorders treatment market?
What are the medications available and the treatment regimen adopted throughout the globe?
Which is the leading and fastest growing region in the global pigmentation disorders treatment market?
What is the disease etiology of the pigmentation disorders and how it would impact the market growth?